What do Australians think of Turks
Out of Germany because of racism: Asal Dardan no longer lives here
You don't feel understood or wanted. They repel rampant racism. Germans from migrant families are leaving their homeland.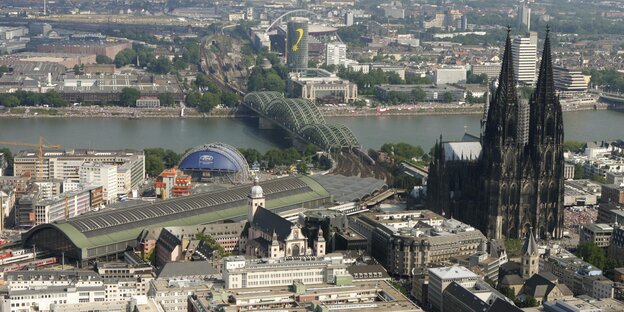 Old home: Germany: Resentment and racism leave some people in despair Photo: Jochen Tack
BERLINtaz | If I stay here, will I get the Federal Cross of Merit for it? "She asks. "Germany took advantage of my parents. Today, at least on paper, I am German and I am now using that to be able to travel freely. Al gülüm, ver gülüm! "Selma Polat * laughs and shakes her chin-length hair. The Turkish proverb "Al gülüm, ver gülüm" (in German: "Give, my rose, take, my rose") describes their relationship with Germany: a useful relationship. But Germany has demanded too much from her lately. That should end. Polat wants to emigrate to Australia.
Selma Polat is actually called differently. Because of her job, she wants to remain anonymous. She works as a German teacher in Mainz. Although they would both be fluent in English, she and her partner have been attending an advanced language course for several weeks. That couldn't hurt everyday life over there, says the 35-year-old. Polat would then like to apply to Australian universities and language schools. Her mother was also a teacher until she left Turkey. At the end of the 1970s, the parents came to Germany. Polat says: "They had to toil in factories because their degrees were not recognized."
Only yesterday she was in the park with her dog, she continues, sat down with an old lady on the bench and talked. She said in passing: "We Germans will soon no longer exist. Foreigners make a lot more children than we do. "Polat replied:" But then there will be new Germans. "No, the lady replied that they weren't really Germans. Polat was sitting at the table when she said this, and the dog in question jumped excitedly between her legs. Life is too short, she says with a smile, to have to explain herself again and again.
Discomfort is growing in the migrant communities. Because not only the tone has tightened in Germany. Suspected members of a right-wing terrorist group were arrested in Chemnitz this autumn after there had been racist marches there - as was the case in Koethen and Dortmund. The AfD is developing into a permanent political force. In the evening in the pub, some report, people talk half jokingly, half seriously about destinations for exile.
Are we not one of them?
But it's not just the fear of the extreme right gaining strength: In the future, he would like a national player without a migration history as an integration ambassador for the DFB, said association boss Reinhard Grindel. In July, the German public discussed Mesut Özil's suitability as a German national player for days after he had himself photographed with Turkish President Recep Tayyip Erdoğan. Since then, at the latest, many Germans with a migration history have had the vague feeling that their affiliation, their being German, is under probation and can be withdrawn from them if they do not live up to the expectations of the majority society.
The cultural scientist and author Asal Dardan knows it: "You never know when it'll kick you into something. In any situation it can happen that you are reminded by your counterpart that you are not perceived as the same and as belonging, that is, as German. "Three years ago she emigrated to Malmö, Sweden. It is much more relaxed to be a "real foreigner" here: "Here I don't have to explain that I'm not actually one. I am quite obvious: Not because of my appearance, but because of my language skills - because I am not yet fluent in Swedish. "
Ünal Görgen, emigrated from Germany to Kayseri in Turkey
"I have two children now, they are three years and eight months old. You shouldn't grow up in Germany "
Dardan was born in Tehran in 1978 and came to Germany with her parents shortly afterwards. She grew up in Cologne and Bonn. She actually emigrated to Sweden because of her partner. "We recently thought about returning to Germany. But after the debates in the last few months and after a sentence from Horst Seehofer at the latest, I thought to myself: Now I am applying for Swedish citizenship, "she says. In September the Federal Minister of the Interior described migration as the "mother of all problems".
"I feel pushed away."
The majority society knows that Seehofer is its interior minister, says Dardan. That he would speak for her and protect her. People like her, Germans who are not white, do not know that. She sounds exhausted when she realizes: "I have the feeling that the last connections I have with Germany are being severed. What else do I have in common with this country? But then I read German media, write in German, talk to my friends there who go to demos and are very worried. "Perhaps she can only endure a lot because she does not live in Germany, is not in the middle of it. "It's a part of me, but I don't feel I belong. I feel pushed away. "
New home: Turkey. Many German Turks feel particularly attached to the country Photo: dpa
The Hamburg social scientist Yaşar Aydın had already taken a close look at the emigration behavior of young people with a migration history, in this case people of Turkish origin, in his book "Transnational instead of not integrated" in 2013. He says: "The fact that people with a migration history will emigrate again in 2018 has to do with the fact that the migration discourse has shifted, and in a deficit-oriented direction." Another wind blew five years ago - not only in Turkey, which attracted particularly well-trained academics with its strong economic situation, but also in Germany: "In Aydan Özoğuz there was a federal minister of Turkish origin. People of Turkish origin were not on the defensive. But today we are constantly talking about deficiencies in integration and using new external attributions. "
Even if it used to be the "guest workers" and the "migrants" who were marked as different due to their tradition, religiosity would be the focus today. It would mean: The people of Turkish origin are alien to us because of their Islamic faith and therefore difficult to integrate. Islam does not belong to Germany, Seehofer said in March of this year.
In addition to these recurring patterns, Aydın observes a new dimension in the debates: the majority society is in an identity crisis. Globalization and spurts of modernization would have changed the concept of social space significantly. "In times of confusion, in which old alliances, such as with the USA, are dissolving, in which the pressure of competition on the labor and housing market is increasing and growth is shaky, the question of a we is being renegotiated - and so is the question how to deal with people who have come and are added. "It remains to be seen how long Germans from families with immigrant backgrounds are considered newcomers. How many decades and debates do they have to put behind them?
In September 2017, the ARD magazine "Panorama" asked Turko-Germans how they felt at home in a representative survey. 46 percent of those surveyed felt that Germany had a strong sense of home, while 83 percent felt for Turkey. Statistics from the Center for Turkish Studies in North Rhine-Westphalia also show a steady increase in the feeling of solidarity with Turkey over the past seven years. In 2011 it was less than 30 percent who confirmed this. It is also noticeable that, according to the study, the proportion of people intending to return to Turkey or to emigrate has risen by 4 to 18 percent since 2015 - among third-generation members even to around 20 percent.
Germany does not expect the children
Ünal Görgen put this into practice seven years ago. He moved to Kayseri, a metropolis in the center of Turkey, the birthplace of his parents. The 28-year-old grew up in Delmenhorst near Bremen. He says: "Back then I was in the middle of an apprenticeship at Deutsche Post. Nevertheless, I had the feeling: Germany is no home for me. "In his sober tone, that sounds more like a statement than a disappointment. Görgen reports how this feeling manifested itself: "This is not your Anatolian goat village," he once heard a teacher say when he was talking to someone sitting next to him in class in class. "I now have two children, they are three years and eight months old," said Görgen. "I don't want them to have experiences like that. You shouldn't grow up in Germany. "
Even for people with a migration history, for whom migration is no longer a first-hand experience, it remains as an element of the biographical core narrative, writes migration researcher Naika Foroutan in her article "New Germans". And while in Germany everyday disenchantment occurs due to setbacks and experiences of discrimination, an imaginary home in the distance remains untouched - often the place of origin of the grandparents and parents.
Foroutan said in July that she took the temporary prospect of emigrating from Germany because of a job offer as a great relief. In the past few years she has experienced an alienation in the country that she does not believe can be stopped. Foroutan is committed to promoting a pluralistic society: She is director and professor at the Berlin Institute for Empirical Integration and Migration Research and a member of the board of the "Council for Migration". She has received several awards for her research. But she says: "Being German is again much more closely connected with origin, with national beliefs, with being white. Germany is becoming more brutal. "
Görgen, who emigrated seven years ago, feels the same when he follows the German news: from Seehofer's statements to racist hunts. And that reinforces his decision, despite the poor economic situation in Turkey and despite President Erdoğan's "one-man regime", which he rejects. People like him know that their families came to Germany to give their children a better life. Görgen built this life elsewhere. His parents stayed behind, initially uncomprehending. They said, "You graduated from school here. What should become of you over there? You can't adapt to that! "
But he feels at home in Turkey, says Görgen: "I'm a clerk in a German-Turkish company. My bilingualism is appreciated. I am part of society. Why should I let myself be ruined in Germany? "Today he has many acquaintances in Germany who are thinking of returning to Turkey. He wanted to encourage her.
No longer take on the role of the "guest worker"
Görgen, Polat and Dardan belong to a generation that wants to negotiate questions about identity and belonging on an equal footing with the majority society. They no longer want to take on the role that is assigned to them in social space, on the education and labor market: the role of the deficient other. In a recently published book of the same name, the sociologist Aladin El-Mafaalani describes an "integration paradox": The more people with a migration history that become visible and demand unconditional participation, i.e. are "integrated", the greater the conflicts. Anyone who quarrels must be very close. Integration debates are therefore inevitable on the way to a pluralistic society that offers space for differences.
"Most of the debates in which the term integration is used is about the fact that people should not attract attention", however, judges the cultural scientist Asal Dardan. "You can't expect that from them because it's against human dignity. Everyone has the right to fill their place in society, to participate politically and to express themselves. "And:" It would be desirable not to fix differences to superficialities and properties that cannot be changed. It should be negotiated on a political level - for example, if an attitude is not democratic. The people who showed the Hitler salute in Chemnitz frighten me. I have nothing in common with them. "
Some say that those affected could emerge stronger from experiences of discrimination. That, due to external pressure, they have the right to do more, to become more successful. But there are also people who no longer want that because, like the teacher Selma Polat, they don't believe that one day they will no longer have to assert themselves. "I'm not a failed one," she says, "but one who has given up."