What are some foods containing iron
Ferrous foods

The best foods with iron
What Are the Best Ferrous Foods? How can the iron intake from other foods be improved and how much iron do men and women need? Text: Andrea Flemmer, GN, 10.10
There are two different types of iron: The so-called Heme iron II from meat, poultry and fish and that Non-heme iron III from cereals, fruits, vegetables and dairy products. Before being absorbed by the intestine, iron (III) must first be converted into bivalent (this is called in the technical term: reduced), while the heme iron (II) can be used directly. Correspondingly, the heme iron II is absorbed two to four times as well as vegetable non-heme iron III.
You will find some iron-rich foods in the iron-rich foods listed here, but they are of limited information regarding intake:
| | |
| --- | --- |
| 100 g of edible food | Amount of iron in mg |
| Brewer's yeast, pork liver | 18 |
| Chanterelles, dried | 17 |
| Green tea | 17 |
| Wheat bran | 16 |
| Chives, cocoa powder | 13 |
| Pumpkin seeds | 12,5 |
| Veal kidney | 12 |
| Beef kidney | 11 |
| Quinoa | 8,0 - 10,8 |
| Millet, sesame | 10 |
| Amaranth | 9 |
| Porcini mushrooms, dried | 8,4 |
| linseed | 8,2 |
| Parsley, wheat germ | 8 |
| Sunflower seeds | 8 |
| Veal liver | 7,9 |
| Pork kidney, pistachio nuts | 7,3 |
| Chickpeas, egg yolks | 7,2 |
| Lentils, beef liver, liver pate | 6,9 |
| coarse liver sausage | 5,3 |
| oatmeal | 4,6 |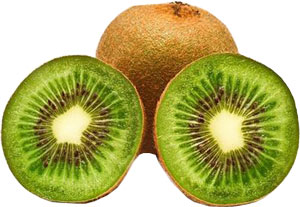 A kiwi for dessert helps absorb iron from other foods.
Improve iron absorption
Iron absorption can also be improved through many measures, such as:
the simultaneous recording of vitamin C: This means that iron (III) can be converted into iron (II). This can increase the iron availability from plant-based foods up to sevenfold! Drinking a glass of freshly squeezed orange juice with your meal, a red pepper salad rich in vitamin C as a starter or a kiwi as a dessert are therefore not necessarily gold for the body, but are worth iron.
Combination of animal and plant foods. This also improves the iron absorption from plant-based products - that is, the combination of meat and vegetables that we usually use can certainly be justified.
If you pay a little attention to the right selection and combination of foods, especially in times of high need, this is the best recipe to prevent iron deficiency and make iron supplements superfluous.
Inhibited iron absorption
Certain substances inhibit iron absorption - if possible, they should not be consumed at the same time as iron-rich meals:
Phytic acid: The iron-binding acid can be found in whole grain and soy products, corn and rice. It forms compounds with iron that are not absorbed by the body. This effect is in turn weakened by vitamin C.
Carbonates, oxalates, phosphates and other compounds from rice, corn, grain and beans bind iron very tightly and are difficult to break down in the human small intestine.
Polyphenols, which belong to the phytochemicals, from black tea and coffee. Polyphenols from red wine as well as rooibos and green tea, on the other hand, have no particular influence on mineral utilization.
High levels of calcium (e.g. through milk and dairy products).
Without protein The absorption of iron in food is also made more difficult. Iron for his partreduces the absorption of zinc, copper and manganese.
Your diet is important to us.
You can find our nutritional principles here.
A.Vogel: Fresh plants ... better recipes!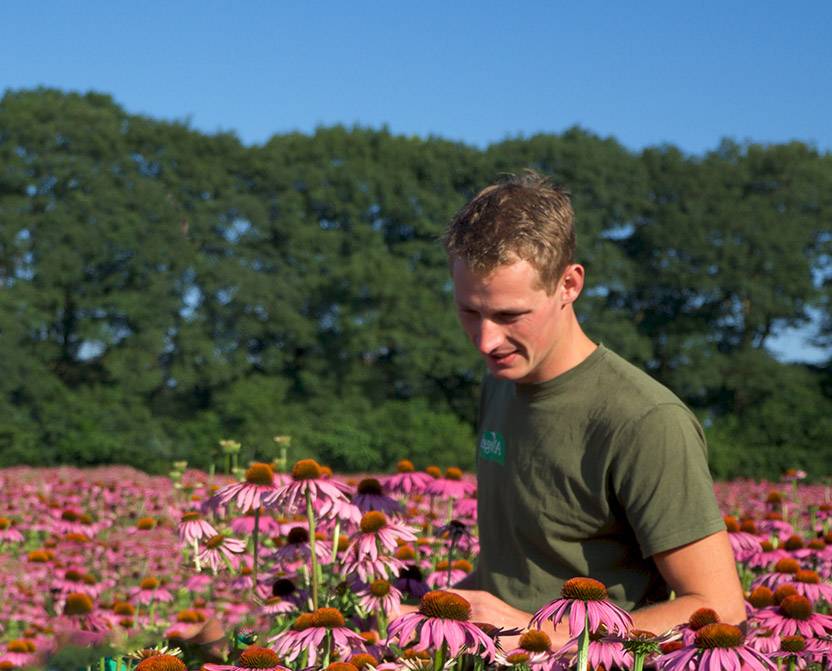 Close This website uses cookies. By continuing to navigate on this website without changing the cookie settings of your Internet browser, you consent to our use of cookies. Further information on cookies can be found in our data protection information.