How much does a personal doctor cost
Social Association VdK Germany e.V.
Home visits: does the doctor have to come home?
Not every family doctor offers home visits, although they are obliged to do so. This poses major problems, especially for older people and people with reduced mobility. You should speak to your family doctor specifically about this, even if you are still able to see the doctor yourself.
Gaps in supply: GPs are now making fewer and fewer house calls. | © imago / photothek
According to statistics from the National Association of Statutory Health Insurance Physicians, doctors made 24.6 million home visits last year, six million fewer than in 2009. Health experts see one reason for this development in the concern of many family doctors about repayments if they make too many home visits. This is regulated differently from state to state between associations of statutory health insurance physicians and health insurance companies. A doctor can only charge around 20 euros per home visit. That hardly covers the actual costs when you factor in the additional effort.
When is a doctor's home visit possible?
As a general rule, house calls should only be carried out if the patient cannot see the doctor for health reasons. This is usually the case when someone is bedridden. Because pain, high fever, circulatory problems, frequent vomiting or weakness often make going to the doctor unbearable, sometimes even impossible, for some patients.
When can the obligation to make a home visit be waived?
In principle, the doctor can schedule the home visit before or after his consultation hour. However, if he is not sure whether the home visit can be postponed, he must also leave the practice during the consultation hours and make the home visit.
However, the obligation to visit the house can be omitted if the doctor is not available, for example because of important duties such as other urgent treatments and emergencies. However, a full waiting room is not one of them.
However, the doctor can refuse visits outside the usual regional catchment area of ​​the practice. If you do not live in the immediate vicinity, you should look around for another doctor who is responsible for the residential area.
Home visits can be delegated to other employees
According to the legal provisions of the Fifth Social Code, home visits can generally also be delegated to qualified non-medical employees. The prerequisite for this is that personal doctor-patient contact has taken place beforehand. For example, medical services such as blood pressure and pulse measurements, dressing changes or injections into the subcutaneous tissue or a muscle can be delegated.
Home visit: what about specialists?
Specialists are also obliged to make a home visit if a patient they treat requires a visit due to an illness in their specialty. This obligation also applies if the specialist is consulted about a treatment and then further visits are deemed necessary by him.
Refusal of the home visit only in exceptional cases
Conclusion: In an absolute emergency, every doctor has an obligation to help, anytime and anywhere. If a patient cannot come to the practice because of a serious illness, the doctor is obliged to take care of his patient, in this case at home. A refusal of the visit is only possible in a few exceptional cases. If the attending physician is not on duty, it is his duty to refer his patient to the medical on-call service and to ensure that someone else takes care of them.
Read and see more on the topic:
09/26/2018 - People with statutory health insurance should get to doctor's appointments faster in the future. The VdK thinks: That is correct, it strengthens outpatient medical care for patients. | further
09/26/2018 | responsible: Cornelia Jurrmann, phone: 030/92 10 580-401
---
VdK-TV: Is what, Doc? - How doctor and patient understand each other better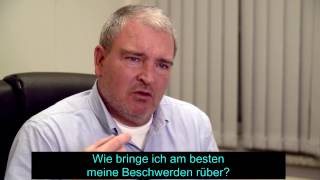 A calm and understandable doctor-patient conversation is the first step to successful therapy. And patients can also prepare for a consultation with a doctor.
ikl
KeywordsHome visit | Doctor | General Practitioner | Legal claim | Specialist | Patient rights