How do you lie to a teacher
Murder of the teacher Samuel Paty: a lie with dramatic consequences
A student's excuse apparently triggered the escalation of hatred against Samuel Paty in France. Her father had published a hate speech video.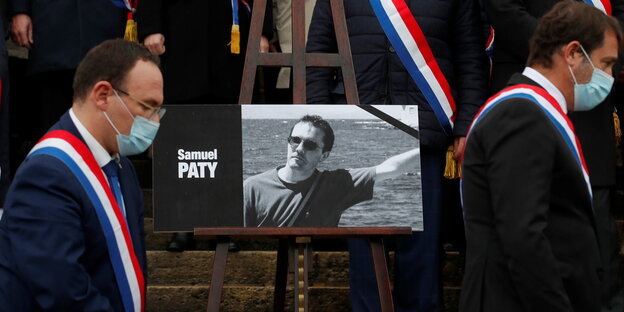 Members of parliament commemorate the murdered teacher Samuel Paty on October 20, 2020 in Paris Photo: Gonzalo Fuentes / Reuters
PARIStaz | Did a lazy excuse by a 13-year-old trigger an escalation of hate on social networks that led to the murder of teacher Samuel Paty on October 16? This is what a report in the French newspaper states Le Parisien close, which is based on statements of the student.
The middle school student Z. confessed to the questioning by the examining magistrate that she lied when she gave her father an excuse for her two-day disciplinary exclusion from class a few days before the murderous attack.
She had said at home that the teacher had shown the Mohammed caricatures by Charlie Hebdo in a class on the subject of freedom of expression and asked the Muslim students to leave the classroom. She was then banned from class for two days because of her protests.
Now she admitted that the disciplinary measure had nothing to do with the Mohammed cartoons: the youngster Z. was not in class that day, as she admitted. She was only told that Paty had shown these cartoons.
Nasty video went viral
But she had sworn to her father that her version of discrimination against Muslims in the class was the truth. He and his daughter did not hesitate to file a criminal complaint against Paty with the police for "pornographic portrayal of the Prophet".
Above all, however, he published a video on the Internet that quickly made the rounds. In this hateful polemic, the teacher was denounced by his full name and his school in Conflans, in the north-west of Paris, was also mentioned. Ten days later, a young Islamist beheaded the teacher on his way home.
The judiciary is now investigating against student Z. for malicious slander. In the judicial questioning she regretted her lie, it is said: "It could never have taken on such a dimension if I hadn't told my father." She cried when she heard about the murderous attack on her teacher.
Her lawyer, Mbeko Tabula, would like to put her responsibility for the events into perspective: "She could never have imagined that it could degenerate in this way. It is unbelievable and even wicked to want to put the responsibility for this tragedy on the thin shoulders of a 13-year-old child today. "Virginie Le Roy, Paty's family lawyer, said the father must have known about the lie. To say now that he believed his daughter, "that is very weak".