What is the best vegetarian food in Amsterdam
Vegan restaurants in Amsterdam - authentic recommendations
You actually already know the hotspots of Amsterdam. Chris showed you the frivolous and adventurous side of the city in a blog post and Jana took you to the best travel highlights. For rainy days, as I mostly had, I could only recommend a spontaneous visit to the Sex Museum, Body Worlds and the Botanical Garden. Now only the culinary highlights are missing - vegan of course. No matter whether in the sun or rain, Amsterdam will also enchant you with culinary delights. Without exaggeration, I was served probably the best food I've ever eaten (yes, including my years as a non-vegan!). There will be no shortage of food options in the Dutch capital, but here are my vegan restaurant recommendations for Amsterdam that will make your taste buds melt away.
Vegan Junk Food Bar
The Vegan Junk Food Bar
Is vegan healthy? Nope, not always. When people think of vegan food, they only think of barely processed fruit and vegetables, super green bowls and salads. The Vegan Junk Food Bar proves that it can also be more colorful and that even vegans can indulge in all kinds of cholesterol-inducing temptations. Here you are not allowed to count the calories, just enjoy them.
The Vegan Junk Food Bar only serves plant-based junk food. However, you can hardly compare that with the vegan fast food offerings from McDonalds. It's junk food on a new level and, by the way, also very Instagram-worthy. Bright colors, strong contrasts and graffiti art give the associated restaurants an urban, rebellious style with a retro touch. And the rainbow-colored burgers, french fries, fries and salads are a real eye-catcher.
The small restaurant chain started in Staringplein in the west of Amsterdam. Now there are a total of four restaurants spread across Amsterdam - Staringplein, Marie Heinekenplein, Eerste van Swindenstraat and the newest one in Reguliersdwarsstraat - and another one in Rotterdam. In 2020 the company wants to expand internationally and open another branch in Barcelona. No reservations and only card payments are possible. So just stop by for lunch or dinner on foot and don't forget your debit card.
Vegabond
In the Vegabond Leligracht Dace you will also find the trendy Açaí Bowl along with many other inexpensive vegan snacks and refreshments. Here you can get freshly squeezed smoothies, homemade, raw cakes and the vegan, homemade snicker bars that are popular all over Amsterdam. This can be enjoyed wonderfully with a hot tea on cold days.
If you want to save some money and stock up on vegan fair trade products, you can also take a look around the Vegabond supermarket in De Clercqstraat. But why are you on vacation if you don't even indulge in something?
Meatless District
Meatless District Amsterdam
Now we come to my absolute favorite vegan restaurant in Amsterdam, which you will also love - whether vegan or not. Meatless District is in the Bilderdijkstraat in the west of Amsterdam, about half an hour's walk from Central Station. On the way there you stroll through countless canals and through the beautiful Jordaan district.
The restaurant itself is on a quiet street and is rather inconspicuous from the outside. Inside, however, it impresses with an open and light-flooded interior design with friendly natural colors and lots of wood. Fortunately, I looked inside the restaurant through the door. The menu is only in Dutch, but you can guess the content very well or have the friendly staff translate you.
We ate the kimchi burger and the barbacoa bowl. The menu seems small and the main courses are expensive, with prices between € 13.50 and € 16.50. But let me tell you: every cent, or rather bite, is worth it. I have never eaten dishes that are so perfectly coordinated and harmonious - texture, temperature, spices - simply heavenly. A very clear recommendation.
Hearth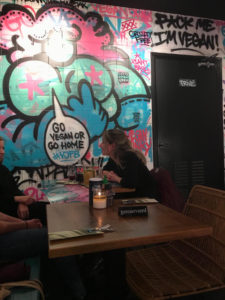 Vegan Amsterdam
Hearth is a vegetarian restaurant in the local shabby look / vintage style with predominantly vegan options and is run by two charming Italians. You can find it in the Albert Cuypstraat, where it is hidden behind the market stalls during the day. If you're lucky, there will even be a small live band or a temporary art exhibition in the restaurant. Everything that makes the atmosphere even more relaxed and open-hearted.
The menu includes snacks for in between, such as falafel waffles and lentil soups, as well as real portions. Hearth mainly has delicacies on the menu that I normally find difficult to find in their vegan variants. These include homemade broccoli or eggplant gnocchi or vegan sushi.
Spirit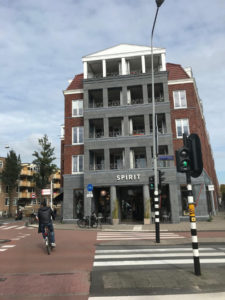 Spirit Amsterdam
The Spirit restaurant is located very close to the De Gooyer windmill in the east of Amsterdam. It is a vegetarian restaurant with a lot of tasty and breathtaking vegan offers and a buffet of a different kind. You take a plate and serve yourself to your heart's content. This is weighed at the end and (of course, minus the weight of the plate) you pay for it according to its weight (per 100 grams). For lunch this is € 2.60 and for the evening buffet € 2.80 per 100gr meal.
But be careful with all the delicacies - from soups with fresh bread, warm and cold salads, antipasti, noodle and rice dishes with soy, tofu and tempeh, exotic fruits and chocolate desserts - the plate can quickly become heavy. Be sure to try the vegan egg salad and tell me what it's made of!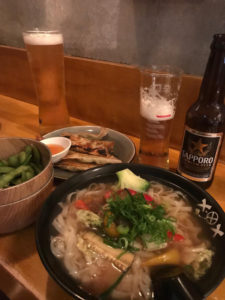 Vegan ramen
Of course there are many other restaurants with vegan options. Amsterdam is literally a hit for foodies of the vegan cuisine - but those were only the restaurants that I tried on my city trip and that convinced me. The Indian, Japanese, Vietnamese and Malaysian restaurants around Chinatown also have appealing and vegan-friendly menus on display.
If you still have good insider tips on vegan restaurants in Amsterdam, please let us know in the comments. Until then, eet smakelijk!