"Death sentence for hundreds of thousands" in Yemen
The United Nations is very concerned about the US government's decision to put the Houthi rebels in Yemen on its terrorist list: "We already have big problems without the classification. The classification will be catastrophic. It will literally be a death sentence for Hundreds of thousands, if not millions, of innocent people in Yemen, "said the head of the World Food Program (WFP), David Beasley, before the UN Security Council in New York.
Fear of sanctions
In the severely impoverished civil war country, 70 to 80 percent of the citizens live in areas controlled by the Houthis. Important aid projects and the import of aid goods could now be severely impaired, delayed or stopped entirely because international organizations fear legal consequences or sanctions from the United States. The decision of the Trump administration must be reassessed, "and frankly, reversed," stressed Beasley. The American is a member of Trump's Republican Party.
UN Emergency Aid Coordinator Mark Lowcock tweeted: "It could be the drop that is breaking the barrel in Yemen." Now the threat is "not just a small famine, but a really huge one".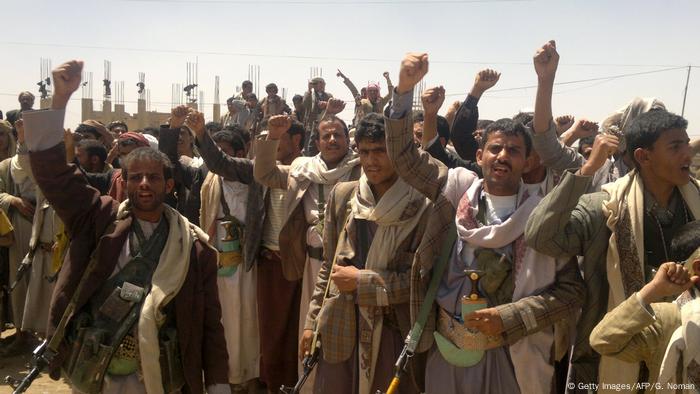 In the north and west of Yemen they dominate almost all areas of daily life: Houthi rebels (archive)
In Yemen, a Saudi-led military alliance is fighting alongside the government against the Houthis, who in turn are supported by Iran. According to political observers, the main aim of classifying the Houthis as a terrorist organization is to complicate the future US President Joe Biden's policy on Iran. There are no indications that the Houthis would be weakened militarily as a result, it is said.
"Deterrent effect"
UN mediator Martin Griffiths also told the Security Council that he was "extremely concerned" about the peace process in Yemen because of the US decision. There would "inevitably have a deterrent effect on my efforts to bring the conflicting parties together".
wa / rb (dpa, ap)