What is life like in the cement industry
Resources and environmental protection
Environmental protection - a central concern of the Austrian cement industry
Environmental protection - a central concern of the Austrian cement industry
The aim in the manufacture of structures is to keep the impact on the environment as low as possible. The cement industry, as part of the manufacturing industry in Austria, is aware of this and therefore also takes responsibility.
Living in an intact environment is one of the most important concerns of Austrians. Cement and concrete are natural building materials that fully meet the requirements of building biology and ecology - this means that renewable forms of energy (solar energy, geothermal energy, etc.) can be optimally integrated in combination with the heat storage effect of concrete. And of course, concrete is 100% recyclable.
Concrete protects people and the environment. With many essential structures, only concrete offers the necessary security - e.g. B. Protective structures against avalanches, floods, mudslides or sewage treatment plants and canals.
The Austrian cement industry takes responsibility
In order to avoid harmful influences or to keep them as low as possible, the Austrian cement producers take numerous measures:
Constant modernization and optimization with environmentally friendly techniques in the domestic factories
Falling below the emission limit values
Research programs on environmental precaution and optimal energy use
Strict environmental controls on their own initiative and by government agencies
Replacement of fossil fuels (coal and heavy oil) by using alternative fuels while adhering to stricter emission limits
Quarry and biodiversity
Quarry and biodiversity
Cement production today still largely relies on the natural raw materials limestone, clay and marl, which historically also formed the reason for the choice of location when the individual plants were built. The mining of natural raw materials inevitably represents an intervention in nature.
Quarry, © Holcim (Vorarlberg) GmbH
The nine cement works in Austria obtain their raw materials from around 20 quarries and clay pits. For several decades, mining in these raw material extraction sites has been carried out on the basis of long-term planning according to modern mining technology aspects. The dismantling takes place behind a backdrop to protect the neighbors, where this is possible with the given geological and technical conditions. The rough stone is partly conveyed through a fall shaft without dust and noise emissions. Belt conveying largely replaces truck conveying. These technologies reduce the nuisance of residents from dust, noise and engine emissions to a minimum. These measures have led to a livelihood with the extraction of raw materials in the cement industry that is compatible with neighbors and the otherwise affected nature. The quarry area currently being mined amounts to approx. 191 ha.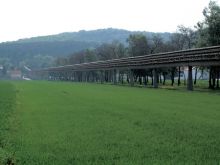 For decades, mining has been carried out with accompanying recultivation. The optimization of raw material extraction is constantly being worked on everywhere. This includes, for example, the long-term conversion of the quarrying methods, but also the use of the latest blasting technologies. Successful renaturation of the areas of the earlier raw material extraction strives for the highest possible diversity and natural composition of plants and animals. The aim of a research project, which was carried out in cooperation with the WWF in a large quarry, was to record the biodiversity in various former mining areas. It has been shown that the biodiversity in the disused quarry area can be higher than in the natural environment not touched by the quarry.

The increasing use of substitute raw materials such as slag and fly ash also serves to protect natural raw materials and their extraction in the quarries.
Resource raw material
The demand for raw materials such as limestone, clay and marl, which are mined as gently as possible in the quarries, is around 5 million tons per year. In addition, there are more than 1.2 million tonnes of additional raw materials and substitute raw materials (slag sand, fly ash, brick chippings, etc.) and 0.4 million tonnes of fuel.
Handling resources
Cement production is a very resource and energy-intensive process. In addition, there is a high CO2-Intensity, which is mainly due to the process-related deacidification of the limestone used (CaCO3) is due.
The cement industry is aware of this situation, which is why the conservation of natural resources and the saving of fossil primary energy while at the same time maintaining emission standards and the consistent quality of our cements are the declared goals.
The key areas for conserving natural resources are the replacement of raw materials and clinker with suitable mineral components, the constant optimization of energy efficiency and the replacement of fossil fuels with alternative fuels or biomass.
These reduction strategies are also important indicators of eco-efficiency. They enable us to produce more cement while using less natural resources. In this way, the cement industry also makes an important contribution to industrial ecology, since by-products and residues from one industrial process become the input of another process. A classic win-win situation.
Increased use of substitute raw materials
Increased use of substitute raw materials
Components such as calcium, silicon, aluminum and iron oxide, which are essential for the production of cement clinker, are increasingly being obtained from secondary raw materials. These also occur as by-products in other branches of industry. Since 1999 in particular, there has been a continuous increase in substitute raw materials. A wide variety of building material recycling products, such as broken bricks and plasterboard - materials that are otherwise difficult to recycle, were increasingly used. The amount of secondary raw materials used increased from 141,000 tons in 1998 to a remarkable 394,000 tons in 2009. The graphic shows the development of the use of substitute and secondary materials and thus the extent to which natural resources have been conserved. However, technical and economic conditions limit the use of substitute raw materials, additives and biomass and thus ultimately limit the possibilities of CO2-Reduction.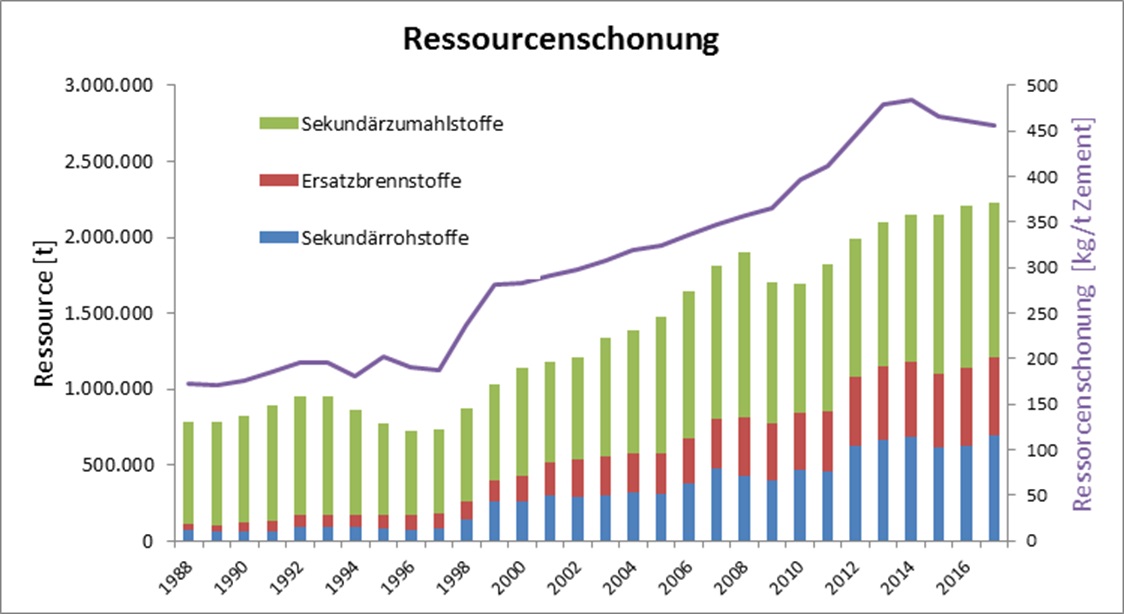 Replacement of cement clinker
The replacement of cement clinker involves the targeted addition of other specific, mineral components (main components) during cement grinding. Blast furnace slag from steel production, fly ash, FGD gypsum from coal-fired power plants and unburned limestone are used. The Austrian cement industry has been among the European leaders in the use of additives for many years. This was made possible by early and systematic research into cements with several main components and their possible uses. With regard to the availability of suitable mineral components, the industrial structures of Austria are of course also decisive.
Resource fuel
Cement production is an extremely energy-intensive process. The combustion temperatures required for sintering the deacidified raw materials are 1,450 ° C, which makes flame temperatures of 2,000 ° C necessary. For this reason, the cement industry has always used energy-rich and therefore fossil fuels such as hard coal and petroleum coke. In 2010, around 533,000 tons of fuel were used in the rotary kilns.
Since the fuel costs when using primary fuels (oil, coal) can amount to 20 to 30% of the total cement production costs, the Austrian cement industry began to use alternative fuels very early on. Used tires have been recycled for more than 30 years. In 2010, for example, the share of alternative fuels in the total energy requirement was already increased to a remarkable 63%. It is noticeable that a considerable proportion of the substitute fuels are of biogenic origin (sunflower peels, paper sludge, animal meal, etc.). However, due to the comparatively low calorific values, there are clear limits to this positive trend in terms of climate policy.
The use of alternative fuels has the following positive effects:
Resource conservation
Replacement of primary energy sources with alternative fuels (e.g. 1 kg of old tires replaces 1 kg of coal). This saved the import of 243,000 tons of coal in 2010.
Reduction of greenhouse gases
On the one hand, the use of alternative fuels prevents the climate-damaging release of methane emissions from landfills. On the other hand, the range of thermal recovery capacity will be expanded. This conserves natural raw material reserves and reduces the Austrian CO2-Balance sheet and represents one of the most efficient forms of utilization.
Residue-free recycling
There is no need for additional landfill when using alternative fuels. Rather, the ash residue from the various alternative fuels is used as a substitute for raw materials in the cement production process. This means that there is also a material recycling component in addition to energy recovery. The safe destruction of organic pollutants is achieved through high-temperature incineration at 1,450 ° C and the long dwell times of the kiln of over 1 hour in the rotary kiln. This prevents contaminated sites for future generations. In the event of landfill, it is precisely the organic components in the waste that cause leachate pollution to last for centuries.
Immobilization of heavy metals
Permanent integration of non-volatile heavy metals in the crystal lattice of the clinker. Numerous studies prove that embedded heavy metals are no longer released (eluted) even beyond the service life of concrete structures.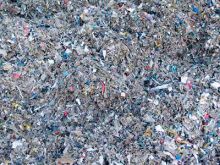 Alternative fuels
The Austrian cement industry takes a leading position in Europe not only because of the high proportion of material recycling of secondary raw materials and secondary additives, but also with regard to the co-incineration of substitute fuels. In 2010, almost 400 kg of substitute or secondary materials were used per ton of cement produced. With an increase in substitute raw materials and fuels from 785,000 tonnes in 1988 to 1.8 million tonnes in 2009, not only was the production of cement increasingly resource-efficient, but the Austrian waste and recycling industry also increased by an impressive 1.82 million . Tons relieved through thermal and material recycling.
To energy efficiency
Cement production is a very energy-intensive process. The energy costs for fossil primary fuels can amount to 20-30% of the production costs for cement. Mainly for reasons of competition, the Austrian cement industry has continuously improved its energy efficiency over the last few decades and thus the CO2-Emissions reduced. The use of CO as part of European climate policy2-neutral biomass leads to a slight increase in specific energy consumption due to the lower energy density compared to fossil fuels. The advantage of the CO2-reducing use of biomass is offset by a slight deterioration in energy efficiency. As a result, there is practically no longer any potential for further reductions by increasing energy efficiency. Replacing all cement plants with new ones would only produce 3% CO2- bring a reduction. Furthermore, it must be taken into account that the Austrian cement works, which are relatively small by international comparison, cannot have the same specific energy efficiency as large-scale plants for process engineering reasons (economy of scale).
Secondary ingredients
Cement clinker can be partially substituted by using secondary additives. Traditionally, the Austrian cement industry occupies a top position in Europe in this area. In 2010, a total of more than 0.85 million tons of secondary additives (blast furnace slag, fly ash, FGD gypsum, etc.) were recycled in our cement works. In this way, the cement works make a significant contribution to the conservation of natural resources. A further increase in the proportion of secondary additives is only possible in small steps for reasons of application technology and requires considerable research effort. There are also clear limits to the availability of these industrial by-products.
Substitution of fossil fuels
Substitution of fossil fuels
In recent years, the replacement of fossil primary fuels (substitution) with alternative fuels has increased continuously and in 2010 reached its highest level of 63%.
The CO2- Emission factor has decreased by more than 10% since 1997. From the cement industry's point of view, the climate-active CO2-Emissions are not counted as a burden. By using them, on the one hand, emissions from coal and oil are saved and, on the other hand, the substitute fuels used do not have to be treated in new disposal facilities. This contribution relieves the Austrian CO2-Balance in the waste management sector is crucial and can still be increased significantly.