Why is Romania so corrupt
Romanians are against corruption
In Romania, the signs are on an anti-corruption course: In a referendum, the overwhelming majority voted for corrupt officials to be punished consistently. Around 89 percent of voters spoke out against arbitrary judicial laws in favor of corruption suspects.
The Romanians could vote in the referendum whether they are in favor of a ban on pardons and amnesties for corruption offenses. The second question was whether one was in favor of a ban on changes to the judicial laws by means of an emergency ordinance - i.e. bypassing parliament - and whether the possibilities of constitutional actions should be expanded. 6.3 million Romanians answered both questions with yes and a million or more with no.
The referendum is not legally binding. Nevertheless, President Klaus Iohannis, the initiator of the referendum, welcomed the result: "The turn for the better in Romania begins today". The vote was a "hard lesson against populism, demagoguery and against the anti-European and anti-justice discourse" led, among other things, by the ruling party PSD (Social Democrats).
Social Democrats punished
The PSD meanwhile had to cope with another piece of news: an appeals court in Romania upheld the prison sentence for the controversial party leader Liviu Dragnea in a bogus employment affair. Dragnea was sentenced to three and a half years in prison in June 2018 for hiring two women who actually worked for his party to work for the city council in his constituency.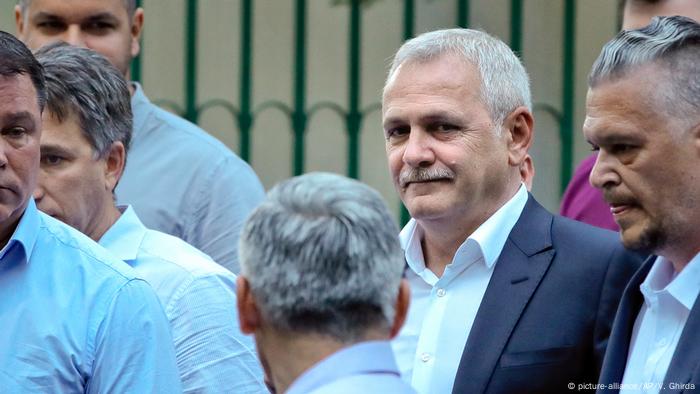 Romania's Prime Minister Liviu Dragnea on the day of the European elections
The 56-year-old Dragnea had denied the allegations and appealed against the verdict. He was not present when the verdict was announced. Hours after the verdict, Dragnea was picked up at home by the police and taken to a Bucharest prison. All Romanian TV news channels broadcast this live.
The EU country Romania has been criticized several times by Brussels for attempts to relax the criminal law against corruption, for example by means of an emergency government decree. Emergency ordinances come into force immediately. They can be withdrawn by Parliament afterwards, but in practice, according to criminal law, they have hardly any legal consequences that can be challenged. Because offenders must always be convicted on the basis of the law that was valid at the time of the offense and which is more favorable to them. Dragnea in particular acted as the driving force behind the judicial changes criticized by the EU.
The referendum and the confirmed prison sentence for Dragnea coincide with the European elections, which ended on Sunday. The PDS had suffered considerable losses in the process. The party got 23.39 percent of the vote, as the central electoral authority in Bucharest announced on Monday after counting almost all ballot papers.
lh / uh (afp, dpa)