What is ecological sustainability in companies
Is that organic? Ecological sustainability in companies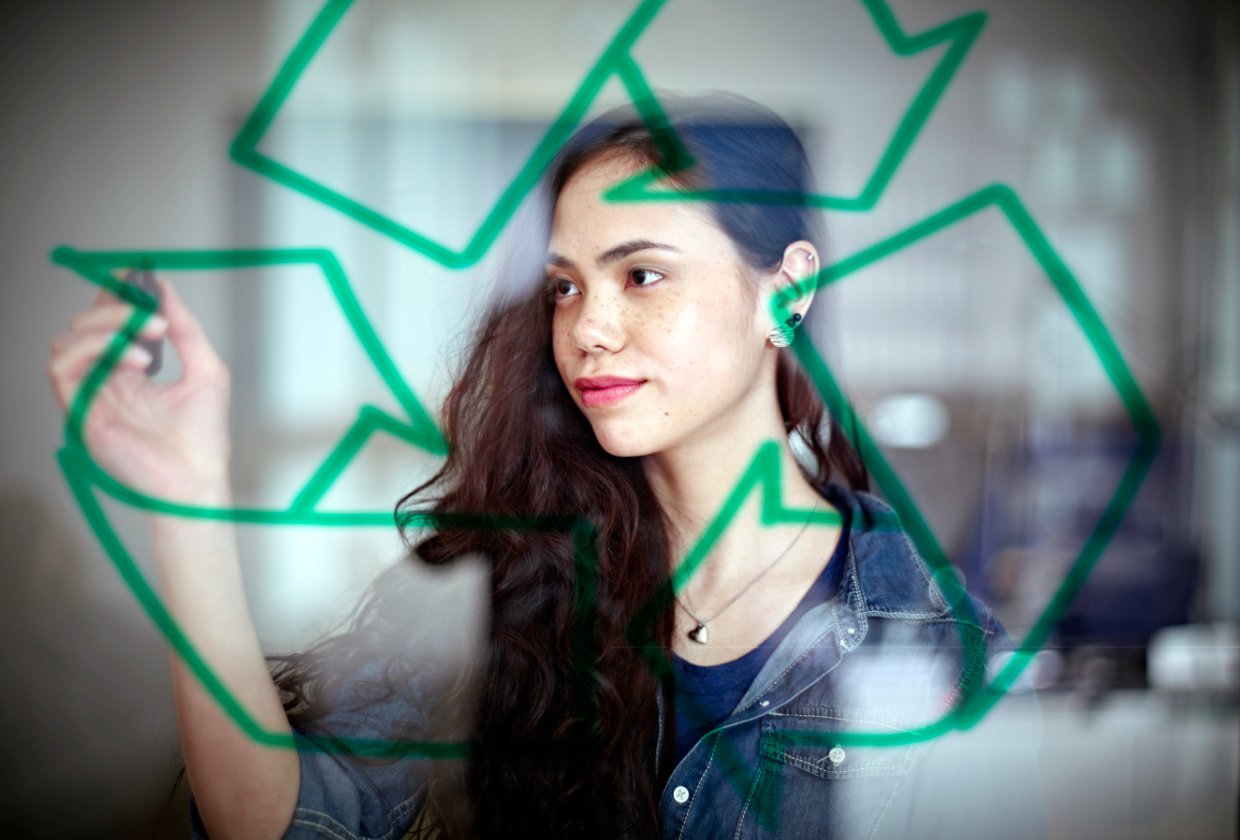 Employees demand it, customers reward it: climate protection and careful use of our resources. It is becoming more and more a matter of course in companies to act according to the principle of sustainability. This involves both the continuous protection of the environment and resources and the fulfillment of social and economic goals. Ecological, economic and social aspects therefore work together. In this article we focus on one of these three aspects and ask: what exactly is environmental sustainability?
Ecological sustainability is resource protection
Ecologically sustainable action describes the considerate use of natural resources, the use of renewable raw materials and recyclable products.
If efforts to achieve environmental sustainability are neglected, there is a risk that natural resources will be irrevocably destroyed or rendered unusable. Shortages of raw materials can then be the result. This in turn can lead to sometimes strongly fluctuating prices on increasingly turbulent raw material markets and increasing dependency on imports.
Protecting resources should therefore be an ambitious goal. Because it has a positive effect on the condition of ecosystems, their vitality, resilience and their survival.
What are the goals for more ecological sustainability?
The following approaches are available to protect resources and preserve ecosystems:
Efficiency of energy and raw material useincrease
Increasing resource efficiency is a future task not only from the point of view of sustainability, but also in terms of costs and competition.
Ecological and economic benefits are often linked. Vehicles, buildings or production processes with lower energy consumption save money and conserve resources at the same time.
Replace non-renewable raw materials with renewable raw materials
What does not grow back cannot be used sustainably. Natural gas, oil, coal and other fossil raw materials are continuously being mined, although they are finite or not growing again. What does this mean for environmentally sustainable companies?
Petroleum-based plastics can be replaced by vegetable raw materials. In the energy industry, this means the preferred use of sun, wind, geothermal energy or biomass.
What measures are there for ecological sustainability?
With sustainable, environmentally friendly adjustments in everyday business life, companies take responsibility and show ecological commitment.
Ecological measures can be divided into an internal and external area.
In-house ecological measures
Sewage and waste management. This includes consistent waste separation, the reuse of waste water and the recycling of waste materials. You should also try to avoid rubbish in advance by using reusable products.
Use of chemicals. Check systematically whether you can use fewer and more environmentally sustainable chemicals and whether you can do without environmentally harmful products altogether. This starts with cleaning products and extends to toxic consumables for printers that also require careful disposal.
power consumption. Switch to LED lighting and energy-saving multifunctional IT equipment. The use of motion detectors also helps to save energy here. Use the standby mode or, ideally, switch off the devices completely when they are not needed.
Material usage. Recycled materials can be used here and material efficiency can be increased, e.g. double-sided printing as the standard printer setting and environmentally friendly office equipment. Also, replace paper towels with washable towels.
Water consumption. Reduce the water consumption e.g. by changing the water pressure to optimal conditions.
External ecological measures
biodiversity. Support a natural design of open spaces as well as the information and sensitization of residents and tourists.
Emissions. This includes reducing noise emissions by using silencers in your CHP unit. CO2 and transport emissions can be reduced, for example, by combining several smaller orders that require shipping.
Land use. Avoid oversized concrete surfaces at the company location and green your company premises.
Sustainable purchasing. Evaluate suppliers and products in terms of ecological criteria. Buy regional and ecological products and services. Think of your office supplies and groceries for the canteen. Fairtrade coffee, recycled paper and fruit and vegetables with short transport routes are just a few examples.
Ecological effects of product use. This includes offers for the repair of products and the ecological product design itself, such as improved repairability and recyclability or an extended product lifespan.
Environmental commitment. Get involved with your own environmental projects and cooperate with environmental initiatives.
What are the advantages of ecological sustainability for companies?
Companies have to decide which path or which strategy they want to go in terms of environmental protection. Innovation-oriented environmental protection can open up opportunities for you to generate competitive advantages. Many companies also often demand sustainable CSR management from their suppliers.
The attractiveness for applicants and employees increases, skilled workers are easier to keep.
Cooperations with clients and other interest groups are strengthened.
Save costs through lower energy consumption.
Increasing public visibility.
Positive image and better customer loyalty.
Conclusion
Ecological sustainability in companies is increasingly becoming a self-evident guiding principle. Companies show responsibility towards their employees and other interest groups and know that many customers are willing to spend more money on a sustainably produced product. Through the cooperation with sustainably operating companies, the use of green electricity or the production of products under environmentally conscious conditions, ecological sustainability is lived in companies.
Ecological sustainability is only one pillar of the broad topic of sustainability. You can also read about economic sustainability in companies and how you can do something there for the environment.