What did you gain from loneliness
Escape Solitude: Eleven Efficient Tips!
When you're feeling lonely, it's easy to just sit around feeling sorry for yourself. Instead, you'd better try one of these 11 ideas from Calvin Holbrook! This can help ease the pain of loneliness and make you feel happier.
Loneliness sucks. I've experienced it and maybe you know it too: You are at home alone and you really want nothing more than to be out with friends and have fun. Instead, you feel lonely inside for some reason and wonder how and why you ended up in this position.
Feeling lonely is not your fault, however, and can often be a result of living conditions: Maybe you have just moved to a new city and you are having a hard time making new friends. Maybe you just got out of a relationship (or all of your friends are suddenly dating!). Or you are struggling with depression or anxiety and panic and just can't stand meeting your friends. For whatever reason, science agrees that prolonged loneliness is bad for both mental and physical health.
In fact, studies show that a lack of social ties can be just as harmful to your health as smoking 15 cigarettes a day. The same research suggests that loneliness increases the likelihood of death by a whopping 26 percent. In the UK, 1.9 million elderly people often feel ignored or invisible. But it's not just the elderly who feel lonely. Over 40 percent of Britons say the television or a pet is the main source of their company, and in the US, nearly half of Americans say they feel lonely. Indeed, social isolation can encounter us at any age and can be influenced by our personality, motivation, and physical location.
You feel lonely Then you should do the following
The developed world is clearly experiencing an epidemic of loneliness. So what can you do if you are one of those affected? Well, there are many ways to make new friends even as an adult. For example, you can join a social group or build relationships with your work colleagues. However, if you're alone at home right now and feeling lonely, here are 11 practical ideas you can use to fight the pain of loneliness and feel better.
1. Say hello to your old friend: loneliness
Think of loneliness as an old friend who just comes by uninvited. The reason for this is that trying to defy loneliness only makes it worse. Try to accept how you are feeling in the moment. Don't blame yourself. Instead of battling feelings of loneliness, take those painful emotions into your heart with self-compassion. It will help ease the pain a little. Accept your loneliness and make friends with it.
2. Get creative
When you feel lonely, it is easy for you to get into a spiral of constant brooding. You start to think about how you got into this situation and whether you could not have done things differently to avoid it. Getting creative is an easy and fun way to take your mind off your thoughts and immerse yourself in something more productive. For example, you can try coloring in mandala or coloring books for adults, making a collage out of old magazines, drawing or writing. Being creative keeps your mind busy and gives you a sense of satisfaction and achievement.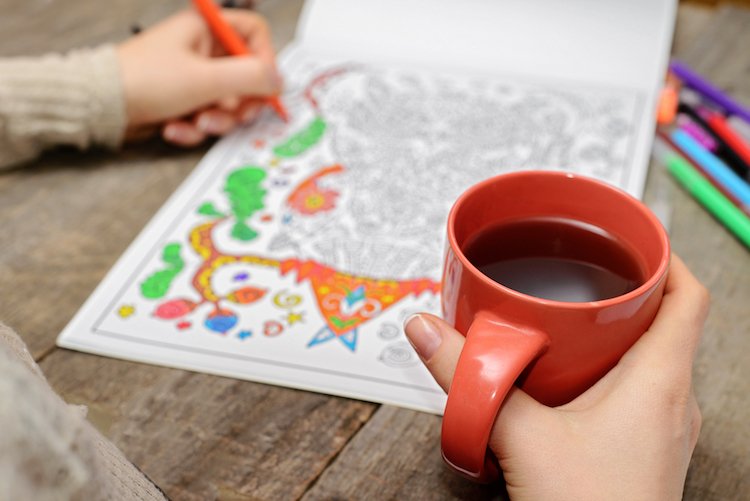 Paint your life when you are alone © shutterstock / Serhii Krot
3. Write in your gratitude journal
Accept your feelings of loneliness instead of romping on them and move your mind to all the higher things in your life for which you are grateful. Take ten minutes to write these down in a gratitude journal. Diaries help us to get to know ourselves better by organizing our thoughts, emotions and feelings in them. A 2015 study published in Europe's Journal of Psychology suggested that gratitude can help reduce feelings of loneliness. According to the study, this can improve our health, well-being and happiness.
4. Train your brain
Use your lonely time positively. For example, you can increase your thinking power with a puzzle or a crossword puzzle. When solving a puzzle, we have to look at different pieces to figure out where they fit in the bigger picture. In this way we can improve our visual-spatial thinking. Studies not only show that puzzle games can help delay the symptoms of dementia and Alzheimer's disease. Completing a puzzle also reduces stress by keeping and energizing the mind and creating a sense of calm. When putting a puzzle together, there is less awareness of worry and stress as the mind focuses on a task that is both meditative and satisfying.
5. Go to the door
Unless you're preoccupied with any of the above tips to eliminate loneliness, staying indoors alone means a greater focus on those feelings of isolation. A simple walk outside can help by changing your surroundings and thoughts. Take a walk and practice mindfulness. Take in everything: the smells, sounds and images. Try a little culture. Visiting an exhibition or watching a film again helps you to get involved in something other than loneliness. Think of it as a very personal appointment with yourself! If you have the opportunity, consider going for a walk in a park or forest. The benefits of connecting with nature are scientifically proven.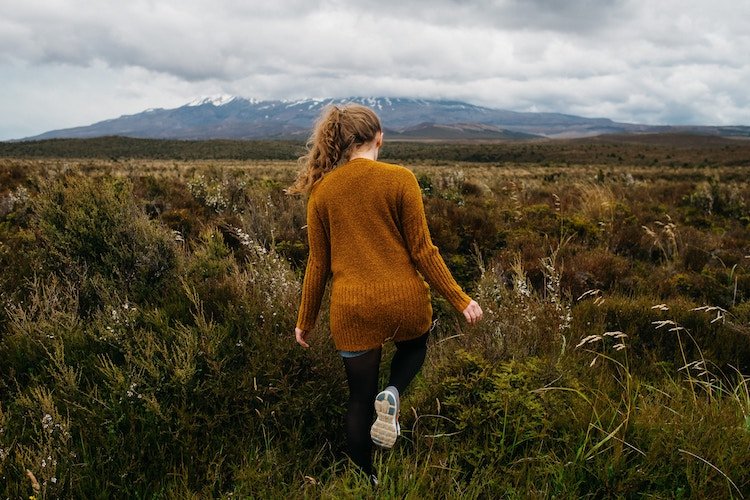 If you feel alone, walk mindfully through nature
6. Get active
Exercise is a great way to take your spirit out of the situation when feelings of loneliness get the better of you. Instead of thinking about things inside you, go jogging or running outside, which will give your happiness hormones a boost. Exercise in a group is even better. You can go to the gym and take a class, and you'll be more likely to get into a conversation there. When you talk to someone you don't know, you can lose the fear of asking them for their number or having a coffee together afterwards. Because you never know if the other person doesn't feel as lonely as you do.
7. Sing
Singing is another proven way to counteract the feeling of loneliness. So throw on a few of your favorite tracks and get your vocal cords going! Singing is a natural antidepressant because it has been shown to release mood-enhancing endorphins. It has also been shown to boost our immune systems and reduce stress. Singing helps patients manage chronic pain, according to a report published in the Journal of Music Therapy in 2004. Joining a choir is a great way to enjoy the benefits of singing while reducing loneliness! The research study Community of Voices (2012–2018) found that spending six months in a community choir lowered participants' feelings of loneliness and increased their interest in life.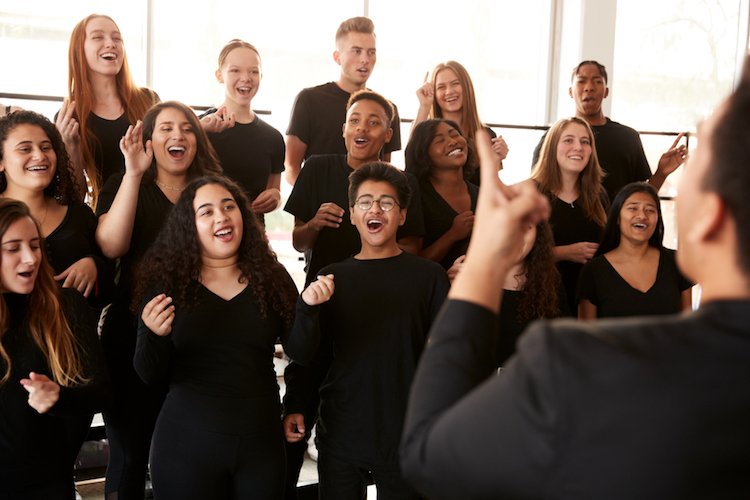 Singing in a choir can overcome loneliness © shutterstock / Monkey Business Images
8. Share your skills with others
Getting involved as a volunteer is a fantastic practical way to counteract feelings of loneliness. Volunteering for at least two hours a week can go a long way in alleviating loneliness and isolation. Research results were published in the journal Journals of Gerontology: Social Sciences. Volunteering almost always involves interacting with others. This builds social connections and reduces isolation. In fact, the benefits of volunteering are many. If you feel alone, think about what you could do in your community.
9. Get involved with yourself
It's okay to feel alone sometimes. Remind yourself that life is not always fun and that there are many ups and downs. Most definitely, your circumstances won't always be the same, and you won't always feel that way. Try to be patient with your loneliness. And with time and effort, it gets easier. Remember that tomorrow is a new day that you can re-engage in, alleviate your loneliness and make new friends if you want.
10. Think about a pet
If you have the space and time to do it, consider getting a pet. It has been scientifically proven that the companionship a pet offers can reduce loneliness, anxiety, and stress, whether it's a cat, bird, gerbil, or iguana! However, dogs are the clear winners when it comes to tackling loneliness. In addition to many benefits, they force you to leave the house and thus possibly come into contact with other dog owners.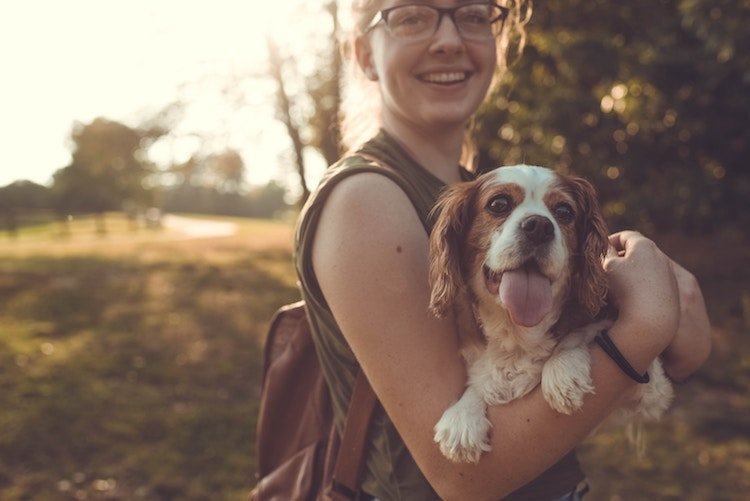 Animals, especially dogs, can heal loneliness
11. Use the skill of compassion
As I wrote at the beginning of this article, you may feel lonely in front of your friends having fun while being left alone. You may even be jealous and jealous of these people who seem to be having a good time together and are not lonely. It may be that you weren't invited to a party or vacation together and that you get upset about it. However, it is better to practice compassion rather than having negative thoughts about those involved. Try to feel for the others and imagine them and be happy for them. To be happy for others despite your own grief can be healing and actually make you happier! ●
Main image: shutterstock / Antonio Guillem
How do you deal with loneliness? Do you have any other ideas to add to the list? I would love to read your thoughts in the comments! Have a look at the forum to share ideas about loneliness.
Did you like the article? Find out more about the free offer of the happiness project:

Our mission:Facilitating a safe and mutually supportive community where tools, practices, and experiences are shared that enable everyone to live happy and fulfilling lives.

In concrete terms, this means that as a member of the happiness community you can enjoy the following benefits free of charge:

You cannot escape the ups and downs of life, but you can learn to deal with it more consciously, to accept it and thereby to gain inner freedom.

Become part of the loving community of open-hearted people today and register now.
Written by Calvin Holbrook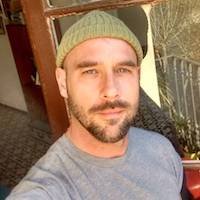 Calvin edits the English happiness magazine, is an artist and loves to travel. He also enjoys hiking, swimming, yoga, enjoying the outdoors and dancing, and is into vintage!
---