What difficulties do nurses have
Nurses in the corona crisis: I loved this job
The pandemic reveals the difficulties of the care system more than ever. Our author writes why he can no longer work as a carer.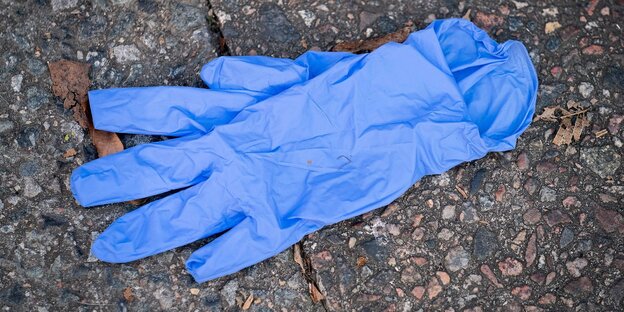 There is a lack of foster care, and in August the paritätische also warned of a bottleneck in disposable gloves Photo: Kay Nietfeld / dpa
Until recently, I was a carer in a residential group for people with so-called intellectual disabilities. Farewell had been planned for a long time, after seven years at the same job it was time for a change. But then Corona came. So I thought I would stay there a while longer until the worst was over. The opposite happened: I walked even faster than I thought.
The corona crisis has made weaknesses and difficulties in the system even more prominent. In the last few weeks and months I have spoken to a lot of colleagues, also from completely different areas.There are some who are running out of steam. The rest of them bite through. There is almost no one who leaves the whole thing untouched.
As far as I know, verified data is only available in individual areas. According to a survey by the German Medical Journal 37 percent want to leave in the next five years, 33 percent want to shorten their working hours. And that was in 2019, before the pandemic. According to health expert Prof. Dr. Michael Simon is currently short of 100,000 full-time nursing positions, and that's just the hospitals.
For me, one point was crucial to pull the rip cord earlier: the failure of middle management. There are three levels here, and all three had only been in their posts for months as a result of upheaval. First, the group leader, the boss of the team, so to speak, a young woman who was very fresh on the job, her first job.
The question of infection protection
A good choice for a breath of fresh air and new ideas, but suboptimal in the event of an acute crisis situation. One over the house management, an arrogant medieval man who had previously been noticed because he never greeted any of the residents during his sporadic visits to the groups, only the employees (not all of them). And the division management, at the very top, so to speak, a woman in her late 50s, very committed and communicative, but also permanently overestimating how well she knew the individual residents.
At the beginning of March I had already written an email to the division management with suggestions on how to reduce the likelihood of infection. That was pretty simple: mask compulsory on duty; if possible individual services in the groups; no more leasing workers assigned to one facility today and the next tomorrow, holding future meetings over the phone. The management called back immediately, thanked them and said they could see what could be implemented.
What was implemented: nothing. The daily employment offers were closed and the residents locked up, the house manager wrote in a first circular email that this pandemic was no reason to make you sick. Even leasing workers were used until the beginning of April, even if they were not urgently needed. Reason: After all, they are already booked. If you cancel, you still have to pay for it. That is simply uneconomical.
At the end of March, a resident was admitted to the hospital, symptoms unclear. She suddenly passed out and had strange blisters all over her arm. She was discharged after two days, the only new finding: an incipient curvature of the spine. They had taken pictures of the lungs and that happened to be noticed. Otherwise it just said "Syncope", which is a code word and means: We don't know, I have no idea.
At that time it was already clear that Covid-19 had completely undefined courses in patients with severe underlying diseases. At least I had read that in various publications. The colleagues had not been informed about this by the management. It was also clear at the time that the local hospital was a corona hotspot, which is why I decided to isolate the resident first. As instructed, I informed the division management.
The house manager called me three days later and invited me for a chat. I asked several times what the purpose of this conversation was supposed to have, and each time he said to me: It was only an informal exchange, there was also no specific reason. The guy was new to the job, so I figured maybe he just wanted to know how things are going in the groups. How are we doing.
Yes, but then it was different. I came into a room where the house and group leaders were sitting and eyeing me. The first question: What would I actually think of to isolate a resident on my own initiative? I informed the division management, I replied, whereupon the guy replied: But not me! I should also refrain from explaining to my colleagues how to handle their FFP2 masks (a colleague had wanted to wash hers at 60 degrees, I had strongly advised against it, because that would destroy the protective effect).
I asked if this should be a staff interview. No, he said. I asked why the facility wouldn't give out understandable instructions for FFP2 masks. They would come if necessary, he said. I asked if he saw no need for employees to want to wash their masks at 60 degrees. First he had to find out more, he said. Everything is on the RKI website, I said, and he replied: We are all implementing the RKI's requirements.
The caregiver bears the risk
I was asked whether I had any further questions, and in fact I had a few: Why there is no general mask requirement, although the RKI recommends one, he replied: This is only a recommendation of the RKI, not a requirement. The RKI recommends individual services, as is the case, he smiled maliciously and said: A nice idea, but labor law! You can't plan the entire workforce into the red.
The following excerpt from the dialogue was best: House management: I make the decisions here. Me: And do I take the risk? House manager: Yes.
In the end, I asked why there were still staff meetings taking place on site, even though there was no need for them, and even the management of the entire company advised against them. Then the group leader spoke up for the first time: After all, we are in the social area, so it is important to look each other in the eye. And if Covid-19 got here, we'd all get it anyway, so what the heck.
Then I went to work. Half an hour later, the group leader entered the group, without a mask, without ringing the bell. I should sign a paper stating that I would be liable if I had not properly initiated the isolation - civil and criminal law. I was a non-specialist, I replied. In a normal company, I would have decided to go to the works council and make a big deal. But it is a church institution, there is no works council (only a toothless employee representation).
Not tragic, paradigmatic
So that was when I decided not to come anymore. I took sick leave. Then termination agreement. Since then I've been there briefly to say goodbye. For me it is dramatic: I loved this job and I still dream of the residents.
At the same time, some protesters outside dominate the headlines with their dangerous agendas, while we nurses are expected to do our job and shut up. And even worse: shield the residents and isolate them from society. This story is not tragic, it is paradigmatic. And no exception. Caregivers have to start telling their stories.
The applause that rained down on us from the balconies during this time was especially pleasing to the house and group leaders; to me it seemed like sheer mockery. We should endure and be silent, we heroines of the help system. Heroines are always mute. No easy. No.