What is healthier tea or coffee
The combination of caffeine / catechins in green tea is sometimes referred to, which has a reducing effect on fat digestion and fat absorption in the stomach and intestines.
In addition, green tea stimulates the metabolism, increases energy expenditure and inhibits certain enzymes.
The best green teas for weight loss include Sencha, Gyokuro and Bancha, although emphasis should be placed on variety. For weight loss purposes, three cups of green tea per day is recommended.
You can find more information about losing weight with green tea here: Lose weight with green tea
Matcha increases fat burning
If green tea powder (e.g. matcha and benifuuki) is taken 3 to 4 times a week, fat burning can be increased. Matcha is made by grinding green tea (mostly the tencha and gykuro teas) into the finest powder.
Matcha has a particularly invigorating effect on the body due to its high caffeine content, which is why we also speak of the "espresso effect". Unlike strong coffee, matcha has a relaxing effect at the same time and helps you lose weight in a healthy way. 1 to 1.5 teaspoons of matcha correspond to the amount of caffeine in an espresso.
When preparing matcha tea, 1 to 2 g of the powder are put into a matcha bowl, poured with 60 to 100 ml of hot water (maximum 80 ° C) and whipped with a bamboo whisk (Cha-sen) until foamy.
Benifuuki is a type of green tea that is now also available as a powdered tea. It is characterized by the high proportion of certain catechins and bitter substances and for this reason gets the metabolism going. But here, too, please always pay attention to high organic quality.
6. Green tea strengthens the heart
There are some studies that show that too much coffee can damage the heart. Green tea is different: cardiologists of the Heidelberg University Hospital published their study results on the therapeutic effects of green tea in the journal in 2013 Clinical Research in Cardiology released.
During the investigation, the researchers found that the daily consumption of two liters of green tea can prevent further heart damage in the case of hereditary and age-related forms of the incurable disease amyloidosis, in which heart failure occurs due to malformed proteins. (7)
But there are many other studies that show that green tea has a positive effect on the heart - one of the best known is the "Ohsaki Study" carried out in Japan and running for eleven years. (8th)
The subjects included 40,530 adults between the ages of 40 and 79 who drank at least five cups of green tea per day. In the male test participants, the death rate fell by 12 percent, in the female by 23 percent.
Green tea instead of coffee
Green tea has enormous health benefits, so switching from coffee to green tea is worthwhile for several reasons.
However, if you are iron deficient and / or take iron supplements, then you should be careful with both green tea and coffee, as both drinks can inhibit iron absorption. Read more about it here: Green Tea and Iron: A Bad Combination
* This article contains advertising. Our website contains affiliate links (* mark), i.e. references to partner companies, for example to the Amazon website. If a reader clicks on an affiliate link and subsequently on a product from our partner company, we may receive a small commission. This means that we cover part of the costs we have for the operation and maintenance of our website and can continue to keep the website free of charge for our readers.
donation
Your donation helps us
If you enjoyed this article, we would appreciate a small contribution to our work! Donate now with Paypal.
display
Distance training to become a holistic nutritionist
Are you interested in what's in our food and want to know how nutrients and vital substances affect the body? Do you want a healthy life for yourself, your family and fellow human beings? Nutritionists are popular - but the holistic aspect that is needed for sustainable health is often forgotten when giving advice. At the Academy of Naturopathy, you will get to know the connections between lifestyle and diet as well as physical and psychological well-being.
That educates interested people like you in around 16 months to become a holistic nutritionist out.
Is this article worth reading?
Share this article
swell
(1) Kunihiro Kaihatsu et al., Antiviral Mechanism of Action of Epigallocatechin-3-O-gallate and Its Fatty Acid Esters, Molecules. 2018 Oct; 23 (10): 2475.
(2) Yang, Deng-Jye, Hwang, Lucy Sun, Lin, Jau-Tien, "Effects of different steeping methods and storage on caffeine, catechins and gallic acid in bag tea infusions", Journal of Chromatography A, 1156 (2007) , Pp. 312-320, (The effects of different drawing methods and the storage of caffeine, catechins and gallic acid in tea bag infusions)
(3) German Tea Institute, Scientific Tea Information Service, issue 1/2011, November 2011
(4) Ulrich H. Engelhardt, "Caries-preventive effect of tea through fluoride and polyphenols", Institute for Food Chemistry at the Technical University of Braunschweig, spring 2000
(5) Laura Chan, Aradhana Mehra, Sohel Saikat, Paul Lynch, "Human exposure assessment of fluoride from tea (Camellia sinensis L.)": A UK based issue ?, Food Research International, Volume 51, Issue 2, May 2013, Pages 564-570, (Review of Human Exposure to Fluoride in Tea)
(6) Stiftung Warentest, "Bio in the green area"
(7) Kristen AV et al., "Green tea halts progression of cardiac transthyretin amyloidosis: an observational report," 2012 October; 101 (10): 805–813, (An observational report: Green tea stops the progression of cardiac amyloidosis)
(8) S. Kuriyama et al., "Green tea consumption and mortality due to cardiovascular disease, cancer, and all causes in Japan: the Ohsaki study". In: JAMA: the journal of the American Medical Association. Volume 296, Number 10, September 2006, pp. 1255-1265, (The Ohsaki Study: Green Tea Consumption and Mortality from Cardiovascular Disease, Cancer, and All Related Causes in Japan)
Notice on health issues
This information is passed to the best of my knowledge and belief. They are intended exclusively for those interested and for further training and are in no way to be understood as diagnostic or therapeutic instructions. We do not assume any liability for damages of any kind that arise directly or indirectly from the use of the information. If you suspect illness, please consult your doctor or alternative practitioner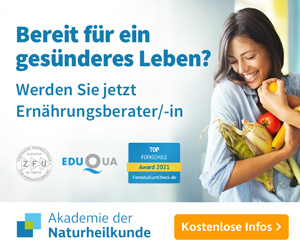 Subscribe to Newsletter
Exciting information about health and nutrition
1x per month
Login Successful. You will shortly receive a confirmation at the specified email address.
With your registration you allow the regular sending of the newsletter and accept the data protection regulations.
HEALTH CENTER © 2021 Neosmart Consulting AG. All rights reserved.