What does the landscape gardener actually do?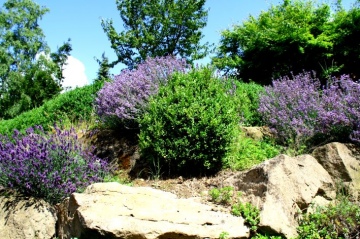 Landscape gardeners do all the work around your house, i.e. on / in the outdoor area. The gardener's activity usually begins with advice, extends over the inventory and garden planning up to the execution of new and redesigns and ends with the garden maintenance.
Plans are often created by architects, the gardener only comes after or during the planning phase and can concentrate on his actual trade, the execution of the structural measures.
Under, on and in the earth ... vegetation and construction technology
So that the garden design remains in one hand, the services of the landscape gardener also cover work areas that are otherwise offered by different companies. For example, we take care of:
Earthworks (including pipe and cable laying)
Stone work (terrace, path, parking lot, wall, step construction, etc.) with natural and concrete stone
Woodwork (terraces, pergolas, garden houses, carports, etc.)
Vegetation-related work (green maintenance, tree maintenance, clearing, planting, soil improvement, etc.)
Irrigation and drainage measures (channels, cisterns, sprinkling systems, ponds, water features)
Façade and roof greening and much more.
We have put together a detailed overview of the range of services in gardening and landscaping for you here.
Oh, you do that too ...?
In addition to everything that occurs in a private garden and the commercial outdoor area, landscape gardeners also build and maintain golf, sports and playgrounds, take care of public green spaces such as parks and greenery, maintain indoor greening and take on winter and caretaker services.
The image film of the gardening, landscaping and sports field construction association gives you a good overview of the landscape gardener's profession.