What are some traditional foods from Turkey
Family food in Turkey
Our blog friend Jenny reports on Turkish cuisine.
I would like to tell a little about my experience with Turkish cuisine.
As a German, I've been with a Turkish man for more than ten years and we've been married for almost four years!
Of course, I got to know and learned a lot about Turkish cuisine during this time! And I can say that food plays a very important role in Turkey, because, among other things, a lot of importance is attached to the fact that everyone sits together at the same table at least once a day!
As with most other countries, in Turkey there are different recipes and preferences from region to region, but there are certain things that remain the same everywhere!
Let's start in the morning: For breakfast (Kahvaltı) there is usually a very rich offer that comes very close to a buffet! There are olives (zeytin), cheese (peynir) in all possible variations, a lot of raw vegetables, various spreads or dips, all kinds of sausage toppings (often sucuk garlic sausage and pastirma beef jerky), baked goods (Börek) and egg dishes are popular ! The most common is probably "Menemen" a kind of scrambled eggs with fresh tomatoes and optionally also green pointed peppers (beaver) and / or sucuk, seasoned with salt, pepper, tomato and paprika pulp! Traditionally freshly brewed black tea (Çay) is available to drink!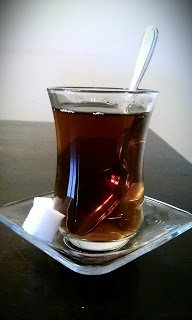 Turkish tea
Since the Turks, or southerners in general, are known for their hospitality, they usually cook more than their own family can eat! There is always enough food in the house for any unannounced visits! It is therefore customary to offer guests not only drinks but also food, and this several times if a guest initially declines! Whether guests are in the house or not, there are always several courses served and, as with breakfast, a rich offer!
It starts with a soup (Çorba) and is served with fresh bread or pasta (Börek)! Most of the time the table is already full of delicious salads by the time the soup is consumed! Potato, pasta, cucumber, bean and / or carrot salad, to name a few! If the soup has been "drunk", there is then the main course! It can be very different, but mostly consists of rice (pilaf), vegetables (Sebze) and meat (Et)!
To give you a little insight, I'll explain a meat side dish that I personally like very much! Turkish meatballs (Köfte) out of the oven! Köfte are basically very similar to German meatballs! While meatballs are made from pork and beef, Köfte are of course made without pork! In addition, Köfte get their very own taste from the chopped (flat-leaf) parsley! Otherwise as usual ... minced meat, an old roll, egg, onions, some garlic (with Turkish cuisine it can be a little more!), Salt, pepper and paprika powder, if you like you can also use cumin! In the Turkish grocery store there are of course ready-made spices for Köfte (Köfte Harci)!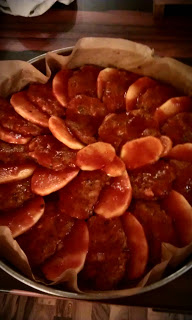 Köfte with potatoes
Here (picture), Köfte with potatoes layered in a round tray and marinated with a seasoning made from paprika and tomato paste, olive oil, water, salt, pepper and a few chilli flakes (Pul Biber)! In the oven at 200 ° C, I would say about 40-50 minutes, since every oven is different!
After the meal, tea (Çay) is served again and often there are also desserts! Baklava (pastries made from leaf or filo pastry with sugar syrup) is probably the best known and comes in many variations! It may be a bit too sweet for the European palate, but that's a matter of taste :)
Babies in Turkey are always breastfed first and then, with and with, introduced to the normal diet of adults! Even with garlic and a little spiciness, the little ones will grow up, of course only in moderation!
This is just a tiny excerpt from the Turkish cuisine, which really fascinates me with all its delicacies! Overall, however, one can say that Turkish cuisine is very rich, varied and balanced! I hope I was able to give all readers a little insight and, in case someone does not yet know the Turkish cuisine (-and I'm not talking about kebab here! -), make a little curious about it!