Many people are bored with their life
Finally moving things forward: Chronic boredom and the way out
Are you listless and are you suffering from chronic boredom? You finally want to move things forward, but you are not getting going? If the answer is "yes": It's good that you recognized the problem!
Good news: You can change something about your listlessness. Do you want to be 'in the mood for work' again and make a difference? You might be interested in this article.
I know the problem of listlessness because I've had it for a long time. Boredom and listlessness. They are the killers of all personal progress. Anyone who suffers from it should urgently do something about it.
Boredom can be done away with
How did I finally get rid of the phenomenon of boredom in life for myself personally? By the end of the article, you will know. It was actually easy, but it still took a long time.
Karl Lagerfeld once said: "Only boring people are bored!" - and he was absolutely right! Those who are bored are dispassionate, have no muse, no passion. And those who don't have these things are not particularly exciting as a conversation partner. If you are not personally driven by anything, you cannot inspire other people.
Extroverts can often make up for their lack of passion with their humor and thus still become an exciting conversation partner. Introverts do not have this option.
I myself consider myself more of an introverted person. In the past, I often ran out of topics in personal conversations. I don't feel like that anymore today. I burn when I talk about my projects and trips. You are my passion and my counterpart feels that.
But chronic boredom is not fate. Otherwise, I would suggest you go back to bed right away. At least it's nice and warm there. No: something can be done about it. Too much boredom can be done away with. You have to work on yourself. Be proactive! Don't wait for something to happen by itself. I have summarized this in three steps below to make it easier for you to implement them yourself.
Step 1: find your passion
Boredom arises when someone thinks: "I don't know what to do with my time". So far, so clear! However, A) our lifetimes are very limited and B) today's world is full of opportunities to fill this time. If you are bored, you will spend the most precious thing that was given to you when you were born: its already far too short lifetime!
The problem with people who constantly feel boredom and chronic listlessness is not a lack of opportunities to fill the time meaningfully, but the chronic listlessness and listlessness that slows you down to take advantage of these opportunities. And this lack of drive arises because you have no passion ... Nothing that interests you from the heart, carries you away and excites you.
Absolutely and without exception everyone can find something that interests them, an area for which they can develop a passion. But many (bored) people cannot focus clearly on that area, have not found it and are looking for it in the wrong way.
So: boredom? What to do To find your passion, you first have to throw reason overboard and go on a purely emotional search. The search for passion is an affair of the heart.Existential fears, security thoughts, thoughts about money - all of this prevents you from discovering your passion! You have to get rid of these thoughts before you can search.
Of course, the goal is to make money with your passion. But such considerations only come second. Almost every passion can be "monetized" today, as they like to say in online marketing. If you want you will find a way.
You have to be honest with yourself when you are looking, you have to be tough with yourself and think outside the box. And again: Don't think: "Which idea can be turned into money?" First think: "What should my life look like? How do I want to live? "Build everything else around these considerations and you will find your passion. This is called "lifestyle design". You should remember the term!
For example, if you would like to live in Australia in the outback because you like dried up trees so much, then you have to do something that allows you to do so. All other options are automatically omitted. A German travel blog about the Australian outback? Is there as far as I don't know yet. But it doesn't necessarily have to exist either, there are many more ideas. Photo art with trees? Tree import? A hostel? A travelguide? I don't know, come up with something. You are sure to find something. Don't think about money.
My passions are traveling, "being on the move", being independent of location, as well as helping other people to work and travel independently of location, blogging, and realizing new ideas. Would I have discovered these passions if I had primarily thought of money? With a sense of security, I would have thrown all these things overboard immediately and stayed in my hamster wheel job.
"To be on the safe side, I got a tattoo so I don't accidentally apply to a bank."
Today I earn my bread with various freelance jobs around online marketing, consulting, this blog here, as well as a page on which I sell nutrition plans. Other exciting projects are being planned. Get ready for a lot! At the beginning of January, a comprehensive e-book will also appear, which will help you to find your passion.
If someone had told me 5 years ago that I could make money by only doing things that I enjoy so much, then I would not have believed them.
Step 2: implementation. Do it. Get started.
The most absurd business ideas have already been successfully implemented. So why not turn an idea that was designed around your own passion into a recipe for success?
Have you heard of the "dead body guy"? His passion is playing dead and taking crazy photos of it. He even has a website: www.deadbodyguy.com. It sure was a tough road to get there, but today he's booked by Hollywood to play corpses in movies.
Sami Liechti had another, absurd-sounding business idea with his sock subscription. The subscriber receives new socks every month. Absurd? Today it's an extremely prosperous business: www.blacksocks.com
Jen and Omar's passion was redesigning city maps. What at first was a passion that they only pursued in their free time is now a successful business: www.thesearethings.com
What is the difference between a successful person with absurd business ideas and unsuccessful people with more relaistic business ideas?
The successful people do something! Your business idea is completely worthless as long as you don't lift a finger. A great idea is nice. But a less great idea is worth significantly more if it comes from someone who also implements it. A brilliant idea, however, is completely for the cat if the idea generator takes it to the grave without being carried out.
I have often regretted not being active. That wouldn't happen to me today. So if you have something that you are passionate about, go for it. How you will make money out of it is something you think about during the process of your further development. Not previously! Come into the puss!
Step 3: monetize. Keep up. Focus.
You have something that you do with enthusiasm. You also started to implement it. - Very good, you show assertiveness!
There will also be low blows. It may take a long time to be successful. Do not give up! On this blog here (the number of visitors is growing slowly but constantly!) I have certainly written for just 100 readers a month for the first six months. Sometimes it is difficult to stay motivated. Today I write for 250 readers a day, and the number is rising. That's not that incredible yet, but it's increasing every week.
In addition to perseverance, in the third step, of course, you also have to see that the money comes in. You have already seen the crazy passions that can be used to make money from the examples above. There are endless examples of similar business ideas.
It may be that the path will be a little longer until you have turned your passion into a good business. In that case, I recommend that you get a bread-and-butter job - a job the sole purpose of which is to help you pay your rent.
A day-to-day job should be as simple as possible - so that you don't get tempted to get fully involved in this job again and be bored for the rest of the time. Go waitress 3 times a week - use the rest of the time to do "your thing" until you can make a living from it.
Turning your passion into a business has never been easier. We owe this primarily to the network. Use your options. Leave your boredom behind you, bring something forward!
Do you have any questions? Ask me in the comments. I will answer as soon as possible. I would also be happy if you subscribe to my newsletter - you will receive the free e-book "Instructions for digital nomadism". The book contains many specific tips on how you can earn your bread regardless of location. I am glad that you are there.
I dedicate this article to my good friend. He knows for sure that he is meant by that. I hope that you too will find your passion.
Cover picture: Paul Williams (Iron Ammonite)
Live by your own rules!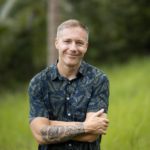 About the author
Tim Chimoy
Tim has been working on the topics of location-independent work and digital entrepreneurship since 2012. He earns his living as an architect, book author and consultant for new work and digital transformation. He is also the founder of the Citizen Circle. Even if Tim likes to travel a lot: His home is currently the city of Chiang Mai in northern Thailand.
Free newsletter for location-independent work
Would you like to get started regardless of location? Enter your email address and we will send you regular information about it in our newsletter. You will also find out as soon as the CC accepts new members.
23 responses to "finally moving things forward: chronic boredom and the way out"
Very nice article! I am also working on the possibility of escaping the hamster wheel and doing what I really enjoy. Thanks and keep it up!

Hi Tim,

I like the article very much. It's nice how you combine boredom with a lack of passion 🙂
Incidentally, that fits in perfectly with the book I'm currently reading: Choose Yourself by James Altucher. I can recommend it for people who still need this kick (but also a good motivator for advanced users).

Best wishes,
Patrick

Hello Tim,

Thanks to your contributions, I finally got around to lifting my bum out of the comfortable chair and working for my dreams. Thanks to your interviews and useful links, I came across great sites and learned a lot. Motivation is so important to finally tackle ideas and realize things that fulfill you and advance you internally. Both the individual success stories from your contributions and the great advice on how to cope with one or the other problem in order to work more freely, purposefully and more actively on your life gave me the motivation I needed.

Thank you for that!
Best wishes
Ozhan

Hey Özhan. Thank you for your words. It makes me happy and motivates that I was able to get you to work on your dreams. You don't even know how motivating that is 🙂 Just get in touch whenever you need advice or have a topic that is burning on your heart.

LG, Tim

[…] Many thanks to Patrick for this guest article, which has not yet offered a happy ending. Just a story from reality, without pink glasses. We look forward to your thoughts on this in the comments. If you are interested in the topic, read on: Bringing Things Ahead, Chronic Boredom and the Way Out. [...]

Many Thanks. This article gave me courage. 🙂

With this article you speak to me from the heart 🙂
Great, thank you. I am working on finding and implementing my passion ...

LG
Romina

[...] Finally moving things forward (Earthcity) [...]

[…] Boredom: Actually, it is important to me not to be bored anywhere. Because I really believe that almost anything can be interesting in some way. If you bring a little love, a little imagination to the cause. Billiards on TV, Charles Dickens, even: college accreditation. Freely adapted from Karl Lagerfeld: "Only boring people are bored". [...]

The article encourages me to advance my project. At the end of June my blog about nursing and pedagogy starts. Let's see what will come of it 🙂 My main obstacle is not boredom, but too many ideas and projects, so that it is difficult or impossible for me to decide what I want to start with. It is therefore very important to work towards a specific life design draft. Otherwise you just drift back and forth on the ocean of possibilities and get nowhere. Only when I realized how I imagine my life I managed to get moving. Now I have a new job, start the blog and write my first book.

Hi Angela, exciting topic. Very important: focus at the beginning. Don't tear open too many construction sites in parallel. Have confidence in your idea and you 🙂 Laser Focus! All the best, Tim

I know that there is more in me, I can't find my way, I'm 6o y young, I want to do something that I enjoy, but have to pay for my apartment, don't know what to do next, I was only divorced, I took the risk . i said: better under the bridge, how to go on living with my husband. now I stand there, lonely now and then, going away costs money. I dream of traveling and ...... like to be outdoors. believe in visions, but it is difficult to implement them. get to know a lot of neg.people.lg theresia

Hello,
so as to boredom. Had an interesting experience there myself. A few years ago we were "vacationing on the beach in our mobile home". It was cracking hot, there was nothing to be done, even the sea was overheated. I was extremely bored. It was almost unbearable for me, so boring. So I decided to get to the bottom of the matter. I felt into this boredom state until the solution came to light. It was a self-condemnation, something like "that I couldn't afford the vacation" and I should rather earn money. When I realized that, the boredom was blown away and it became a wonderful vacation, which we even still have extended by a few days.

Good day,

first of all I give you praise! - Lobgeb - here you go xD
In the first few words you spoke to me from the heart.
Everything just bores me. I still uphold my principles, but basically I drag myself through the day.
I go to work early to get out sooner.
I only work 6 hours. It's enough to live, but it doesn't fill me.
At home I only watch TV because the day has bored me so much that I can hardly come up to eat something.
So basically I go to a stinky boring job every day, wait for the day, go to sports, go home and sit in front of the laptop or TV to let myself be showered.

I have so many ideas, but I'm also terrified of being unemployed again and being bullied again by the job center.
I usually follow the wink with the fence post, which works quite well.
But 90% of the time if I want to take something into my own hands that was not "suggested", it just doesn't work. So I've been trying for some time to offer my skills as a sideline, but everywhere the wind is taken out of my sails or something comes up.

If I could I would like to:
- Do a pilot's shit, be a parachutist instructor, try something handicraft with wood - instead of going sour in the office, bring wind turbines with solar cells to the market, promote an environmentally friendly solar zeppelin forwarding company, promote more environmental protection and animal welfare. But I don't even have the energy for a blog or the courage for project consulting or personal coaching.

Perhaps you still have tips on how I can get out of the listlessness and fear of the future and be more successful? Greeting.

Looking for a way out of chronic boredom, I came across your blog and I'm finally looking forward to reading something helpful!

Really a nice contribution! Finding out what inspires me, nobody can do it for me.: / Since my depression, I am no longer interested in anything, even if I have been feeling healthy again for many years.

Hi Tim, your articles are kept short so that you can stick with them. Most of all, they are highly effective and useful. Finding that with passion, I think, is one of the most important things that we have to focus on if we want to make it happen.

Well, it all sounds so simple and straightforward - but what if you don't have any passion or can't find it? Not everyone is suitable as an all-rounder and also has responsibility towards family and children. What then? Unfortunately, no advice is given here on HOW to manage this when I have to make money ...
I have a lot of free time, but would like to stop working - just how? With a backpack at the poorer level? What about the family? Here I would like more useful advice instead of general empty phrases. Lagerfeld ?? I don't need him, he's no longer alive and I don't really care ..

Hello everybody,
I've been self-employed in the so-called hamster wheel for 16 years and still have to get out early at 3 a.m. at the age of 62, that completely wears me out, and my life is taking a course that I don't like, but I don't know how I could change that someone's advice.
Thank you very much

Very helpful post. Thanks a lot for this!
Leave a message
Click here to cancel answering.