How do Cuban families live
The children in Cuba
The implementation of children's rights in Cuba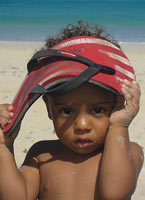 In the island state of Cuba, which is based on a one-party system, not all children's rights are observed and recognized. Even though children have access to the most essential things in life, they still have to grow up in an environment where they are faced with many limitations.
The basic problems that Cuban children face relate to the following points:
poverty
In Cuba, around 10% of the population lives below the poverty line. Yet even the poorest of the Cuban population have access to basic services such as health care, education, clean water, etc.
Nonetheless, it is necessary to eradicate existing poverty in order to ensure that all children, regardless of their social status, have access to equal rights and development opportunities.
health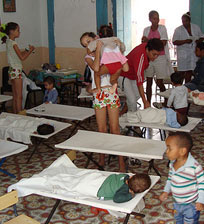 Although child mortality continues to decline, it remains a significant problem in Cuba. Today around 6% of children still die before they reach their fifth birthday. The positive force behind the declining death rate lies in the establishment of a free health system in both urban and rural areas.
Domestic accidents are the leading cause of child mortality. A national prevention program was therefore launched by the Cuban Minister of Health, which aims to limit such incidents.
Child labor
In Cuba, schooling is compulsory for nine years and Cuban law prohibits children under the age of fifteen from working. The reality, however, is that quite a few children under the age of fifteen are already working.
In some families it is still the custom to send children to work. In this way, the practice persists in some families that children are obliged to work in order to supplement the family budget with a few pesos.
Such forms of child labor can affect the physical and mental health of children and negatively affect their lives and mental well-being.
For this reason, the Cuban government considers it appropriate to implement rules and regulations that forbid by law to allow minors to work.
education
The fact that all children attend school shows that the right to education is respected and implemented in Cuba. Education is not only free and accessible to all children, it is also compulsory.
Cuban children, regardless of whether they live in an urban or rural setting, have access to quality education, which has helped overcome illiteracy.
However, there are still differences, particularly with regard to the availability of Internet access. Children who live in urban areas can take advantage of this global connectivity, while children who live in more remote villages do not.
Freedom of expression and speech
Cuban children have limited freedom of expression. In Cuba, the prevailing attitude is that the personal happiness and success of each individual citizen is secondary to the well-being of the state.
As a result, children do not have the right to freely behave and express themselves as they wish when doing so contradicts the government's views.
The Cuban system still has its limits. It is of the utmost importance that the autonomy of each child is recognized so that all children are able to fully enjoy their rights.
Environmental aspects
With an annual emission rate of 2.6 tons of CO2 per inhabitant, Cuba is not one of the countries with the worst environmental pollution. However, the pollution rate is significant and needs to be reduced, as the impact of the environment on children's lives and future prospects could prove to be substantial. All children have the right to grow up in a healthy environment. To achieve this, Cuba must work harder to reduce the negative impact it has on the environment.