Are microwave chips unhealthy
Fast and easy
Make low-fat potato chips yourself
Chips are usually high in fat and are not exactly the healthiest snack in between. The preservatives contained in the usual bags of crisps are particularly unhealthy and sometimes even harmful to health. And the selection on supermarket shelves is also growing. There is almost every flavor - from currywurst to oriental, "light chips" or special "oven chips". Most of the time, however, they are based on the same basic ingredients: potatoes, fat, spices and preservatives.
Just do it yourself
Therefore our tip: Just make your own potato chips! It's child's play, fun, tasty and, on top of that, low in fat. We have selected three recipes for you each for the oven, the deep fryer and the microwave and hope to meet your taste with them. Our chips are so good that they not only serve as a snack for football and movie nights, but are also ideal as a side dish and alternative to fries for burgers and the like.
Ingredients for 4 servings
6-8 large potatoes
oil
Spices as desired (e.g. paprika powder or rosemary)
preparation
Potato chips from the oven
First of all, a baking sheet is covered with baking paper. Make your own spice mix by using olive oil as a basic ingredient and adding herbs and spices as desired. Then the potato slices are placed on the tray and coated with the oil mixture. Now the chips come in the preheated oven (and grill setting, if you have one) at 180 degrees for ten to 15 minutes. Let the chips cool down and, if necessary, drain them again on a paper towel. Finished.
Potato chips from the deep fryer
Heat the fat in the deep fryer to 220 degrees and add the potato chips to the hot fat in three to four servings one after the other. This makes the chips crisper and not saggy. Now wait until the chips come to the surface and are light brown. Make sure to let the chips drain very well on kitchen paper afterwards. The chips can then be made tasty with spice powder and salt as desired.
Potato chips from the microwave
You also need 12 wooden skewers for shashlik. The prepared potatoes are then skewered so that they do not touch each other. Season the skewers as you like. Then three sticks each can be placed over a bowl at 700 watts and placed in the microwave for nine minutes. If the chips are still moist and not crispy after the no minutes, increase the cooking time by half a minute to a minute. Your fat-free potato chips are ready.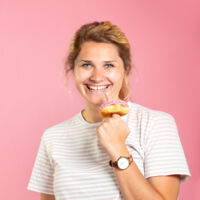 I like it quick and easy - the main thing is that it is tasty and without complicated ingredients. If you're feeling the same, then stop by me! You can find all of my recipes here.
To Leona's recipes