What is life really like for black people in Germany?
The other day, after shopping on Arnimplatz in the Berlin district of Prenzlauer Berg, I observed the following scene: A man had passed out - maybe he had drunk too much or taken drugs. Two police officers tried to move him off the sidewalk. As I was walking by, I saw a third policeman. It was black. I had to look twice and then smiled slightly. Fortunately, he smiled back so it wasn't embarrassing. It was the first time that I saw a black police officer in Berlin.
In Germany, black people are overrepresented, especially in the low-wage sector. This is an example of structural and institutional racism, says Poliana Baumgarten, a German Afro-Brazilian filmmaker. In her work she mainly deals with racism and discrimination. "It shows that black women simply have no chance of getting jobs where they experience any kind of dignity."
Lack of data makes anti-discrimination work difficult
Racist discrimination continues to increase in Germany. According to crime statistics, there were almost 20 percent more racist attacks in 2018 than in 2017. This is documented. However, there is a lack of data with which the Federal Anti-Discrimination Agency can identify how racism affects affected groups of people, because no information is collected on ethnic affiliation.
That is a problem, says racism researcher Daniel Gyamerah. In his view, more targeted data should be collected and used to combat discrimination against people of African descent. "They are seen as black and experience racism against black people - but there is no research on that," explains Gyamerah.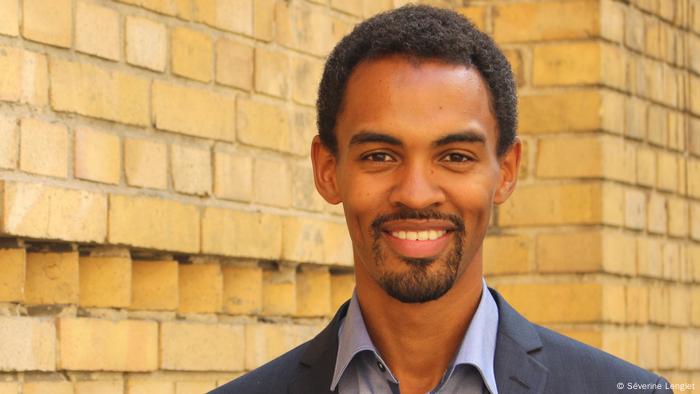 Daniel Gyamerah from the association "Each One Teach One"
More than a million people of African descent live in Germany. The Afrozensus project was created to statistically record their experiences with discrimination.
"The Afrozensus is a basis for the future. Our goal is not to distinguish black people from other ethnic groups or communities - but to show that there are overlaps," says Gyamerah.
The Federal Anti-Discrimination Agency finances the Afrozensus. In addition to demographic data - age, gender, disability - above all experiences of discrimination are collected. In addition, the participants are asked about their social commitment and their expectations of the legislature. The aim is to develop strategies against racial discrimination and to support black people.
"The data will enable us to make the issue of discrimination more visible in public discourse," says Sebastian Bickerich, press spokesman for the Federal Anti-Discrimination Agency.
Legacy of National Socialism
It is impossible to discuss racism in Germany without mentioning National Socialism. The effects of the Nazi era on German society can still be felt. Some experts consider the inability to adequately address racism in public discourse as a consequence of Nazi racial theories.
There is the notion that "recognizing differences between ethnic groups promotes these very differences," says Sarah Chander, who has worked for the European Network Against Racism, among other things.
"We need to recognize the social differences that are attributed to us along with ethnicity," says Chander. "We can't just hope that these differences don't exist just because we don't talk about them."
Daniel Gyamerah agrees. "The responsibility of society as a whole with regard to National Socialism is immeasurable. But that also means that the consequences of German colonialism are often neglected."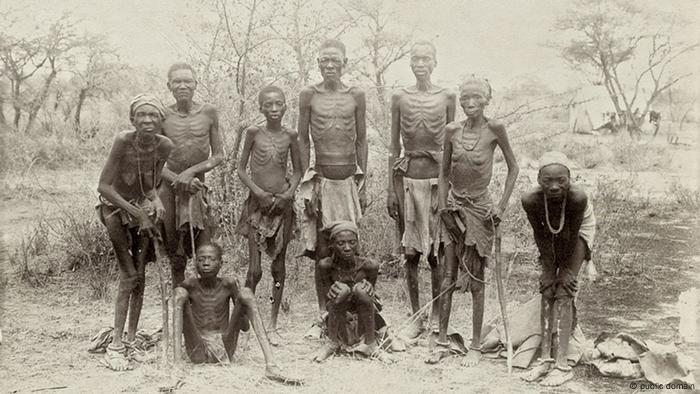 Tens of thousands of people from the Herero and Nama ethnic groups fell victim to the genocide in what was then the colony of German South West Africa
Gyamerah calls colonialism and National Socialism "racist continuities". Germans committed the first genocide in the 20th century. Between 1904 and 1908 tens of thousands of Nama and Herero were murdered in German South West Africa - today's Namibia - after they rebelled against colonial rule. And although several German politicians have recognized the genocide, an official apology is still pending. Many streets in Germany still bear the names of people who would be described as mass murderers.
"The focus of the reappraisal is on National Socialism. The collective responsibility there is so great that it is difficult for society to recognize other events in German history," says Gyamerah. "German colonialism and racism against blacks are ignored in public discourse."
Uncover experiences of racism
At the integration summit on March 2, 2020, Chancellor Angela Merkel questioned why people of African descent have to prove that they are German, even if they were born and raised in Germany. It was the first time in years that anyone with government responsibility had used the term "black" in this context.
"Angela Merkel says the same thing that we have been saying for 30 years, this has given us a greater reach," says Maisha-Maureen Auma, Professor of Childhood and Difference (Diversity Studies) at Magdeburg-Stendal University of Applied Sciences. "It was a taboo for a long time because racism and xenophobia were lumped together - which in a way also blames the person who is being discriminated against," she explains.
The Germans have recognized that racism is an issue, "but they still have reservations about having certain groups of people around them," said Sebastian Bickerich. The Afro-census could clarify how these reservations affect black people. Anyone wishing to take part can register for the survey online. With the results, which are to be published at the end of the year, the initiators want to encourage political decision-makers to act.
For Germany's People of Color, it will be about more than just numbers. It will also be an opportunity to gain insight into how to deal with discrimination, says Daniel Gyamerah.