How does Canadian goose taste
Preparation and recipes
Wild geese - a high quality venison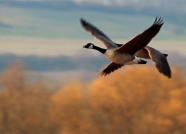 Photo: Ulrich Rösch
Wild geese are increasing in Bavaria and are increasingly being discovered by the hunt. Little is known that not only do young geese taste excellent, but also geese with more flight hours make an excellent roast. There are a few things to keep in mind when preparing it. Two recipes make you want to embark on the wild goose adventure.
The Bavarian wild geese
Three species occur regularly in Bavaria. They have continuous hunting season from August 1st to January 15th. Wild geese are best obtained directly from a hunter.
Greylag goose (Anser anser)
In the 1950s, wild gray geese were released in Bavaria. Since then they have been spreading. In doing so, they have largely abandoned their migration behavior; quite in contrast to the similar looking bean geese and white-fronted geese that visit Bavaria only in winter. Adult gray geese can weigh 4 kg.
Canada Goose (Branta canadensis)
The Canada goose is our heaviest and largest goose. It has a wingspan of up to 1.75 m and sometimes weighs 5 kg. She loves park waters and can be found all year round. They are characterized by their black head and neck area, which is interrupted by a white chin band. It takes its name from its original homeland - North America. It has been breeding in Bavaria since 1954.
Egyptian goose (Alopochen aegyptiaca)
The new citizen among the Bavarian geese is the Egyptian goose. The small, almost 2 kg light goose with the distinctive rust-brown eye mask has only been breeding in Bavaria since 1996. The Egyptian goose originally comes from southern Africa. It was released in Central Europe - especially in Holland - and immigrated to the Main region via the Rhine Valley.
This will make the goose tender and juicy
Not only do the young geese taste great, geese with more flight hours also make an excellent roast. The preparation of a wild goose differs from that of a domestic goose in two ways:
It is often impossible to tell the age of a wild goose. Since older geese need more time to cook than young geese, it is important not to cook wild geese under time pressure.
Wild geese do not have a pronounced layer of fat. To avoid the meat becoming tough and dry, wild geese have to be cooked in a closed container. The moisture cannot escape and the meat remains juicy.
Stuffed wild goose in two varieties
Jutta Reichel, hunter from Lower Franconia, the main distribution of Egyptian goose in Bavaria, has a recipe:
Ingredients:

1 Egyptian goose (alternatively gray or Canada goose)
Salt pepper
1 bunch of soup greens
1 onion
5 juniper berries, 2 allspice grains, ½ teaspoon mugwort,
1 sprig of rosemary, 3 bay leaves,
1 sprig of thyme
0.4 l red wine
2 cl cognac
0.4 l of water
Infill variant 1:

Sweet and sour fruit such as apples, grapes, mandarins, etc. Only the core is removed from the apples, then quartered and placed in the abdominal cavity. The grapes are emptied from the panicle and the mandarins are peeled. The amount depends on the size of the abdomen, the z. B. in a Canada goose has a lot more mass than an Egyptian goose.
Infill variant 2:

Make a mixture of 2 rolls, 100 g mushrooms, a chopped onion and an egg, seasoned with salt, pepper, nutmeg, some chilli and parsley. Knead all ingredients into a dough and pour into the abdomen.
Preparation:

Season the goose vigorously with salt and pepper about 24 hours before roasting.
Chop the soup greens and onions, mix with the juniper berries, allspice, mugwort, rosemary, bay leaves, thyme, red wine, brandy and water, place in the roaster and place the goose on top.
In any case, prepare the goose in the closed roaster. At 200 ° C top and bottom heat, it takes at least 2.5 hours (Canada goose 4-5 hours, gray goose in between depending on its weight - meat must be easily detached from the bone!). If the goose is cooked earlier than planned, set it back to 100 ° C and keep the roast warm when closed.
Strain the sauce at the end, season to taste, thicken a little if desired. Before cutting and serving, the goose can be cooked crispy in the oven for a short time.
Wild goose with wild herbs filling
Ingredients:
1 ready-to-cook Egyptian goose (alternatively gray or Canada goose)
2 red onions, finely chopped
4 apples, peeled and cut into pieces
50 g hazelnuts, chopped
200 g feta, cut into pieces
5 handfuls of mixed wild herbs (leaves of ribwort, dandelion, nettle, ground elder, garlic mustard, proportionally less of gundermann, mugwort, thyme and yarrow), washed and cut into small pieces
Wild herb salt, freshly ground pepper, cinnamon
olive oil
1 onion and 2 carrots for the roaster
0.25 - 0.5 l apple juice
Preparation:

Clean the goose and pat dry. Mix the above ingredients together, season with wild herb salt, pepper and cinnamon and stuff the goose with it. Sew up with kitchen thread or close with toothpicks. Rub the goose all around with wild herb salt and olive oil and place in a sealable roaster. Quarter the onions, cut the carrots in half, toss in a little olive oil, season with salt and pepper and place in the roaster. Pour half of the liquid.
Cook at 180 ° C for 2.5 to 5 hours. After about half the cooking time or if necessary, add more liquid. The times and quantities required for the filling depend on the type and size of goose used.
At the end of the cooking time, puree the vegetables from the roaster with the roasting liquid to make the sauce, season with wild herb salt, pepper and cinnamon.
As a variant, diced potatoes can be added to the filling.