Facebook sets its own local currency "credits". You probably won't notice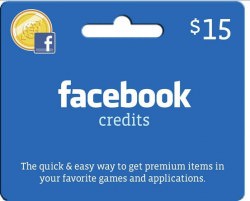 Slowly, it seems to me, we have grossly overestimated the blue giant. How it grew on and on, threatened to take over the whole Internet, introduce its own operating system, proclaim the mobile revolution, make our currencies obsolete, replace Twitter and blogging anyway. There were enough horror scenarios: If you are not on Facebook and do not advertise there, you will not make any more money in the future, it was said. In fact, some companies went so far as to get rid of their website and only leave a Facebook page as a presence.
At least since the not so successful IPO, it seems clear that Facebook is not the omnipotence that many believed it to be. What remains now is a huge social network with still no sensible mobile solution, no operating system of its own, functions like video chat and social music, the implementation of which had to be left to external partners. And your own currency is now obsolete: The social network wants to abolish Facebook credits at the end of the year. The reason: Although Facebook credits have been mandatory for in-app purchases in advertised Facebook games for a year, the app providers still stuck to their own virtual currencies. The users had to exchange their money each time - Facebook has now apparently realized that this was one step too much. Facebook credits expire at the end of the year. Instead, app providers should be able to accept real currency again and introduce a kind of monthly subscription. The state Facebook is handing over more power.
(Jürgen Vielmeier)