Should the students get dessert at lunch at school
In primary school

In France there are only all-day schools. The students go home for lunch or eat in the canteen; after all, every school offers lunch. The lunch break is usually from 11:30 a.m. to 1:30 p.m. The rest of the time you are not allowed to eat anything in school. Chewing gum is also prohibited.
Margot (5th grade) tells us: "The school gate w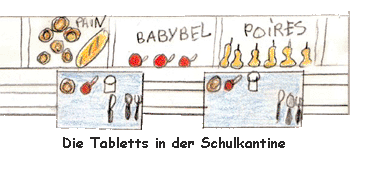 We close at 8:30 am and lessons start at 8:55 am. The canteen opens at 11:30 a.m. We used to be allowed to eat something during the 10 o'clock break, now that is forbidden because many of us have stuffed ourselves with candy, chips and similar stuff and no longer wanted to eat in the canteen. They left the paper lying around and stuck chewing gum under plates, trays and tables. "
From the 6th grade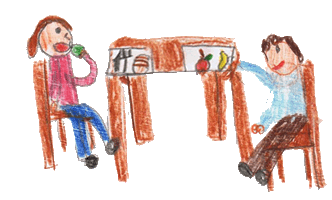 Up to the 10th grade, the students have a two-hour lunch break - usually from 12 noon to 2 p.m. Some of the students go home for lunch, the other students eat in the canteen. From the 10th grade on, there is only a one-hour lunch break on some days. In this case it will take place between 12 p.m. and 1 p.m.
Since there is a ban on eating in the school outside the canteen, the students are not allowed to nibble anything in between. Perhaps that is one of the reasons why there are fewer fat children in France (10%) than in Germany (21%).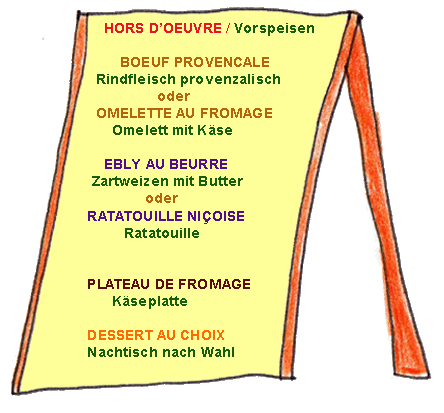 In the canteen...
Often there is only one menu consisting of several courses. You always get bread and still water.
Examples of starters are: tomato, potato or coleslaw, hard-boiled eggs or mini pizza.
There is always a cheese platter that looks different every day: sometimes there is Babybel, sometimes Emmentaler or goat cheese. And finally you eat a dessert, which can be fruit, a yogurt or a small piece of cake.
When you come to the canteen, you first take a tray, cutlery and a glass. You serve yourself, only the main course is served because it is hot. In the end, you pay with a magnetic card that you hand in at the cash register.
The menu costs between € 3 and € 6, depending on the school. There is financial support for socially disadvantaged families.
A student from Paris in the school canteen in Berlin
Charlotte from Paris, 11 years old, talks about school lunches in Germany
I think it's funny that school in Germany starts so early and you still have lunch so late. The fact that there are two breaks and that you eat something during both breaks is also new to me. I didn't know any breakfast cans before either, but I like that.

Luckily I had two salami sandwiches, an apple and a granola bar with me, otherwise I would have died of hunger before lunch because you don't eat until half past one. Our canteen closes at this time. In Germany the food was often cold and there wasn't always dessert.
Text: The editorial team
Drawings: Alina, Anastasia, André and Isabel
Texts et illustrations: © Grand méchant loup | Bad Wolf
Thanks to Camille (Bretzel)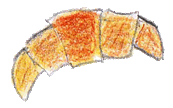 Eating at school
the canteen in France