Why is Vietnam such a disgusting country
Eastward - always eastward
Travel time: September 2019 - March 2020 | by Janis Dinter
Vietnam - rain, feelings of home and traveling by bus
Hue
Somehow I can't manage to summarize the sections of our trip in a shorter form, as I had announced at some point. But there is just too much going on that needs to be mentioned. Well, then from now on back in command and 100% laissez-faire, let's see what comes.
To get from Hanoi to Hue we had to choose between the night bus and the night train. We chose the train because it should have a real sleeping compartment again ... and we had to regret this decision. Because in addition to two fellow travelers of a human nature, there were around twenty other fellow passengers in our area, but they had six legs and long antennae: cockroaches! All over. Under the mattresses, behind the shelf, under the table. Fortunately, this was only the smaller version of about 2cm, but it was enough to keep us from sleeping properly all night. Basically, the critters don't do anything, but what makes them so disgusting is that they climb out of cracks on the walls and from there onto the mattress and optionally also onto the cleanliness-loving German lying on it without warning. Spiders are much more pleasant, at least they sit in the corner and stay there. We wrapped ourselves in our sleeping bag inlets and so dusked before us until we finally reached the central Vietnamese city of Hue in the early morning.
I think it goes without saying that we were completely exhausted after such a night. So we slept until the afternoon and then strolled a little bit through the city. But we couldn't do anything big that day.
The city of Hue is THE stopover for pretty much every Vietnam trip. Whether from north to south or the other way around, due to the elongated shape of the country you can't get past it. In the past, Hue was the royal seat of Vietnam. For this reason, there are a lot of relics from those days that are worth seeing, such as tombs, pagodas and a central citadel that housed the palace and the court. The whole thing lies along the river with the sonorous name Perfume River, which flows through the city of Hue and flows about ten kilometers upstream into the South China Sea. We booked a (attention!) Private boat trip to three of these sights through our hostel. So we were sailed across the river for about four hours on an elongated motorboat that was clearly at least two sizes too big for the two of us and visited one after the other a royal tomb from the 19th century, a Buddhist pagoda and the aforementioned citadel. We took a few hours on this one. All in all, it was really worth seeing. Definitely the most beautiful historical sights in Vietnam. Unfortunately we got into the middle of the rainy season here in Central Vietnam, which means that it started to rain in the afternoon at the latest. This means that all outdoor activities are of course only half as nice and we made sure that we get dry.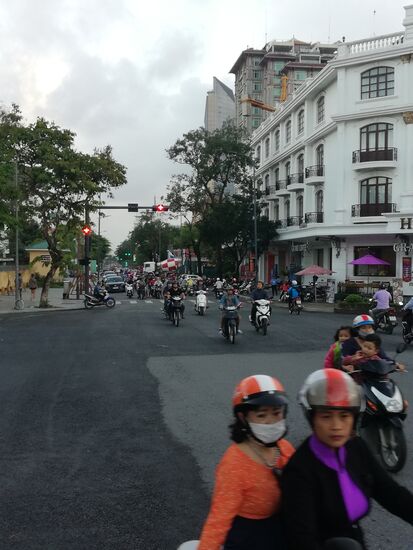 And the next scooter mania in Hue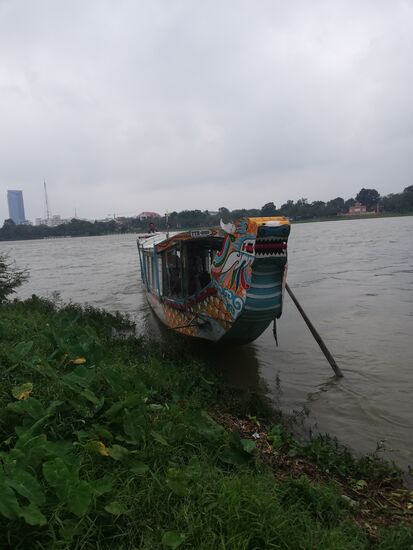 Our private boat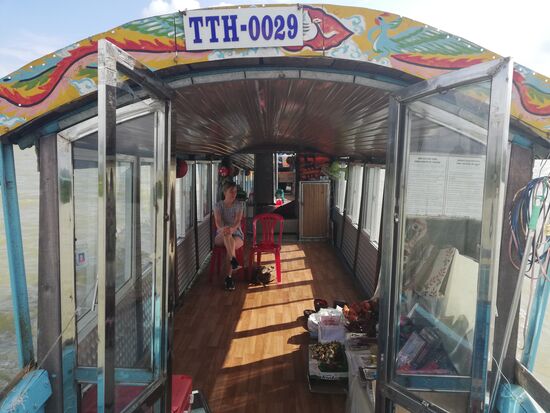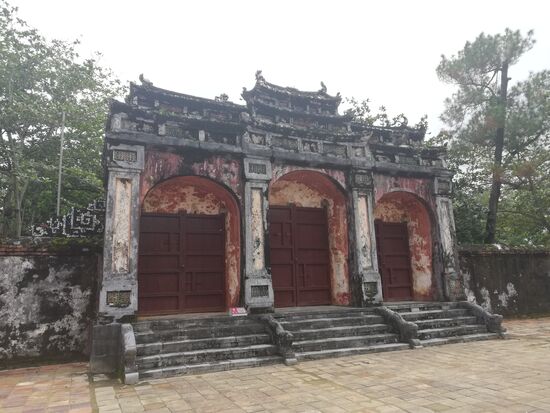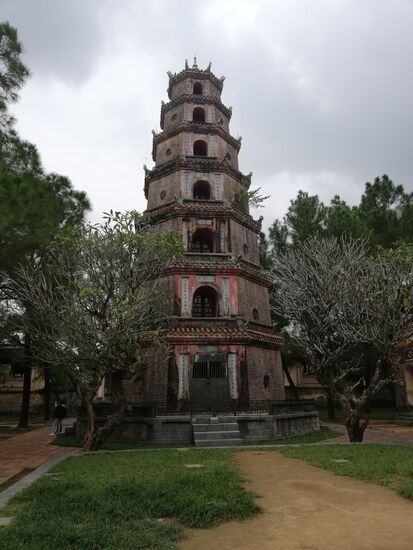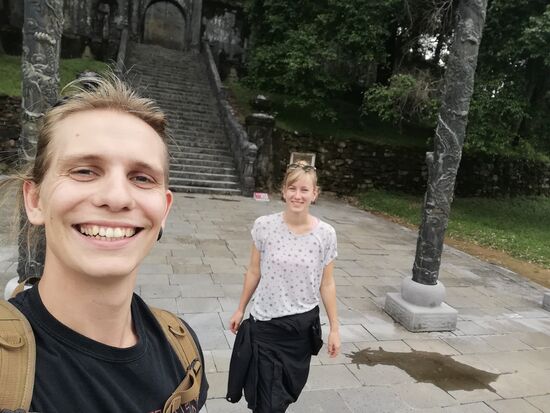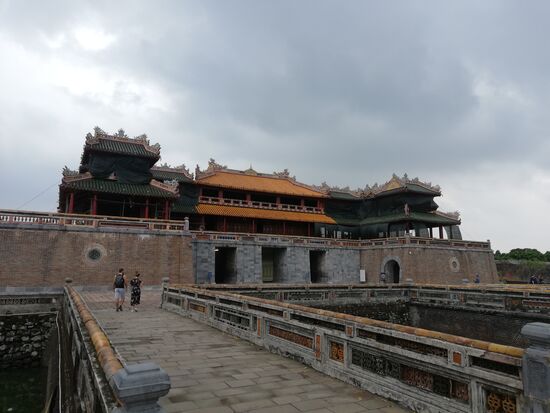 The main gate to the citadel. This is where the center of Vietnam's power used to be.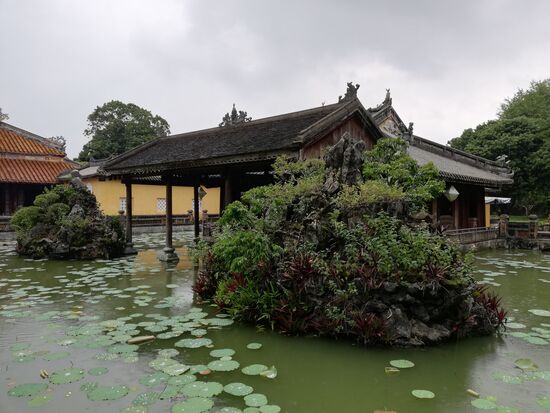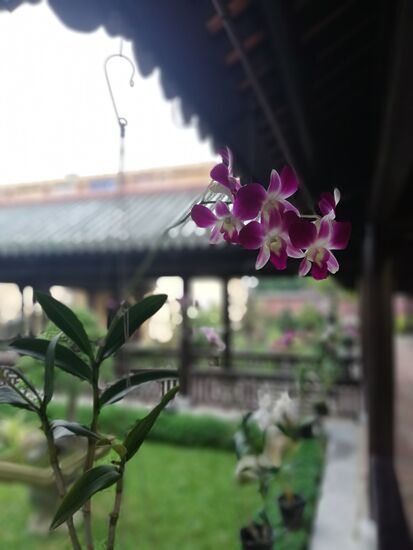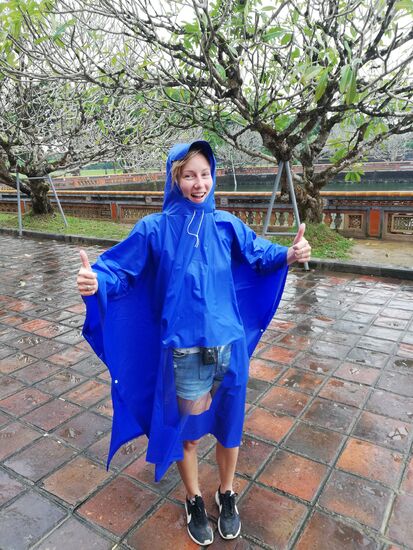 Equipped for the rainy season. Note the viewing window, which is necessary so that you can play nicely on the mobile phone on the scooter.
Hoi An
And then it goes on again. This time, however, for once not very far. Our next stop, Hoi An, is only around 150km south of Hue and we took a minibus there, which conveniently also stopped at four different sights on the way. Together with around fifteen other tourists, we drove in the morning through mediocre spectacular Vietnamese landscapes towards Hoi An.
In general, the impressions of the Vietnamese landscape that we have gained so far are rather mixed. No question, Ha Long Bay is incredibly beautiful and the northern mountainous country has something very special, almost mystical, when the fog hangs in the valleys and the water buffalo wade through the rice terraces. But in between there is a lot of desolate area. In Vietnam, the main streets are almost uninterruptedly lined with narrow lots with even narrower houses that protrude backwards like a tube like a shoe box. This construction not only looks hideous in itself, but also spoils the landscape from almost every perspective. Behind it are mostly fields a few hundred meters before the impenetrable thicket begins. The reason why people all build on the main street is quite simply that there is only hope here for a small income from a grocery store, a workshop or a restaurant. So far, so understandable, but for our understanding neither the village nor the landscape is beautiful in this way.
So we drove further and further south and visited the so-called Marble Mountain as the last stop before Hoi An. That, in turn, was something very special. In the midst of the tangle of Da Nang, the largest city in Central Vietnam, a wooded rock rose up, which we climbed over steps and which was peppered with smaller and larger monasteries with marble statues of the Buddha that gave it their name. A cave that has been used as a kind of natural cathedral for centuries is the highlight of this rock. Unfortunately we only had an hour before we continued, but this place made a lasting impression on us.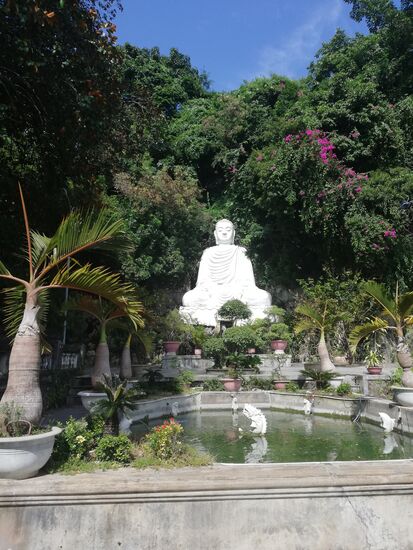 Marbel Mountain is peppered with marble statues, ...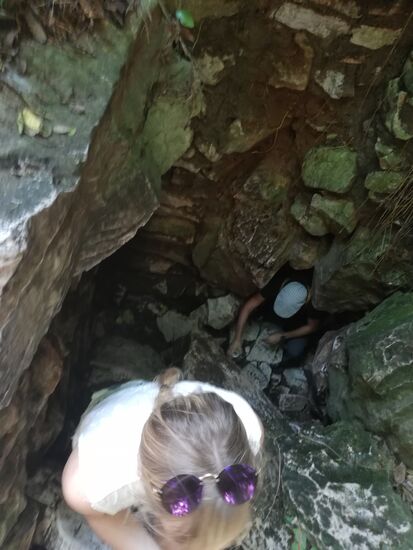 ... where we squeezed through a narrow cave ...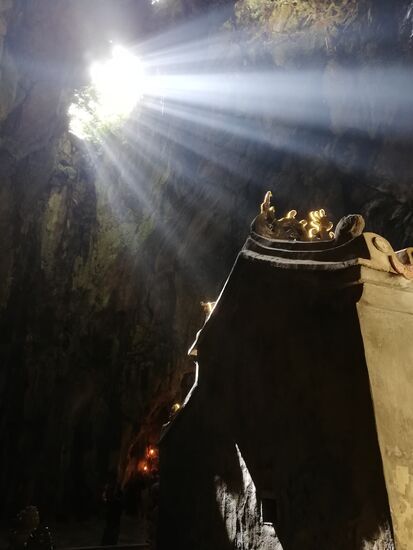 ... to the majestic main hall.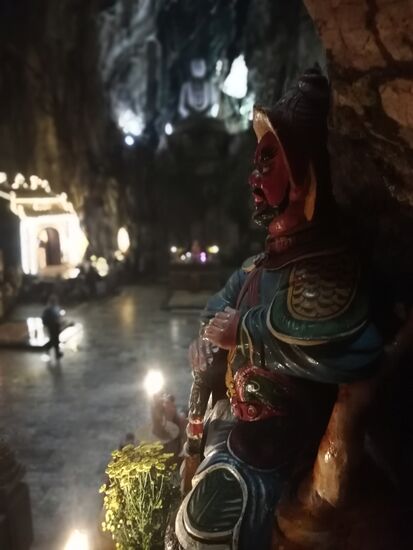 Hoi An is a medium-sized town with a fairly relaxed atmosphere. There is an old town draped with lanterns and many street food stalls, cafes and restaurants. As soon as we arrived, I had the feeling that it was good to endure here. It was much warmer than in the north of the country, only the rain that started every day was a bit annoying.
On the bus trip here we met a German couple (Isabelle and Kevin) who are also traveling like us for a few months. During the days in Hoi An we often did something with them, borrowed bicycles to go to the beach (useless because of the storm, swimming is postponed again), went to eat together and strolled through the old town.
On the second day the time had finally come. We ventured out on a scooter for the first time. You have to know the following: Renting a scooter in Vietnam is one of those you-have-to-have-done-otherwise-you-weren't-into-things. Like diving in the Maldives, riding in Mongolia or skiing in Austria. So far, however, we had always avoided it. In Hanoi it would have been suicide because of the traffic and in Sa Pa the streets were just too muddy. So now! Somehow we had a bit of respect for the whole thing, but what the heck - others have already done it too. So get on the donkey and go. Lo and behold, it actually worked straight away. So we rattled through Hoi An for a few hours and in a longer loop through rice fields and over river branches in the area. That was really cool. We tasted blood.
And that's why we decided to do it again the next day. This time to get to the temple ruins of My Son, about 40km away. This should be something like a "little Angkor Wat", so perfect to prepare us for the visit. Once there, we weren't exactly disappointed, but neither were we overly impressed by the dozen dilapidated stone temples made of red brick. Much more important: Driving a scooter worked perfectly again.
After another day of wrestling with this and that and that in Hoi An, it went on. Again through the night, this time by bus. And as expected, the lounge chairs, which are great for lounging around during the day, aren't exactly a revelation at night. The attentive reader will of course know what is coming next. Exactly: hardly slept properly and arrived quite tired the next morning in ...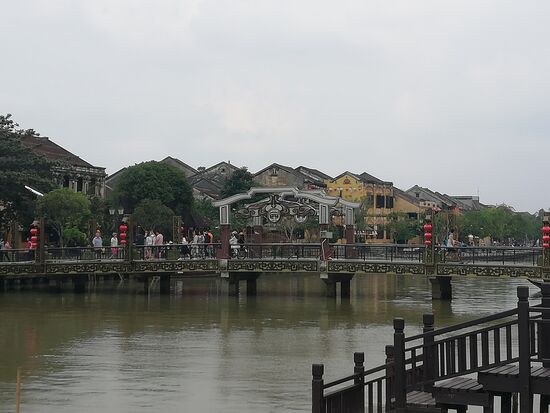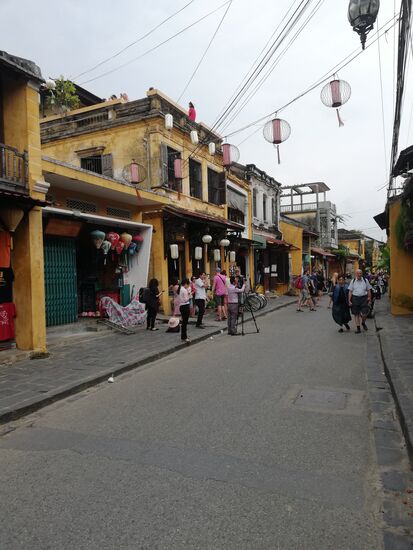 Hoi An by day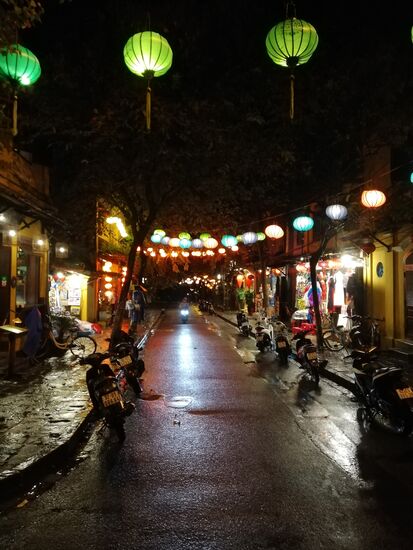 And at night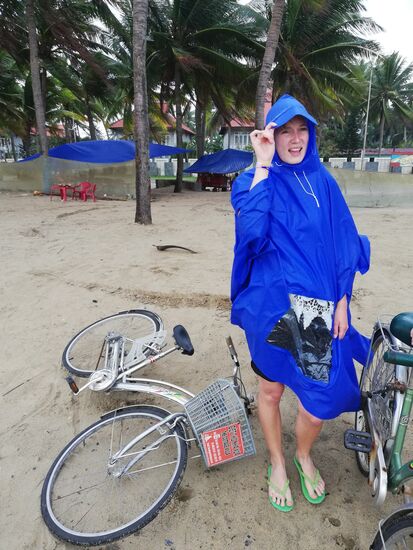 The little bike tour unfortunately fell into the water.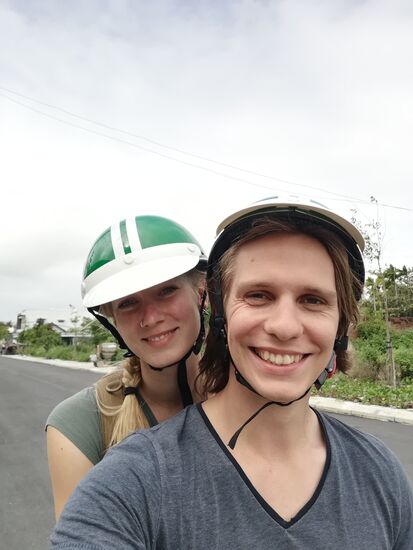 But it worked all the better with the scooter.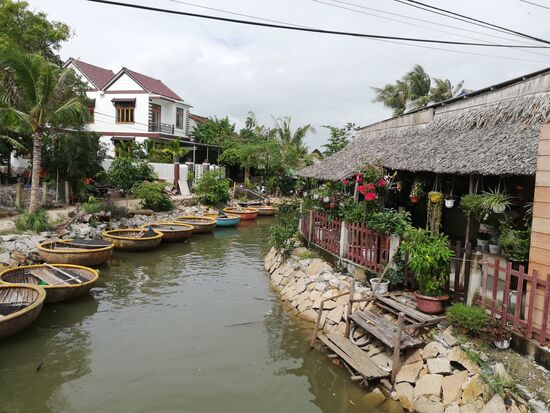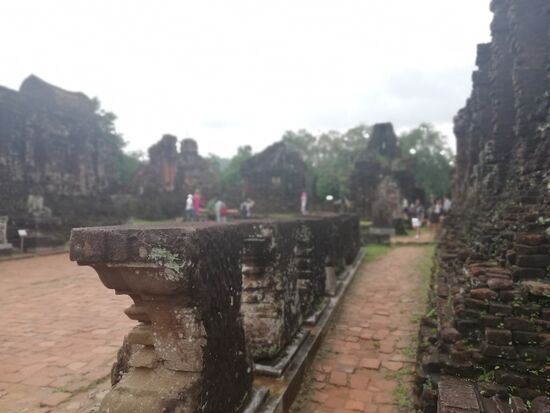 My Son, a 1000 year old Hindu (!) Temple complex.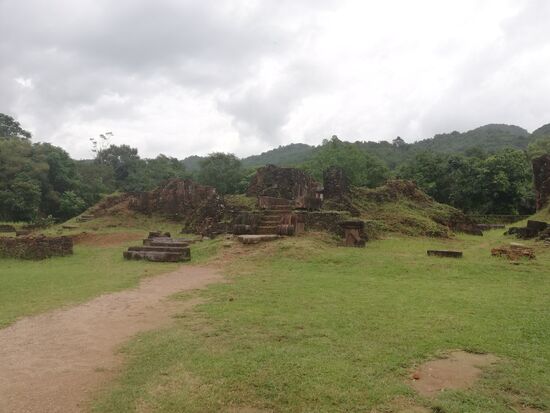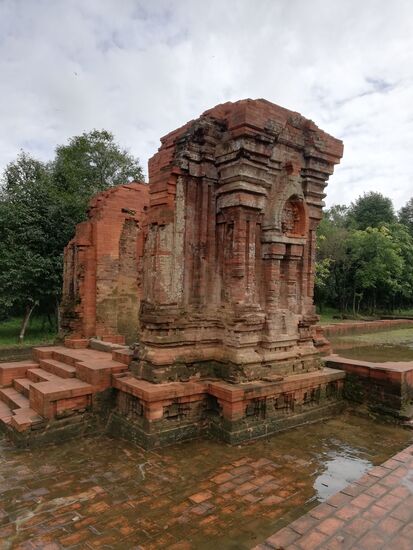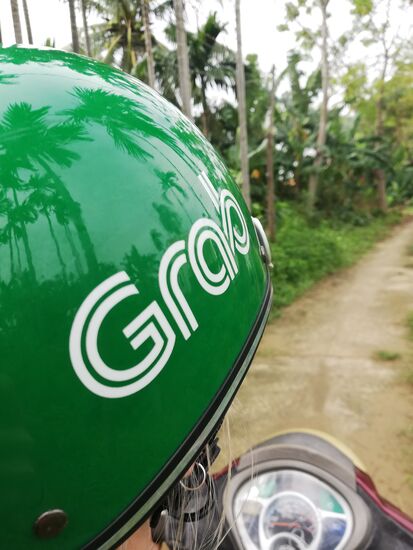 Dalat
This is now becoming a running gag. But we had no other choice. There were only night buses. Fortunately, we found exactly what we needed most now in Dalat, relaxation in a great accommodation by the lake. But first things first: Dalat is located in central South Vietnam. Even if we had already been to the former political South Vietnam in Hue and Hoi An, we can only now speak of it geographically. I had expected that the south of the country would be swampy and tropical hot everywhere. This also applies to most of the regions here. But not on Dalat. Because here we are in the Central Highlands, a low mountain range that reminded us a bit of the good old Siegerland. And it was even a little fresh here, at least at night.
As I said, without really knowing it, we found a wonderfully relaxed and quiet corner here, which is mainly used for tourism by the Vietnamese themselves. About eight kilometers south of the city there is a reservoir, on the banks of which we booked our accommodation. And as if the landscape with its hills and conifers wasn't home enough, the owner was of course a German: Axel from Quedlinburg. And like pretty much every German who stays abroad too long, he too missed the good dark bread of our homeland. So what do you do there: Sure, you find a German bakery in Saigon 300km away and have the loaves of bread delivered to you by post bus, that's clear. In any case, we enjoyed the local flavors to the full after three months of unfamiliar culinary delights. And whoever says grain bread in the morning must of course also say Wiener Schnitzel in the evening. Hmm it is delicious.
Almost like at home (at first glance)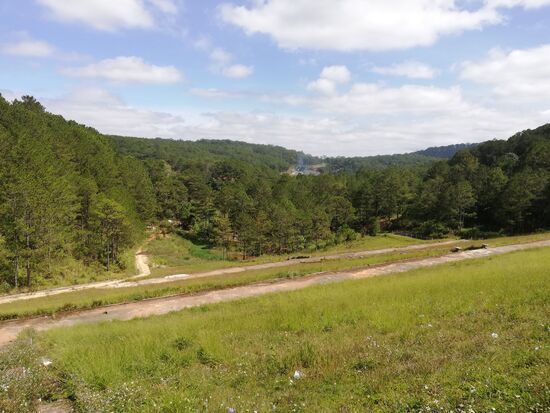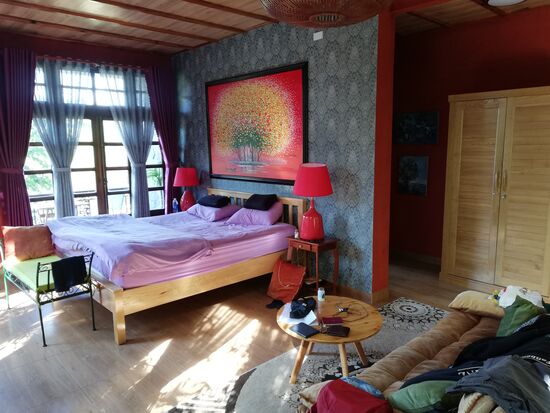 Our super chic accommodation
But it's not that we just sat around in Dalat and munched on grain bread, no no. We borrowed a scooter for two days in a row and raced around with it. And it was just made for it with its winding country roads through the forest and great views of the lovely landscape.
On the first day we explored the area around the reservoir. The high society of Vietnam seems to have set up its summer residence here. Partially gigantic villas in sealed off luxury residential areas lie next to the typical simple wooden houses on stilts. But everything here just looks fresh and more beautiful than before in Vietnam. A city in eternal spring. No wonder, the French founded Dalat in the old days as a kind of health resort. On our scooter tour, we also stopped at a so-called Alpine Coaster, a kind of sled run on runners that takes you through the wonderful pine forest and a waterfall.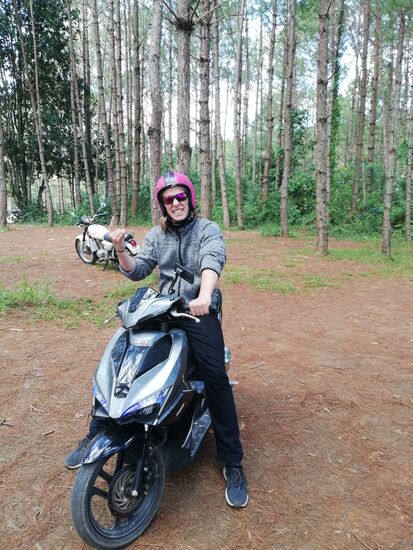 There are the famous easy riders here. That one is not one of them.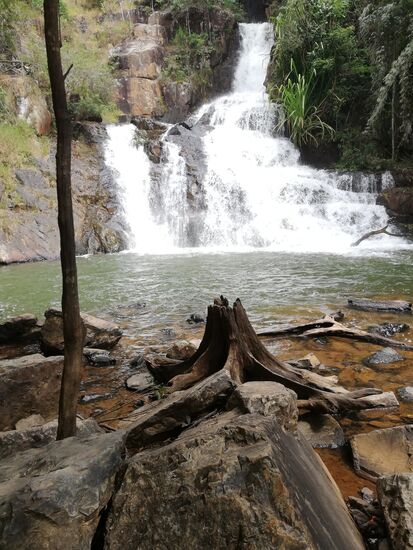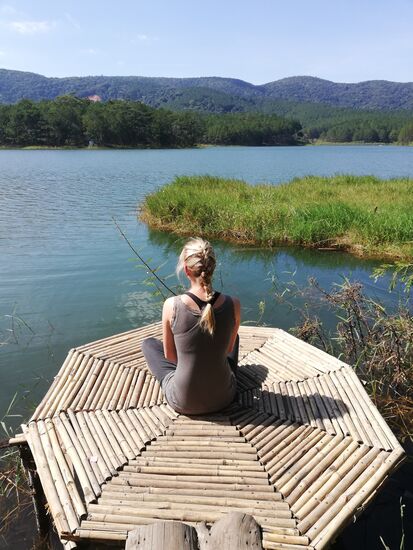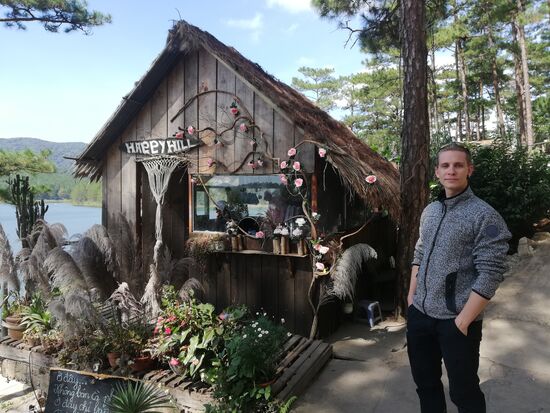 On our second tour we finally ended up in the city of Dalat itself. Again we had to shake our heads in surprise. Everything looks really different here than in the rest of Vietnam. The city, also built on and between hills, consists mainly of whitewashed houses with clay-colored roof tiles. Together with the hum of the scooters and the palm trees swaying in the wind, the Mediterranean impression is perfect. Again I think of the French and I get the feeling that this ensemble doesn't look like the Cote d'Azur by chance. In Dalat, the undisputed highlight is the "Crazy House". Over the past 30 years, a Vietnamese artist and architect has converted her private home into a kind of fantasy tree house, constantly adding new elements. Today the lady is over 70, still lives there and lets tourists stroll through her fantasy world for a small entrance fee. Pretty crazy.
Then we made another long lap and drove back to our shark at the lake before we continued the next morning.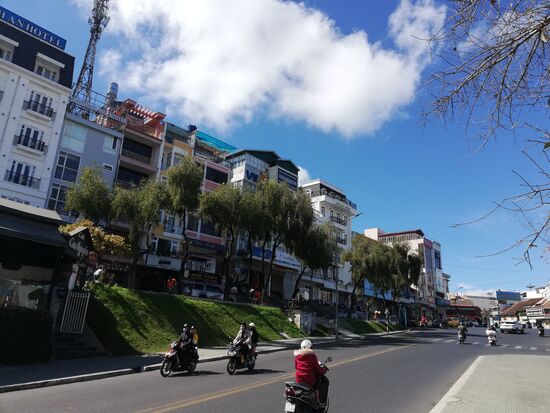 Dalat Downtown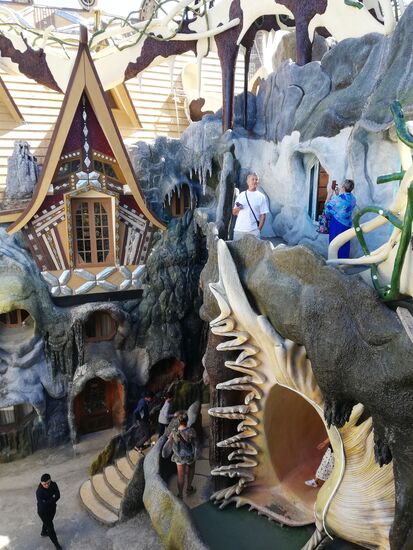 The absolute main attraction: The Crazy House.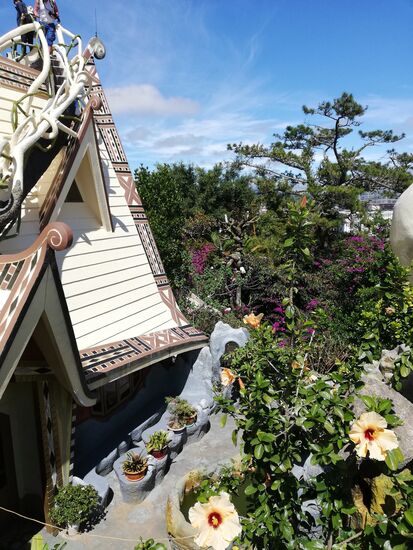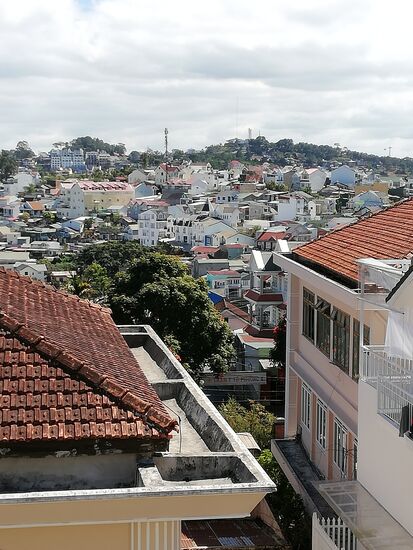 The view over Dalat. Are we sure not in the Mediterranean?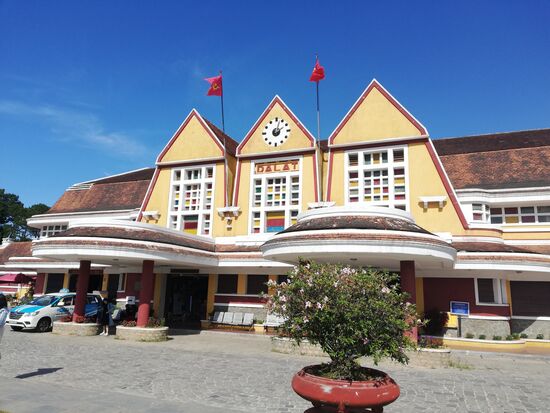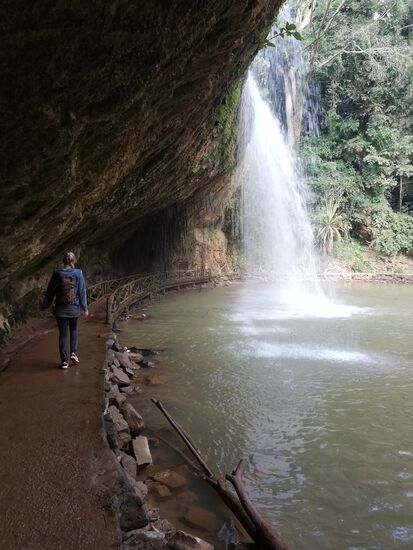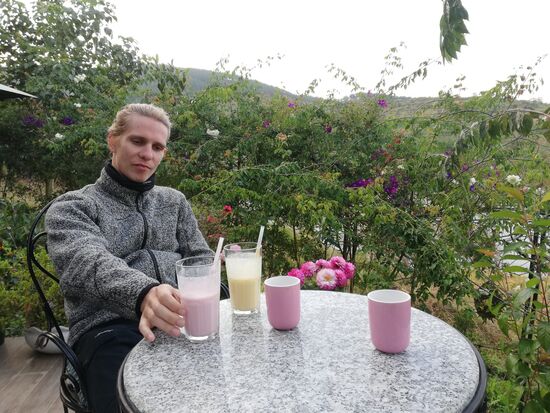 The city of flowers is definitely worth a visit.
Aaaaber before I forget: I had announced in the "Excursus: Money" that I would contact you again in this regard. Has everything worked out so far? Are we beggarly poor and have to earn our next meal with sleight of hand? Does Rieke still have her right kidney?
The answer is: everything is fine. In fact, everything has turned out exactly as we had previously calculated. Scandinavia very expensive, Russia and China cheap, Southeast Asia even cheaper. If you want to, you can easily live here for € 20-25 a day. Basically, we don't need much more, but we don't always look to the last penny when choosing accommodation or restaurants. Fortunately, the budget is there. Incidentally, our calculation with the daily budget has proven to be a very effective means of always having an overview of the finances without constantly keeping records. So the formula is: total available budget / duration of my trip in days = average daily budget. So every day you're under is a good day. Because you will also need the buffer that you work out for yourself, whether for the next border crossing (e.g. $ 30 for Cambodia), the return flight or just a tube of sunscreen ($ 13, they've got the A ... ).
In my opinion, a good daily budget for two travelers together is 100 € per day. If you travel more price-conscious, only eat street food and sleep in dormitories, you can get by with € 60-70. If you travel alone, you will pay more in relative terms, as you cannot share the taxi ride, the room or the dessert. Here I would set 40-70 €.
Sad but true, money always matters. Even more when traveling than in everyday life at home. You are constantly converting from the local currency to euros, trading and wondering whether you have paid way too much after all. Despite everything, the thought of money shouldn't get too overwhelming. Otherwise you run the risk of leaving out something that you might otherwise never experience again in your life. Therefore: first clear up the finances, then travel.
Ho Chi Minh City (Saigon)
From Dalat we drove the 300 kilometers to Saigon in a Ford Transit that had been converted into a large-capacity taxi, and we did it alone. Nobody but us had booked this trip, so we were chauffeured appropriately like the posh packers that we are. We had learned the term a few days earlier. It comes from the adjective "posh", which means "elegant" and "backpacker". With the many amenities that we have already made use of here, you could almost call us that. But the occasional cockroach on the train or the bus ride with pigs (oh yes, there's something else to come!) Brings you back to earth.
Anyway, we arrived in Saigon after around six hours and checked into our hotel. Which we then left as a premiere on our trip. We were assigned a completely different room than we had booked - with square-meter mold stains on the ceiling and everything that goes with it. Since it was still quite early in the evening, we did the only right thing, looked for an alternative within walking distance and gave the key back to the staff. Hostel number two, was much better, everything done right.
About Ho Chi Minh City or Saigon, everything can be said pretty quickly: the largest city in Vietnam is not a beauty. With over eight million inhabitants, things are hectic and confused here, but without the charm of the lovable chaos as in Hanoi. So it happens that we didn't feel like going into the big city anyway and only stayed two nights and one day.
We visited the city center in around four hours, rattled off a few places recommended by the travel guide and left it at that. One of the main attractions in Saigon is the War Remnants Museum, which probably shows the horrors of the Vietnam War very impressively. Surely one thing to look into while you're here. However, we didn't feel like it at all. The tunnel systems that were dug and used by partisan fighters to move unnoticed and that can be visited today fall into the same category. We were just a little full of information and impressions.
From my point of view, Saigon is a juggernaut. A necessary evil for travelers on our route. Undoubtedly a place steeped in history, where the Cold War was boiling hot for a country, but unfortunately not exactly what we were looking for and needed for us.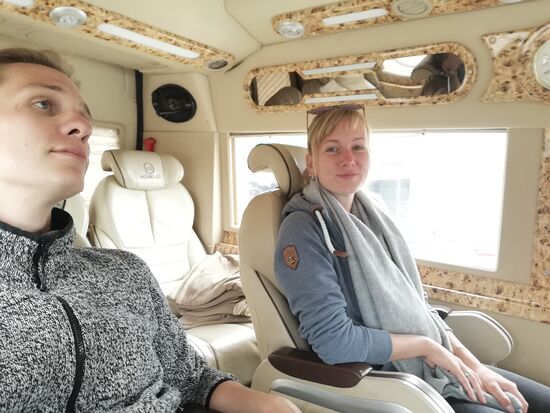 This decadence ...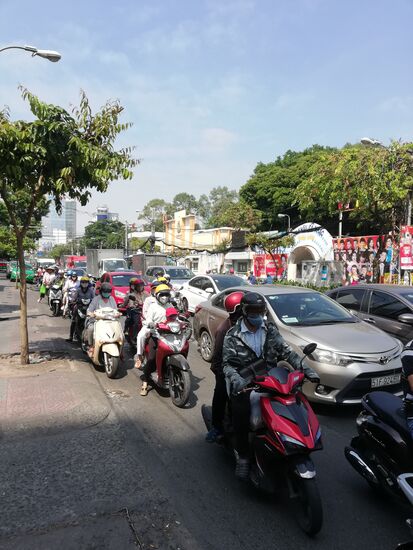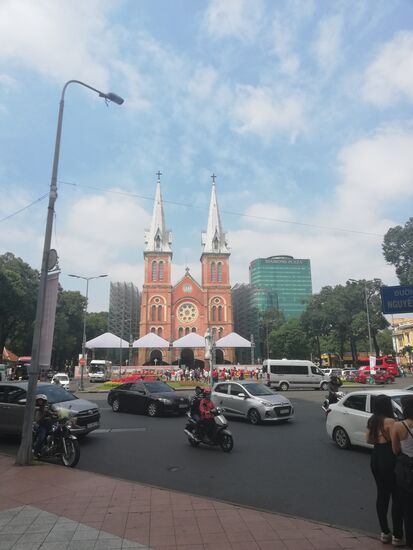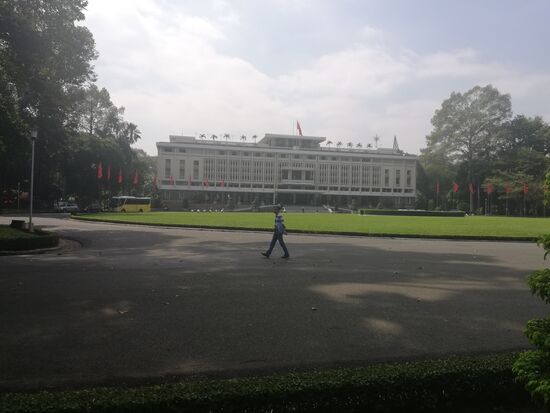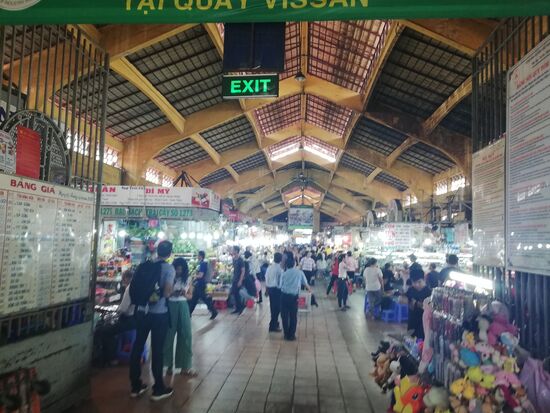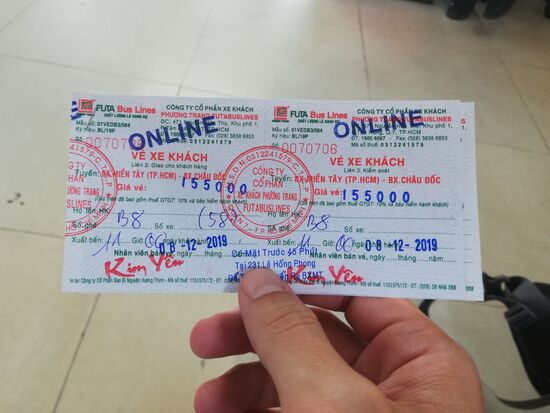 I think the bus ticket is stamped.
The idea was actually to explore the Mekong Delta after Saigon, which adjoins the metropolis in a south-westerly direction.However, in view of the fact that the time was already quite advanced and because the sea was now calling us louder and louder, we decided not to. So we drove straight to the border town of Chau Doc. We actually wanted to stay two nights here, but we threw these plans overboard, shortened them to one night and whoosh we were already sitting in the speedboat ferry that was supposed to bring us across the border to Cambodia.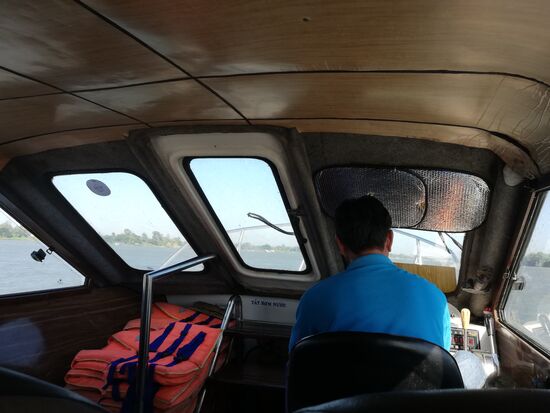 And bye Vietnam, off to Cambodia!
And as always when we are through with a country: It's recap time !! Would you recommend Vietnam to a friend? Yes, no, maybe ... crystal clear maybe!
If you have never been to Southeast Asia like us, you will see a lot here that fascinates you, simply because it is so foreign. The water buffalo, the palm trees, the tuk tuks. Vietnam consists of rice fields. In the flat country and in the mountains. Seeing farmers with typical Asian hats at work for the first time is just as exciting as exploring the country's tourist highlights. Ha Long Bay is so breathtakingly beautiful that it shouldn't actually exist, and the streets of Hanoi are just as crazy chaotic as you can imagine.
At the same time, there were a few things that we didn't like that much. At the beginning we had to get used to the fact that EVERYTHING is designed for tourism. This had not been the case in the countries before. Sure, everything in China was also full of (Chinese) tourists, but we could still feel more like explorers there. Nothing in English, nobody has a plan, but somehow it always worked. Vietnam is so much easier to travel to. Advantage: You get everything organized without any problems and everyone knows what you want. Disadvantage: The Robinson Crusoeism is flute. I also find that Vietnam is a largely landscaped country. Outside of the big main acts, you can hardly see any untouched, intact nature here. The rubbish from plastic bags and Co. does the rest.
But one definitely positive thing about Vietnam has to be noted: there are no Chinese here. (Oh man, can he do that?!?).
What's the matter?:
A (half) world trip! Six to seven months mainly by bus and train from Germany to the east, then south, then east again. Our journey takes us through Scandinavia, the vast empire of Russia, Mongolia and China, to Southeast Asia and finally to New Zealand. We have roughly planned half a year for this - who knows whether it will be any longer?
Details:
| | |
| --- | --- |
| Departure: | 04.09.2019 |
| Duration: | 7 month |
| Homecoming: | 22.03.2020 |
Destinations:
Germany
Denmark
Sweden
Finland
Russia / Russian Federation
Mongolia
China
Hong Kong
Vietnam
Cambodia
Laos
Thailand
Malaysia
Singapore
Australia
New Zealand