Which DSLR camera should I buy?
Camera purchase advice 2021: which camera is right for me? I recommend these devices
As a photographer, I am regularly asked which camera I can recommend. Mostly models to get a good start in photography. But devices up to full-frame system cameras are also often an issue. Therefore, in this camera purchase advice, I ask the question: Which camera suits me in the respective price range?
If you are looking for the right lens, you should also take a look at my lens purchase advice after this post. There I present the usual recommendations.
Quick test: which camera is right for me?
In a nutshell: I recommend these cameras
If the following text is too long for you, you will find the recommendations from the article here. Nevertheless, you should read the entire article in order to be better advised and to find the best offer.
Note: I am writing this post for everyone who is interested - regardless of their previous experience. Therefore, I want to formulate it as simply as possible and avoid in-depth technical jargon. There are also a few generalizations that can be argued about. Everything is still 100% my opinion and a serious recommendation.
Buy a mirrorless system camera or reflex camera?
First of all, the important question of whether you should still buy an SLR camera in 2021. In the vernacular it has become so common: The best pictures are taken with a single lens reflex camera.
To say so in 2021 would be just plain wrong. On the contrary: If there are no explicit reasons such as increased studio photography or a strong personal preference for the optical viewfinder, I now generally advise against buying a reflex camera.
The difference in the design is that in the SLR the image in the viewfinder is optically directed upwards to the eye by a mirror. With a mirrorless system camera, this is done by a small display that is built into the viewfinder and permanently transmits the electronic live image from the sensor.
Important: Regardless of whether it is a mirror reflex or mirrorless - the image quality depends on the sensor. Therefore, there are no general differences in image quality.
In the meantime, I only recommend mirrorless system cameras to my students in the technical college. In short, they offer the following advantages:
Even before the shutter is released, you can see what the photo will look like later (exposure, white balance, image look, etc.)
The models are much smaller and lighter than the SLR cameras, especially in the APS-C area (in the full-format area it is then canceled out)
Images can also be assessed in the viewfinder in bright sunlight
Possibility to trigger completely silently
Display focus aids directly in the viewfinder when focusing manually
These are the main advantages. You can find detailed information on this in my report on SLR camera vs system camera.
Also ask yourself the question: where do you want to take photos? Most of the time, you want to take photos of the appropriate landscapes while traveling. In 80% of the cases, size and weight play a role.
Furthermore, it is especially helpful for beginners to be able to immediately assess whether the settings have been selected using the electronic viewfinder.
Conclusion: I recommend a mirrorless system camera over a SLR.
Which sensor is right for me?
The sensor is the heart of the camera and, together with the image processor, significantly determines the image quality. The following sensor sizes, among others, are common on the market (in increasing order):
1 / 2.3 ″ sensor in smartphones, small digicams and action cameras
1 ″ sensor in premium compact cameras
Micro Four Thirds (MFT) sensor in smaller system cameras
APS-C sensor in many medium-sized system cameras
Full frame sensor often in larger professional system cameras
Medium format sensor in very large professional cameras
A larger sensor usually offers better image quality (especially in low light) and a nicer image look due to more depth of field or bokeh (which is of course also a matter of taste). However, the larger the sensor, the more expensive it becomes. In this way, "more" light has to be supplied from the ground up using correspondingly larger lenses. As the sensor size increases, so does the size and weight of the entire system.
How many megapixels do i need? I recommend sensors with 20-24MP. You only need more in exceptional cases. E.g. if you still have to crop or rotate the picture heavily. Or you want to print extremely large-format prints. Since you need a lot more memory and computing power in post-processing for more megapixels, I only have cameras with 24MP myself.
The performance of the image quality of individual cameras / sensors can be seen in the DxO table. The noise behavior of sensors can be compared in the DPreview tool.
Conclusion: For a compromise between image quality, image look, size, weight and price, my recommendation for beginners is system cameras with APS-C sensors (approx. 20-24MP).
Advanced users with more budget choose the high-end APS-C or full-format model.
Invest cleverly and long-term
This section is a thought to help you invest in the long term. As a result, the investment can be a little higher at the beginning.
Are you already in the newsletter?
Like more than 5000 photographers, you will regularly receive the best blog posts in your inbox. Simple and without obligation. You can unsubscribe yourself anytime.
System camera means so much that parts and accessories can be put together appropriately within this system. In other words: We not only need a camera, but also one or two lenses and, if necessary, accessories such as a flash for this system.
Question: How can you invest sensibly and cleverly in the long term?
If you buy accessories and a good lens, you want to use it for a long time. It should be said that lenses often deliver contemporary quality for longer than a camera body. In our fast-paced world with the pursuit of ever better image quality and speed, new models are constantly coming out. Of course you don't need every new device. But at some point between 3 and 6 years you usually get an up-to-date camera housing.
As indicated above, a camera with an APS-C sensor is a good compromise for getting started. However, some photographers may want to upgrade to full format later. I therefore recommend leaving this option open. This means that full-format lenses can usually be used on the APS-C models from within the same manufacturer.
You can usually continue to use the lenses later when upgrading - provided you stay with the same system and manufacturer. Every now and then manufacturers bring out a new connection (= mount) for lenses. The old lenses can then usually only be used with an adapter.
A disadvantage, however, is that the full-frame lenses are sometimes a little heavier at the beginning and the small APS-C camera housings are therefore not very balanced. A second downside to this tactic is that full frame lenses are more expensive to buy.
Now let's look at two manufacturers where this is possible with the current mirrorless cameras:
Sony with the E-mount
At Sony, the A6000 APS-C series and the A7 full format series share the same lens connection (= E-Mount). In addition to a few pure APS-C lenses, there are also a number of full-frame lenses that would be okay in terms of size to be used on the APS-C camera.
In this case, my recommendation would be to buy e.g. a Sony APS-C camera with the inexpensive kit lens in a bundle. This is a compact all-round setup. In addition (or instead of the kit lens) a fixed focal length such as the Sony 55mm 1.8 Zeiss *, Sony 28mm F2.0 * or Sony 35mm 1.8 *.
These lenses are initially a bit more expensive, but can still be used with a later upgrade to full format. Even so, good glass will simply bring joy for many years to come.
Lenses like these, where the real photography magic happens (compared to the kit lenses), call themselves Fixed focal length. We'll get to that in a moment.
Nikon with the Z-mount
Nikon offers a similar game. The Nikon Z50 (APS-C) share the same Z connector with the Z6 & Z7 (full format). Full-format lenses that have already been purchased can be used later without any problems.
Here, too, you have to decide whether to take the all-round kit lens, or maybe buy an all-rounder fixed focal length like the Nikon Z 35mm 1.8 * or the cheaper Nikon Z 50mm 1.8 *. These two lenses also appear to be more expensive at first, but with a high probability they will outlive the camera housing and satisfy for many more years.
You cannot currently use this advantage with the other manufacturers. Maybe something like an EOS R APS-C model will follow at Canon in the future. Canon currently has the M series (APS-C) without mirror and the R series in full format. Lenses cannot be exchanged here without an adapter.
Fujifilm mainly focuses on APS-C cameras. There are still a few medium format models (sensor even larger than full format). Using medium format lenses on the APS-C does not make any sense at all. If you are sure to stick with the APS-C (keyword size and weight), the Fujifilm cameras are definitely recommended.
Brief note on our own behalf: Useful blog posts like this one only live with some advertising. With my Lightroom presets you not only improve your post-processing, but also support the blog at the same time:
Panasonic has two different systems with Micro Four Thirds and full format. Here, too, it is not really possible to use the new full-size L-mount.
Conclusion: If you want to keep the jump to full format open later, you will find it at Sony and Nikon. Anyone who feels comfortable with APS-C in the long term can also include Fujifilm.
If necessary, you can of course change the manufacturer later. In the end, you have to try things out first.
Lens kit or fixed focal length: which lens do I need?
It becomes really specific for the intended use when buying a lens. This is the advantage of a system camera with an interchangeable lens: by changing the lens, you can completely adapt to new shooting situations. Without needing a completely new camera.
Most cameras are bundled with a small standard lens, the kit lens, delivered. This is a zoom lens that is mostly somewhere in the 18-55mm range. This lens is an all-rounder and, depending on the surcharge, recommendable, so that you have a flexible optics for the beginning.
It only becomes difficult with this lens if you want to create with blurring (e.g. blurred background) or take photos in low light. In return, you can zoom flexibly.
Photography only begins to be really fun with fixed focal lengths.
The fixed focal length lenses cannot zoom. As active, you have to change your location. Instead, they offer a nicer image look, more light intensity and more sharpness. This is due to the higher light intensity (e.g. F1.8 compared to the darker F4.0).
Firstly, this makes it easier to take photos in low light. Second, the high aperture (e.g. F1.8) can also be used to make the background out of focus, for example. Third, you get more creative with these lenses because you have to move a little more. Fourth, with the same focal length (= zoom factor), you have more image quality than a zoom lens.
Therefore, if you do not buy the camera housing directly with a fixed focal length, I recommend this to get after a short time. With the standard zoom in the kit you are flexible, but fixed focal lengths are simply more fun in the long term.
A fixed focal length that can be used very universally would be a 35mm lens calculated on full frame. Minus the crop factor, you'd have to for APS-C a focal length of approx. 23mm choose. However, that also depends a lot on the intended use.
You can find the best lens for you in my lens purchase advice.
Camera purchase advice according to price range
In the following I give specific recommendations that are derived from my previous considerations. The price category is calculated up to the cost point by at least the kit lens or to buy another cheap prime lens in a bundle. Otherwise there is no point in moving cameras to a cheaper price range, but in the end not being able to take a photo because the lens is missing. The order of the cameras does not matter.
Often it can also make sense Buy used cameras from more expensive price ranges. You often have more fun with a used, better camera than with a newly purchased, possibly inferior model.
Another thought, however, is that you could also buy a cheaper camera, but instead buy an additional fixed focal length. However, that would only be recommendable for the step from cameras up to € 1,000 to € 15,000. In the € 500 price range, I would first buy a better camera housing.
The best camera up to 500 €
Sony Alpha 6000 (APS-C)
The Sony Alpha 6000 is an inexpensive entry-level model and offers a 24MP APS-C sensor. Full-format lenses can also be used later on the Sony A7 series if necessary. It should be noted that Sony colors were not as mature then as they are today. And here and there you can also tell from the speed that the camera is getting on in years. But that's complaining at a high level - the bottom line is that it still offers newcomers an impressive price / performance ratio. It is worth looking out for offers here - the camera including bag, kit lens and memory card is often offered cheaply.
Attention: In my opinion, it is worthwhile to look in this budget class to see whether a camera from the following € 1000 range is not needed somewhere or is cheaper on offer. So you will have longer joy.
The best camera up to 1000 €
If you are toying with the idea of ​​buying something that will make you happy for at least the next 3-5 years, then I would rather go to the upper limit of € 1000 instead of € 500.
Sony Alpha 6400 (APS-C)
This camera is highly recommended in this price range. It has a swiveling selfie monitor and probably the best autofocus in its class. Eyes and faces are recognized and tracked instantly in real time. A huge portfolio of Sony E-mount lenses is available for this purpose. In addition, you can film with this camera until the battery or memory is empty. This is also popular as a video / vlog camera.
Nikon Z50 (APS-C)
Nikon has done a lot right with this camera. I had the camera in my hand once and found the ergonomics to be great. The advantage, as I said, is that the full-frame lenses can also be used directly. Thanks to the new Z-connection, these have a really very high image quality. Here, too, the display can be folded down by 180 °. The workmanship and grip of the camera feels a tad better than that of Sony.
Fujifilm X-T30 (APS-C)
If you like a retro feeling, you've come to the right place. These cameras look very similar to analog cameras. The operating concept via wheels is also uniquely ingenious at Fuji. With the film simulations you can put a filter over the image while looking through it. The two-digit X-TXX models have the same great sensor as their large single-digit sister models (X-TX). Compared to the more expensive professional models, the better ergonomics, second card slot and weather resistance are missing. However, they have the same really good sensor. Fujifilm also has a very large selection of lenses. Now the manufacturer has also announced that it will release the connection. This means that there could soon be an increasing number of third-party lenses.
The best camera up to 1500 €
Fujifilm X-S10 (APS-C)
With the X-S10, Fujifilm is taking a slightly different approach. Instead of the typical retro voting wheels, the design is a bit "modern". There is also a stabilized sensor and a completely swiveling touchscreen. The overall size of the 26MP camera is kept relatively small, which makes it very mobile. Due to the somewhat simpler viewfinder and folding display, the camera is especially recommended for people who film as much as they take photos. If you want a more professional camera with better weather resistance and a second card slot and a little more retro feeling, I would rather get the Fujifilm X-T3. Otherwise, the X-S10 also offers a complete package in a mobile and modern camera housing.
Nikon Z5 (full frame)
The Z5 is currently the smallest and cheapest full-frame camera from Nikon. In terms of price, however, it is in considerable competition with the Z6, which you can get for around € 250 more. If you can live with the following prints compared to the Z6, you will find a good introduction to the Nikon system: No shoulder display, no 10 bit RAW video output (only interesting for filmmakers), higher ISO noise, lower serial image speed, slightly poorer display resolution. Compared to the Z6, it still has a second memory card slot.If you don't necessarily need this, you should consider carefully not to take the Z6 right away.
The best camera up to 2000 €
At the latest between 1500 € and 2000 € you can find professional cameras with which you can reliably achieve high-quality results even professionally. This is also where the area starts where you can get fast full-format models.
Sony Alpha 7 III (full frame)
I currently own this camera twice myself and can therefore speak to it most of all. Here you can find my detailed Sony A7 III review. In short: the housing, viewfinder and display resolution could be better. Otherwise I am very satisfied, because the advantages outweigh the advantages for me: Great eyes autofocus, little ISO noise in low light, extremely high RAW reserves, many setting options, custom buttons, huge selection of lenses, above-average battery and much more. I got this camera after the Canon Bought the EOS 5D III and was not disappointed. The price of 2018 for 2300 € for the body has fallen extremely until today (and continues to fall). That makes the camera more and more attractive.
Note: Technically, the same camera is now also available in a smaller rangefinder housing: the Sony A7C *. Due to the too small viewfinder and the higher price, I still recommend the A7III.
Nikon Z6 (full frame)
If the Sony A7III didn't exist, I would have this camera. It has about the same picture quality as the Sony. Ergonomics, weather resistance, viewfinder and display are better. In my opinion, Sony still has a bit of a head start when it comes to (eye) autofocus. In addition, the Nikon lacks a second memory card slot, which makes it unattractive for most professionals. It only reads XQD memory cards, which are faster but also much more expensive. Bottom line, however, is a very great camera because it is still cheaper than the Sony in terms of price. The most important fixed focal lengths are currently available as F1.8 models, but the lens portfolio is still being completed.
Update: With the successor Z6 II, Nikon eliminates most of the Z6's weaknesses. The new model now has an improved (eye) autofocus, faster continuous shooting function and an option for a better battery grip. There is also a second memory card slot, as well as eye recognition and HLG recording for videos. Who can afford the extra charge should grab the Nikon Z6II directly *.
Fujifilm X-T3 (APS-C)
Don't be fooled by the APS-C sensor: this housing is packed with photo and video technology at a professional level. The camera is very fast and the image sensor is very good. The Fujifilm X-T3 shines with excellent workmanship, weather resistance and two memory card slots. In addition, there is the retro-style operation and the classic film simulations. This camera is a lot of fun when taking pictures and offers savings in size and weight compared to full format. A major disadvantage is the camera's rather small battery. The sensor is also not stabilized. For the current price, however, this camera is an absolute price-performance hit.
Fujifilm X-T4 (APS-C)
The price mark including the kit lens falls slightly above the € 2000 mark. This camera has been consistently improved compared to the X-T3. More speed with focus, larger battery, stabilized sensor, fold-out display. A step backwards compared to the X-T3 is that the headphone output only works via a USB adapter or via the separate battery handle. Overall, however, the bottom line is that it is simply a bit better thanks to the stabilization and larger battery. The camera has gone even further in the balancing act between both good photography and video functions. Nonetheless, in this price range you have to think twice about not going for the full-size model.
The best camera over 2500 €
Now it's getting more expensive, but also extremely good. While the full-frame cameras up to € 2000 are perfect all-rounders, this is more specific for the professional. This mainly applies to resolution or speed.
Sony Alpha 7RIII & RIV (full frame)
In addition to the standard Alpha 7, there has always been the R series. These models have a higher resolution. The 7RIII has 42MP, the new 7RIV 61MP. The picture quality is extremely good. However, not everyone needs so many megapixels. I made a conscious decision against it at the time. Still a great camera. If you are into details and image quality, you will find it here. You can also generously crop the picture afterwards. The successor model RIV scores above all with a revised housing and better ergonomics. I see a great benefit in the models in the APS-C crop mode (which is fully usable thanks to the megapixels). With the expected update of the RIV, the camera will also be able to save smaller RAW sizes, which is currently not possible.
Sony Alpha 9 & 9II (full format)
This is Sony's flagship camera and is primarily aimed at sports and press photographers. Wherever speed is the top priority. And that is reflected in the focus speed and frames per second. For me it is a kind of (much) better A7 III with better viewfinder resolution, speed, housing materials, weather resistance, etc. I recommend this model to people who want a little more speed, weather resistance, workmanship, as well as viewfinder & Need display resolution. The extended connection options could also be interesting.
Nikon Z7 (full frame)
Similar to the Sony A7R, the Nikon Z7 is the model that has a much higher resolution than the Z6. In this case with 45MP. Otherwise, the specifications are also very similar to the base model Z6. You won't find a second memory card slot here either, so I can only recommend it to a limited extent for professionals who capture unique moments and have to be on the safe side. Otherwise, the camera offers everything from the high-resolution viewfinder & display, high image quality, weather resistance to eye autofocus, which has been improved several times via firmware.
Update: With the successor, the Z7 II, Nikon has eliminated most of the Z7's weaknesses. The new model now has an improved (eye) autofocus, faster continuous shooting function and an option for a better battery grip. There is also a second memory card slot, as well as eye recognition and HLG recording for videos. Who can afford the extra charge should grab the Nikon Z7II directly *.
Canon EOS R5 (full frame)
With this camera, Canon created a monster. However, the 45MP also makes it relatively specific - this resolution is not recommended for all applications. Otherwise, the full-frame camera is technically state-of-the-art. Unlike the EOS R, it offers two memory card slots and sensor stabilization. The camera is very interesting for videographers due to the possibility of recording 8K30 and 4K120 videos. Nevertheless, it still has to struggle with a few overheating problems.
The camera has the new RF mount, which reveals the large selection of old EF lenses available only with an adapter. The RF lens portfolio is currently still being completed, which means that there is not yet a suitable solution for every price range and area of ​​application. Only a few lenses are currently available for less than 1000 €. However, you cannot deny the image quality of the lenses.
Canon EOS R6 (full frame)
Together with the R6, this camera currently forms the Canon full format elite. Even if 20MP would be too little for me, it can be used as a portrait and reportage camera. With its stabilized sensor, 4K60 videos and powerful autofocus, everything is also state-of-the-art. Together with the currently very good Canon RF glass, it becomes a very good camera.
The camera has the new RF mount, which reveals the large selection of old EF lenses available only with an adapter. The RF lens portfolio is currently still being completed, which means that there is not yet a suitable solution for every price range and area of ​​application. Only a few lenses are currently available for less than 1000 €. However, you cannot deny the image quality of the lenses.
Mandatory accessories
Camera strap
A tape with every camera. But this is not particularly great in any way: the weight is constantly on the neck right around the neck. The belt threatens to slip over one shoulder. The camera is never quickly enough to hand across the upper body when needed. For this, there is the Sun Sniper camera strap on the one hand. This is carried across the body. The camera runs freely along the belt and is attached to the tripod thread. The camera is always comfortable on the body, but quickly at hand when needed. The construction is rounded off by anti-theft protection (steel cable) and shock absorbers. The Slide Lite from Peak Design is comparable. This does not block the tripod thread, has a practical click system and is very stylish.
Camera bag or backpack
You definitely don't want to transport the expensive device carelessly. As described in my post about mistakes in handling camera equipment, cameras don't like moisture, vibrations or even hard shocks. A basic requirement for longevity is a suitable bag for transport. Whether it's a shoulder bag or a backpack for cameras is a matter of taste. Both have a padded interior and are designed from the ground up to protect camera equipment. Make sure to buy the bag big enough so that there is also room for 1-2 more lenses, flash and future accessories.
Memory cards
There is nothing more annoying than full memory cards at the wrong time. Storage is cheaper than ever. It doesn't have to be the fastest UHS-II card to take pictures. If your camera only has one card slot, you should save on a maximum of 32GB cards in stages. If, on the other hand, a full 128GB card fails, significantly more data may be lost at once.
Spare battery
A disadvantage of mirrorless cameras (if it is not a model with a larger battery) is the significantly shorter battery life compared to the SLR. Therefore, regardless of the model, you should buy at least a second battery. Unfortunately, I also recommend using the originals here, as they usually last the longest.
Optional accessories
tripod
You don't always need a tripod. For landscapes, product photos and other scenarios, however, it makes sense to use one. Not just for taking photos with longer shutter speeds (keyword: long exposure). But also when you build up product photos piece by piece, for example. And set the light precisely. Then it makes sense to have one. The tripod will be used less often for portrait and reportage photography.
UV filter
In order to protect the expensive glass of the lenses, a UV filter is recommended from a certain price range. In order not to significantly deteriorate the image quality, I always use the branded product. Nevertheless, there will be photographers who do not believe in such filters. However, they let me sleep more peacefully ;-)
Neutral density filter (ND filter)
Where we were with long exposures: This fascinating effect is only possible during the day with so-called gray filters. These act as a kind of sunglasses for the camera. This reduces the amount of incident light. So the exposure can be extended. But they are also used in portraits in connection with flashes that do not yet offer high-speed synch. Here you can open the shutter even when the sun is shining and make the background out of focus. A third area of ​​application would be filming in order to be able to open the aperture here as well.
Peak Design Capture Clip V3
This clip is not mandatory, but a real nice-to-have. With it, I simply clip the camera to the backpack strap when traveling or hiking. This means it is always at hand. This also avoids having a backpack and camera strap on your shoulder getting in each other's way. However, this clip is more recommended for smaller and, above all, light camera setups.
Conclusion: which camera is right for me?
As you can see, there is no such thing as the perfect camera for everyone. In the end, everyone has their own preferences and, above all, individual uses. The lens also plays a major role in this. There will be a separate lens purchase advice for this in the future.
From now on I will update this list every quarter or six months. For the reasons mentioned, this article is intentionally missing:
Bridge cameras without interchangeable lenses
SLR cameras
Micro Four Thirds cameras
Medium format cameras
Exotic cameras like Leica
Compact digital cameras
Compact cameras without interchangeable lenses
Of course, that doesn't rule out the possibility that it might be something for one or the other. I just wouldn't recommend it. But also arrives for the purpose.
Please note that a recommendation is always a personal opinion. In the article you will therefore only find cameras that I myself repeatedly suggest in conversations. So please don't be disappointed if not every favorite camera is listed (that would also make no sense). Still, I'm open to any new suggestions for the list in the comments.
Image Sources: Official press photos from Canon, Sony, Fujifilm and Nikon
FAQ
Which camera is the best in 2021?
As mentioned in the report, it depends on the respective purpose. The best all-round devices can currently be found with the Sony A7 III, Nikon Z6 II and Canon R6.
What is the best camera for amateur photographers?
To get started, I recommend the price / performance winner Sony A6000. Alternatively, you can take a closer look at the affordable Fujifilm models such as the X-T20. If it is still to be full format, then you are well served with e.g. the Sony A7 III or Nikon Z6.
Which is the best beginner camera?
If you want to buy a cheap camera to start with, you should take a closer look at the Sony A6000, Sony A6400, Fujifilm X-T20 or Nikon Z50.
Which camera to buy for filming and taking photos?
The best hybrid camera for photos and videos can be found in the APS-C area with the Fujifilm X-T4. If you want full format, you should take a look at the Canon R6 or Nikon Z6 II. The Sony Alpha 7 III also offers nice video functions, but only with 8 bits.
Do you want to shoot more creative portraits at Available Light right away?
in the free portrait email course Along with many PDF resources, you will learn how to photograph ingenious portraits at Available Light step by step, as well as 5 Lightroom hacks, without which I no longer want to work. Subscribe to the newsletter now and you will receive the course along with other useful tricks and offers for portrait photography.
You can unsubscribe yourself anytime.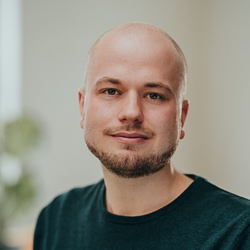 Markus Thoma
My name is Markus and I write about the creative art of photography from my experience as a professional photographer. I prefer to take portraits outdoors - in natural light. Because less is usually more. Every now and then I like to travel. When I'm not taking photos, you can find me at Metalcore concerts, in nature or at the buffet. Take a look at my social media channels: