The Greeks are descendants of North Africans
Greek reparation claims: pathetic German attitude
Greece insists on repayment of the damage in World War II. The descendants of the perpetrators have only warm words to say to this day.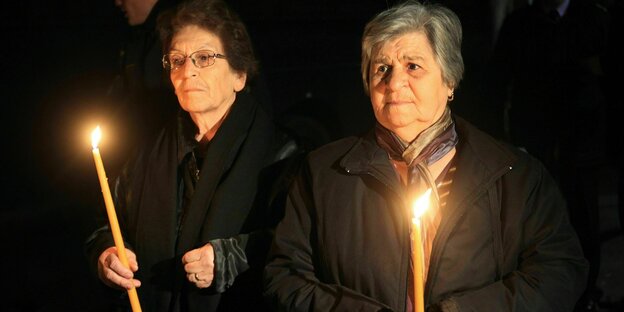 Survivors of the Distomo massacre on January 6, 2011 in front of the German embassy in Athens Photo: Orestis Panagiotou / ana-mpa
This Tuesday is a day of grief in Greece - and anger. Distomo, Kalavryta, Kandanos, Lyngiades or Viannos - these are just a few exemplary names of places in which the Wehrmacht and Waffen-SS raged from April 6, 1941. A total of 1,770 villages were destroyed, around 500,000 Greeks lost their lives, including almost 90 percent of the Jewish population.
The unimaginable crimes of Nazi Germany are etched into the memory of the Greek people. But unfortunately far too little in the collective memory of Germany.
Anyone who hoped that Athens would forego its claims on Germany with the change from the left Tsipras to the conservative Mitsotakis government will be disappointed. The Greeks still insist on financial debts being paid for the crimes committed against them. What we don't need, as a CSU member of the Bundestag recently put it, is "warming up old debates".
This is how both the federal government and a very large parliamentary majority see it - from the AfD and the FDP to the Union and the SPD, which have only just rejected applications from the Left Party and the Greens calling for a departure from the previous harsh attitude of refusal. You should be ashamed of yourself.
The Greek demands for reparations and compensation were postponed for decades by the German side only with reference to an outstanding peace treaty, then circumvented in a tricky way and finally regarded unilaterally as settled. The Federal Republic is not even prepared to repay a forced loan that the German occupiers had squeezed out of Greece.
The fact that the descendants of the perpetrators have little more than warm words for the descendants of the victims is simply pathetic. It is not enough to just verbally acknowledge your historical responsibility. The bargain mentality of memory politics should finally be over.