How do you rate Fidelity Investments
Fidelity International Survey: Almost a quarter of all companies want to be climate neutral by 2030
-) The analysts of Fidelity International (Fidelity) expect that by 2030 around a quarter of all companies will be climate neutral
-) Companies from Europe lead the field, but other regions are catching up
-) 25 percent of analysts responsible for China report that most of their companies are paying more attention to ESG issues; in the previous three years, only 15 percent said this
Around a quarter (24 percent) of all companies will be carbon neutral by the end of this decade. This is the result of the latest analyst survey by Fidelity International. This clearly shows that the environmental, social and good corporate governance factors, ESG (environmental, social, governance) for short, continue to gain in importance in many industries and regions. Europe's companies are ahead of the curve on the way to the climate neutrality goal: 30 percent of them, according to the analysts, will not be emitting any more carbon by 2030. But their competitors from Asia are catching up. At least one in five companies (23 percent) from the Asia-Pacific region will have reached this milestone by then.
In its annual survey, Fidelity International determines the opinions of its analysts in all parts of the world. Information from around 15,000 interactions with companies is collected in order to identify central trends in the company. Read the full report here.
Figure 1: Almost a quarter of all companies will be climate neutral by the end of the decade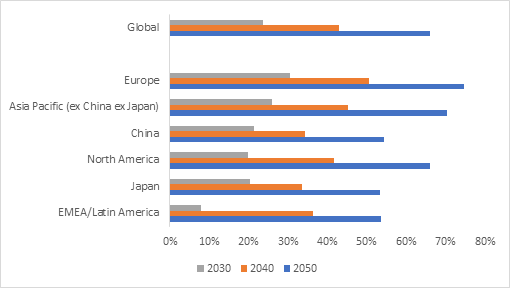 "According to your estimate, what percentage of your companies will be climate-neutral by 2030, 2040 or 2050 in terms of Scope 1, 2 and 3 emissions?" Source: Fidelity Analyst Survey 2021.
Jenn-Hui Tan, Head of Stewardship and Sustainable Investing at Fidelity International, comments on the results: "We believe that climate change poses one of the greatest threats to society, the economy and thus the long-term viability of companies and markets. Therefore, we expect the companies in which we invest to make pioneering efforts to address the potential impacts of climate change on their businesses.
It is encouraging to see that sustainability issues keep climbing up the agenda year after year across industries and countries. The pandemic has further accelerated this shift in awareness. This year, for the first time, more than half (54 percent) of Fidelity analysts reported that most of their companies are now regularly discussing sustainability issues. In 2020, 46 percent of respondents stated this and in 2017 only 13 percent.
Our forecasts for climate neutrality are based on the company's current plans. They are likely to be revised upwards over the next few years as regulations tighten and investors make sound ESG practices a key requirement for allocating their capital. "
China's goal of being climate neutral by 2060 is ambitious - but achievable
Of the Fidelity analysts responsible for China, 25 percent said that most of their companies are now paying more attention to ESG issues - after only 15 percent in the previous three years. This could already reflect China's ambitious goal of being CO2-neutral by 2060.
Figure 2: Sustainability is gaining in importance everywhere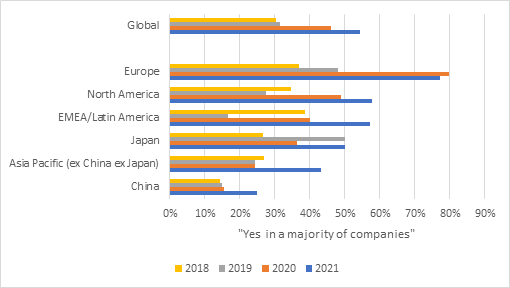 "Have your companies increased their efforts to implement and communicate ESG guidelines in the past year?" Source: Fidelity Analyst Survey 2021.
Flora Wang, Head of Sustainable Investing and Assistant Fund Manager at Fidelity International, comments: "China's CO2 emissions are likely to peak around 2030. This means that the country only has 30 years to reach its climate neutrality target by 2060. In Europe, for example, carbon emissions already peaked in the early 1990s - and that with significantly lower CO2 intensity.
China has undoubtedly set itself an ambitious goal. But our discussions with Chinese companies make me confident that they can master the challenge. Our most recent investment stewardship report for China also shows progress in this regard. The Middle Kingdom has a lot to lose if it fails to keep climate change in check. "
Great confidence with a view to 2021
Corona-related restrictions still apply in many countries. Nevertheless, the analysts from Fidelity found that the company's decision-makers are consistently optimistic about the prospects for their company this year. Reasons include low interest rates, negative real returns and support from fiscal policy. All of these are favorable conditions for a strong global growth spurt this year and beyond.
"How do you rate your company's management teams' confidence in investing in their company in the next twelve months compared to the last twelve months?" Source: Fidelity Analyst Survey 2021.
Terry Raven, Head of European Equities at Fidelity International, comments: "The pace of recovery will vary in different countries and industries, depending on how fast vaccinations progress and how new variants of Covid act. China became the first country to be hit by the pandemic in 2020 and was also the first to leave it behind. This advantage should also benefit the Middle Kingdom this year. Not least thanks to the vaccination campaigns, Europe and the USA will be able to gradually recover and get their economies up again. There could therefore be a strong upswing in the second half of the year. Some industries that have been particularly hard hit by the pandemic are likely to rebound strongly, although this will not apply to all in the same way.
Past performance results do not allow any conclusions to be drawn about the future development of an investment fund or security. The value and return of an investment in funds or securities can go down as well as up. Investors may only get paid less than the invested capital. Currency fluctuations may affect the investment. Please note the regulations for advertising and offering units in InvFG 2011 §128 ff. The information on www.e-fundresearch.com does not represent recommendations for buying, selling or holding securities, funds or other assets. The information on the e-fundresearch.com AG website has been carefully prepared. Nevertheless, there may be inadvertently erroneous representations. Liability or guarantee for the topicality, correctness and completeness of the information provided can therefore not be assumed. The same applies to all other websites to which reference is made via hyperlinks. E-fundresearch.com AG rejects any liability for direct, concrete or other damage that may arise in connection with the offered or other available information. The NewsCenter is a chargeable special form of advertising by e-fundresearch.com AG for asset management companies. Copyright and sole responsibility for the content lies with the asset management company as the user of the NewsCenter special form of advertising. All newscenter notifications are press releases or marketing communications.