How do I get a job with no experience
Application without work experience: 7 tips and ways
An application without work experience resembles a vicious circle: "I cannot find a job because I have no work experience; I have no work experience because I can't find a job. "The situation is considered a" Catch22 problem ". A dilemma that makes it impossible to resolve. This particularly affects young professionals: Either they do not get a job due to a lack of practical experience - or only internships are offered. These, in turn, are not always recognized as full work experience. Bad for your career. But it doesn't have to be! We'll show you tried and tested tips and ways to apply without professional experience ...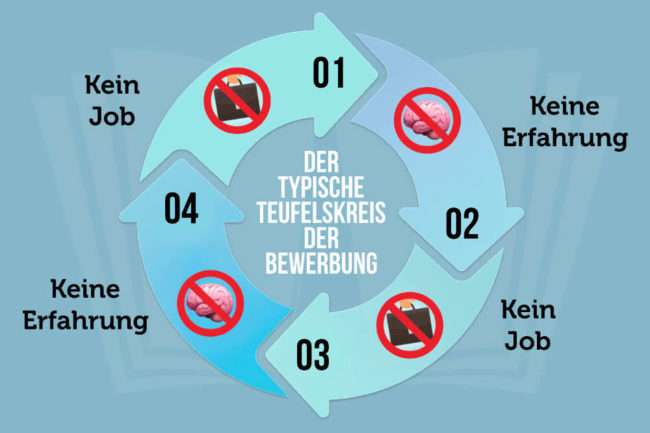 ➠ Content: This is what awaits you
➠ Content: This is what awaits you
Applying without work experience: Welcome to the dead end
Every beginning is difficult. But especially in professional life. Some surveys come to the result that "lack of work experience" is the reason for an application being rejected in 69 percent of the cases. It is not uncommon for job advertisements to state that the employer wants applicants to have "at least three years of professional experience". Beginners are out of there right away.
This creates a downward spiral that prevents graduates and young professionals from getting into a regular employment relationship. This does not apply to all applicants. But to those it affects, that's not even small consolation. The career impasse is often difficult to break through, or because the young professionals drastically lower their demands in order to get a foot in the door at all.
Study: work experience says nothing about ability
But does work experience actually make it better? The two business psychologists Uwe Peter Kanning and Philipp Fricke from the Osnabrück University of Applied Sciences examined this. In the experiments, the 814 participants had to complete a typical assessment center (AC). The subsequent analysis of potential revealed considerable differences among the candidates. But they had nothing to do with the professional experience on the résumé. The researchers are convinced that increasing life and work experience are not an indicator of actual qualifications and competence. Other factors are responsible for this: the will to learn, openness, intelligence and the ability to question oneself critically and to work on oneself.
Gain work experience without work experience
Those who only get rejected applications are understandably frustrated. Why did you spend years in the lecture hall, learn and work on the side, if none of that counts now? The worst thing about it is the feeling of powerlessness. You want to work, prove yourself - but don't even get the chance to do so. How are you supposed to gain practical experience when nobody lets you?
So that the start into professional life succeed even without professional experience, you can still do a lot ...
The mindset is one of the deciding factors
The most important thing now is that you first of all keep faith in yourself. You have a lot to show: a completed apprenticeship, a degree, maybe even top grades, special experience, internships, ... Even if it doesn't seem like it at the moment: it's worth something! Sometimes it is just a question of better self-marketing, optimizing cover letters and résumés in order to convince HR managers even without professional experience.
Application without work experience: ways out of the downward spiral
1st selection
Look specifically for job offers that make professional experience not a must qualification, but an "optional qualification". This can be recognized by formulations such as: "Several years of professional experience is desirable" or "are an advantage". That means: the experienced have advantages, but the inexperienced are not sorted out straight away. Job advertisements are almost always structured hierarchically. Means: What is particularly important for the employer is at the top - with relevance in descending order. You should therefore concentrate above all on job offers whose top requirements you can mostly (!) Meet - and your job opportunities increase.
2. Mobility
If the job search was unsuccessful in the previous environment, it also helps to expand the search radius. Yes, that can mean that you have to move and leave your home country. However, it also significantly increases the chances of applying because certain qualifications are in demand differently from region to region.
3. Abroad
Experience abroad (if you weren't just a harvest worker in Australia) is much more important than local internships. They are an indication of intercultural skills, openness and independence, and mental and physical mobility. And: they can hardly be checked. This is not meant to be an invitation to illegal CV cosmetics. But "Project Management in São Paulo" definitely sounds more attractive and more experienced than "Project work in Wanne-Eickel" (nothing against Wanne-Eickel!). So why not start looking for jobs in other (European) countries? Within the EU, there is also freedom of choice in terms of residence and work.
4. Niche markets
Don't apply where everyone is trying. It's about breaking the spell and gaining professional experience. Not a prestige job. That can mean, for example, that you do not apply to corporations with dazzling brands, but rather to the "hidden champions" - medium-sized companies on the greenfield who are desperately looking for newcomers and who are just as unable to be choosy as you are. Often these companies offer undreamt-of entry and promotion opportunities. And in owner-managed companies you are usually not just a personnel number, but soon a "family member". There are more than 3 million companies in Germany. Most applicants only have the familiar names on their radar. This is your chance for an interview invitation.
The alternative: Do not apply for the popular positions in marketing, development or sales. Human resources, purchasing or jobs as project managers can also be a stepping stone - depending on what you make of it.
5. Temporary work
Temporary work does not have the best reputation. But here there is the so-called sticking effect: the temporary worker does his job at the lending company so well that it makes him a takeover offer. So he or she stays "stuck", in a positive sense. Critics say that the adhesive effect is at most 7 percent. The temporary employment agencies, however, speak of around 30 percent. As is so often the case, the truth lies in between. But that's not nothing, it's just another chance.
6. Hidden job market
Not every vacant position ends up openly and as a job advertisement in a job exchange. Studies - for example by the Institute for Labor Market Research (IAB) - have found that only 35 percent of vacancies appear on the labor market. The rest is traded on the so-called hidden job market.
In other words: The positions are filled "secretly" - through networks, recommendations and speculative applications. Open up this secret job market and become more visible: on the Internet with your profiles on LinkedIn or Xing or start writing a specialist blog.
7. Vitamin B
Speaking of contacts: it's no secret that relationships only harm those who don't have any. Using the famous B vitamin is no shame either. Especially not in such a situation. You should therefore regularly expand your network. Basic rule: network when you don't need it, to benefit from it when you need it.
Second tip: don't ask your contacts about a job. Too clumsy! Ask for advice on finding a job. The request is a subtle appeal to the ego of your counterpart. Most people are impressed by the fact that they are asked. You feel valued, important, knowing. So most of them say "yes". OK then! Listen carefully (it might really be good advice), thank you for the tip (even if it was the botch), promise to experiment with it, and ask if you can come back to it later. Of course nobody says "no" anymore. And that is exactly the plan: The next time you contact your interlocutor to tell him what you have experienced and achieved with his advice, but unfortunately not your job success, then you can now ask directly about a job.
Tips and tricks for applying
You can also do a lot with your application documents to improve the chances of an interview.
Tips for the cover letter: Score with formulations
The cover letter is often devalued as "outdated" or "redundant". Error! It offers enormous advantages, especially for young professionals.
In contrast to the résumé, you do not convince with hard facts or professional experience, but with motivation, personality and soft skills.
By not just listing them (like most applicants), but by providing anecdotal evidence with examples, you not only stand out positively from the crowd, but also subtly indicate relevant practical experience.
Examples of formulations:
"During my internship at _____ I was passionate about the _____ project, which I was allowed to initiate and ultimately organize and lead. To get my colleagues on board and to inspire them, I have _____. A complete success! Within two weeks we were able to ... "
"In my student job at the _____ company, I was given the task of improving _____. In doing so, I was not only able to train my communication skills and organizational talents. Thanks to my dedicated commitment, we were able to develop _____ what is still in use today and _____ increased _____ percent. "
"One of my strengths lies in the practical solution of problems in the operational process. Thanks to the good cooperation in the team and the willingness to work quickly (even on weekends), I have often succeeded in minimizing or avoiding production downtimes. "
"Sustainable customer relationships are naturally close to my heart. At my current employer, I therefore independently initiated a project to optimize existing customer management. After that, customer satisfaction increased by a full 15 percent. "
Convince with expertise
Ultimately, it's not about years of experience. They are only a placeholder and an indication of whether you are up to the challenges of the new job and can master the tasks that arise. Shine and convince in your cover letter with real expertise. Even as a young professional, you can be very familiar with your specialist field. Even without work experience.
This can be proven, for example through relevant technical terms that you can subtly incorporate into the formulation. Likewise through references to statements and quotes from experts and luminaries (who obviously read and know!). Or by mentioning your specialist blog - if you have one. That works the most. After all, you are participating in current debates, researching, analyzing, evaluating - and may already be a (micro) influencer. It is crucial that you can make up for the lack of professional experience with in-depth knowledge of the industry and the specialist area.
Points with additional knowledge
This is also convincing: special knowledge and additional qualifications. These may not exactly meet the requirements of the job advertisement, but still create relevant added value for the company - and thus close the gap to the lack of experience. On top of that, such special qualifications help to stand out from other mass applications. You can subtly incorporate this additional knowledge into the opening sentence of the cover letter. For example like this:
I recently completed an additional course in _____ and graduated with a 1.0. That was the decisive factor in my application to you. I could use the knowledge and experiences of the advanced training directly in the area of ​​_____ with a clear added value for your company.
Tips for the résumé without work experience
The same applies to the résumé as to the cover letter: convince through expertise rather than through experience. You can also improve upon a thin résumé. Not through lies or made-up qualifications, of course. That would be fatal - and even after years in the job, it still justifies a termination without notice if it is discovered.
To do this, you can add special knowledge, strengths or interests to your tabular résumé, for example, which indirectly compensate for a lack of professional experience. For example:
Voluntary work in associations or in social projects
Continuing education and training - also self-taught
Additional courses and private practical projects
Own blogs and other (technical) publications
If the section "Professional background" is shorter in the résumé, make the areas "Special Skills" and "Interests and Hobbies" all the more detailed. Temporary jobs, trial days or student traineeships do not count as work experience for many HR managers. Nevertheless, there is experience in it in which you have acquired or deepened important skills or insights. That can qualify as well. The same applies to any internships that you have already completed (read also: Internships in your CV: Tips for pimping)
Make no mistake: Hobbies on the résumé can also add value. Because hobbies are symbols. Team sports are, for example, a synonym for "teamwork"; Cooking stands for "sociability" and "creativity"; Honorary positions, on the other hand, show that someone not only thinks about themselves, but is "socially competent". The prerequisite, however, is that all of these experiences and interests are in some way related to the new position and round off your profile.
Whether the additions meet this criterion can be checked with a simple question: "Does this station make me more attractive for the employer?" If the answer is "Yes" - write it down!
[Photo credit: Karrierebibel.de]
Further sources and guides
Application tips
➠ Application templates
➠ 11 application forms
➠ ABC of application tips
➠ Application folder
➠ Application photo
➠ cover sheet
➠ Brief profile
Tips on the résumé
➠ CV in tabular form
➠ Resume templates
➠ Internships on the résumé
➠ hobbies on the resume
➠ Unemployment on the résumé
➠ gaps in the résumé
Tips for covering letters
➠ Cover letter
➠ Introductory sentence in the cover letter
➠ Final sentence in the cover letter
➠ Interests in the cover letter
➠ Strengths in the cover letter
➠ Attachment directory
Tips on the job reference
➠ Assess job reference
➠ Secret codes in the certificate
➠ Interim report
➠ Job description
➠ References & samples
Special applications
➠ Unsolicited application
➠ Internal application
➠ Discreet application
➠ Email application
➠ Online application
➠ Application as a temporary worker
➠ Application for mini jobs
➠ Application after termination