What is the dark side of ireland
The dark side of Ireland: my partner, the racist
Irishman meets FBI man: The rather black comedy "The Guard" (Panorama) paints a gloomy picture of Ireland. Almost everyone is a drunkard, a terrorist or a racist.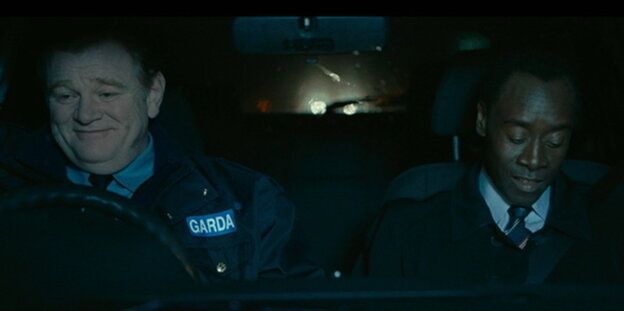 Prize question: Who is the Ira, who is the FBI man? Brendan Gleeson (left) and Don Cheadle in "The Guard". Image: berlinale
Irish provincial police officer Gerry Boyle (Brendan Gleeson) is a beefy, weather-beaten man who can easily not be upset. Right at the beginning of John Michael McDonagh's directorial debut "The Guard" he watches a terrible car crash without batting an eyelid. In the further course of the film he will manage to stir up an entire drug smuggling ring with his own blend of ignorance, luck and farmer's cunning.
But first Boyle has to solve the murder of a man in his home village, which he does only half-heartedly, while he wastes his free time with visits to prostitutes. Only when his colleague was shot a short time later and it turned out that an internationally operating gang was behind it did he start his very personal campaign of revenge. However, he is soon assigned the American FBI agent Wendell Everett (Don Cheadle), who is anything but enthusiastic about Boyle's highly idiosyncratic investigative methods.
In "The Guard", the London-born filmmaker McDonagh paints a deeply gloomy picture of Ireland: Almost everyone here is a drunkard, sodomist, terrorist or gun freak. Or, like Boyle, a racist. When asked about his failures at a press conference, he replied that racism is an integral part of Irish culture.
In the following, he keeps talking about head and neck in Wendell's presence, every moment of approach is immediately thwarted by an absurd comment from Boyle. At the same time he seems to admire his urbane colleague in his awkward manner. In his presence he often uses words like "whack" - which roughly translates as "to kill" - which he has copied from American police series.
The Boyle figure shows references to Lieutenant Frank Drebin, the protagonist of the "Naked Gun" series, to Inspector Clouseau and also to Homer Simpson. The big difference to these characters is that Boyle comes across as relatively lifelike. No matter how much the film world that surrounds him reveals its artificiality, its craftsmanship through the constant play with genre conventions - which culminates in a conclusion that can hardly be surpassed in terms of winking self-irony - so real appears to a Boyle in all his shirt-sleeved cheekiness.
At the same time, as a buddy movie, the film is in the tradition of cop films such as "Lethal Weapon". But where Hollywood would seek the final alliance between the protagonists, the characters in "The Guard" stay at a distance. And so a reserved handshake in parting is the maximum closeness that Boyle and Wendell can ultimately bring themselves to achieve.
February 14, 10.30 a.m. at CinemaxX; Tuesday, February 15, 2 p.m. in the International; Wednesday, February 16, 5 p.m. in the Cubix; Friday, February 18th, 9.30pm at CinemaxX.