What is legal still feels illegal
As a hemp fair showed me why weed should remain illegal
I know how often you sit in your shared kitchens, shoving up your marijuana crumbs and fantasizing about what the world would be like if weed were legal. A future in which Amazon Prime delivers OG Kush cookies to your home, you sniff various cannabis flowers at weed tastings in the evening and a Chancellor Annalena Baerbock with a joint for the cover of the S.mirror can be photographed.
I know how you talk about the state having "so much more" tax revenues and the Germans being more relaxed and casual if they smoked something from time to time. I thought like that for a long time.
Of course, it's ridiculous that a plant that makes you tired and hungry should be treated like it's crystal meth. That people who grow too much go to jail. Opposing cannabis legalization is as popular today as supporting coal power or shredding chicks.
And yes, there are few rational arguments against legalization: the judiciary would be relieved, the state could earn money from weed as well as from tobacco and alcohol. Companies are already making money from hemp and its by-products. They're just waiting to finally sell us the right high.
Also at VICE: From street retailer to multi-million dollar cannabis start-up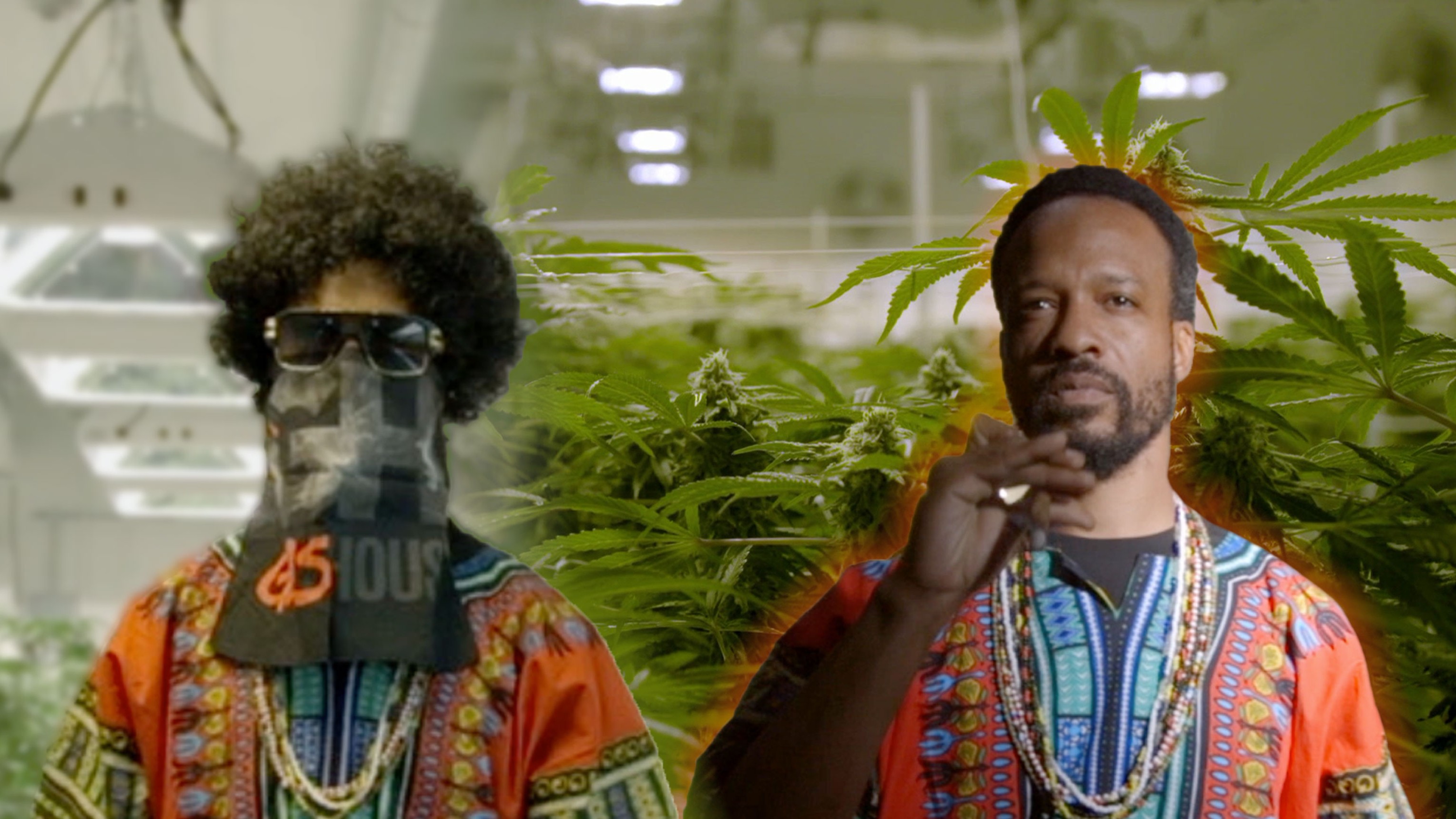 I'm going to the "Mary Jane" in Berlin, Germany's leading hemp fair. It advertises a beach festival atmosphere and promises me a glimpse into the future with legal weed. When the drug of the bums, the good-for-nothing and school dropouts becomes a business and the joint a lifestyle product. When the stimulus to do something forbidden disappears and suddenly everyone is allowed to show their stupor in public.
When I enter the old bus hall at Berlin's Osthafen, I see brightly lit stands and people tattooed on MacBooks. Entry costs 20 euros. High-inducing cannabis is of course banned at the Mary Jane Fair because, well, illegal. But for that you can buy grow equipment, CBD oils, lubricating cream and hemp chocolate. Most of the stalls distribute long papers for free.
At the first stand, a young entrepreneur shows me his CBD oils. "We have actually had very good experiences with this on the German market," he says. He's wearing a Massimo Dutti shirt and green and white Stan Smith sneakers. The uniform of the style-conscious without style.
A Dutch start-up tells me that now is the right time to buy cannabis funds, because: The German market offers 80 million potential stoners and legalization is only a matter of time.
No compressed air bottle, no air pump for car tires, but a high-tech vaporizer for just under 220 euros
At the booth of a cannabis soft drink, the company is already advertising with the marketing phrase "revolution", as if the company were selling solar-powered aircraft and non-sugary lemonade with hemp seeds. A Japanese manufacturer of vaporizers promises "integrity - innovation - persistence". The former code words of youthful stoner culture such as "420" or "Mary Jane" have long been part of the company name; Greenwashing in a new green.
The Left, the Greens and parts of the FDP and SPD have been calling for legalization for years. Should the Greens be part of the next government, Germany could release the grass and prohibition, decided in the Weimar Republic, ends. Then a huge market for legal and medicinal weed will emerge in Germany, as you can see in Canada or the USA.
Always an anti-capitalist drug, weed are now discovering multi-billion dollar companies
Legalization would bring us state-tested premium weed and cannabis ice cream in 14 different flavors. But a legal market also means VAT, weed tourists, underpaid delivery services, loyalty points, email newsletters that remind you of the cannabis sale and cannot be unsubscribed.
If weed becomes legal in Germany, then not only the smacked dealer next door or a few harmless start-ups at the cannabis fair, but also multi-billion dollar companies like Coca Cola or the Heineken brewery will earn money from your consumption.
But grass is by nature an anti-capitalist drug. If you drink too much, you swallow an aspirin tablet in the morning and stagger to work. Anyone who smokes three bongs forgets their job, their alarm clock, their ambitions and sleeps until two in the afternoon.
Oh you fat dog: CBD food for pets will be exhibited at the fair
I drink a hemp juice with lemon and watch a young woman take pictures of a couple of canning jars with weed on her iPhone. "Pretty nice, right?" She asks. The resinous grass sparkles under the light of the LED spotlights. The woman looks down, opens Instagram and uploads the picture of the grass blossoms.
In general: Instagram! Whenever I see Prosecco glasses colliding in the Boomerang, I question the superiority of humans over animals. I don't want to see your joints on Instagram that you hold in the evening sun with hashtags. Because legalization is followed by aestheticization: a granite grinder for 300 euros, a weed humidor in the old building, the monthly delivery of organic grass in wooden boxes, sent from the estate in Rhineland-Palatinate. Grass as the lifestyle of the creative bourgeoisie, to which companies successfully whisper: Spend more on the product than you have to because it will make you more beautiful and happier. Or at least healthier; how one can observe the hyped CBD.
CBD is an ingredient in cannabis that does not get you high, but it relaxes and helps with some diseases. In Germany, most CBD products are more or less legal. But because people hypothesize everything that promises to make them healthy without exercise and diet, almost every stand at the trade fair offers CBD oils. You drip it under your tongue, smear it as a cream on your hands or crumble CBD grass into the joint.
I'm testing a CBD vaporizer. The smoke doesn't scratch like real weed and no drooled filter sticks to the lips, it doesn't taste good, clinically. As I pull, the saleswoman tells me what the CBD does to me: less stress, softer skin, more concentration, pain-free joints, better digestion, deeper sleep, less fear. If I wanted, she says, I could even put a few drops in my dog's mouth, that would slow him down too. When I smoke a joint Rick and Morty look and crumble potato chips in my mouth, I don't expect that to make me healthier. But the saleswoman speaks as if I were pulling on a vaporizer that is pumping eternal youth, inner peace and thirty additional IQ points into my body.
If you sit in a glass house, you shouldn't throw stones - if you still want to get stoned
CBD is the new superfood, the new mindfulness, the next hope of the health conscious. In New York, the trend went so far that people dripped CBD into cupcakes and mixed their cocktails with it. Now you can only buy it there in the pharmacy.
I'm going outside to the beach area. I want a real joint, one that gets you high. The Berlin Badeschiff is in front of the exhibition hall, a DJ is playing mild electro and beautiful people are dawning in deck chairs on the heaped sand.
Smoking weed doesn't belong in public - hiding is what makes weed so appealing
All openly smoke weed. Nobody is afraid of plainclothes police or the looks of passers-by. Here you can get high in public. A woman with white sneakers and minimalist tattoos licks the sticky surface of her joint, lights it, leans back. I want to ask her about a puff on the joint, but when I see her sitting there, so noisy, so completely lost in her listlessness, lit by the sun, I am disgusted by the stupor displayed in the daylight. Those who are obviously drunk after lunch should go to sleep and not walk around in public. Not because the person drank early, but because they can no longer hide the drunkenness. And smoking weed belongs in the dark as well. One should feel intoxication and not be exhibitionistic.
Hiding is what makes grass attractive. I don't care about the boring effect. What I like are the furtive looks when someone pulls a plastic bag with flakes of grass out of their pocket after work. That look that asks, do you want to pull too? A common conspiracy. The hastily smoked joints behind the tennis plate and the hope that the teacher won't notice, or maybe she does. Standing at the cash register at Rewe with red eyes. The rebellion of the anti-rebellious high school student.
I pass a stand for hemp tea. The seller pulls a tea bag out of a gold tin. He says to a customer: "We have to get grass out of the dirty corner." I run to the seller, knock the teabag out of his hand, kick his table like Jesus once did the tables of the money changers in the Jerusalem temple. "The grass has to stay in the dirty corner!" I shout - at least that's what I want to do, if I were a braver person. But I don't trust myself, instead I grab a few free long papers from the stand next to it and walk away in silence.
Follow Freddy on Twitter and VICE on Facebook, Instagram and Snapchat.
Get the best of VICE emailed to you every week!
By subscribing to the VICE newsletter, you consent to receiving electronic communications from VICE, which may contain advertising or sponsored content.