What is a good tofu curry recipe
Yellow Thai curry with tofu
Curry has become my absolute favorite food. I would never have thought that before. There was always only the standard dishes and so far I had hardly known any international dishes. Fortunately that has changed. Since I've been eating healthier and mainly plant-based, I've been trying out a lot more in the kitchen. Spices are so fun to work with. That's why you will find a wide variety of tasty plant-based dishes here :).
What makes this yellow curry with tofu so special?
The curry is also made very quickly. You prepare your ingredients first, of course, but in the end everything is cooked together in a wok or pan. So you have cooked a quick, healthy dish that also tastes very good! You really can't go wrong with that, can you ?!
What is special about this curry is the addition of tofu and vegetables. Both in combination with the paste and coconut milk taste so delicious and creamy. I can only recommend it! I love tofu in almost every curry. It is very filling. Furthermore, tofu is a high quality source of protein. Either you use natural or smoked tofu. Smoked tofu gives the curry a special note through its own taste. Personally, I like the yellow Thai curry with smoked tofu best.
Yellow, green or red curry paste
The yellow Thai curry is a mild variant and, in my opinion, very well suited to simply get a taste of Thai cuisine. The green curry is the hottest. In contrast, the red one is still quite hot, but a bit milder. I also like both variants. However, it must still not be too hot.
I didn't make the paste myself, though. I usually buy mine in the Asia store. The pastes taste very good, but make sure that they do not contain any unnecessary additives. The curry pastes often contain fish sauce. On the one hand, you can make the paste yourself, but I haven't tried that yet. On the other hand, you can just use spices.
By the way, fresh ingredients spice up the dish, such as ginger, coriander or vegetables.
Or you curry?
Meal prep
The curry is also perfect for meal prep. The next day it usually tastes even better. By the way, I feel the same way with some dishes, do you know that too? 😀 It is best to prepare a large amount of curry straight away and have some of it for the next few days. You can refrigerate it for about five days, or you can freeze it. Every now and then I'm happy, if I don't feel like cooking or have the time, to be able to simply get my finished dish out of the fridge :-).
The recipe is:
gluten free
sugar free
egg free
without milk (except coconut milk)
ready in 15 minutes
mild
vegan
healthy
with tofu and chickpeas 🙂
and very tasty!
Do you love simple dishes with tofu or legumes? Then you might also like the following dishes:
How do you like the recipe?
I would be very excited about yoursFeedback looking forward! If you try this recipe, please leave me onecomment with a ⭐️rating. Are you atInstagram orFacebook active? If you post a picture of this recipe, be sure to link me to @plantiful.heart so I can see your creation too! 🤩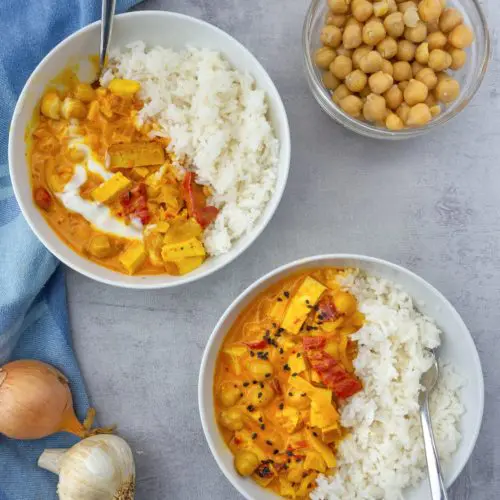 Yellow Thai curry with tofu
Yellow Thai curry with tofu is one of my absolute favorite dishes! The dish is ready in 15 minutes and so delicious. Due to the spices, the yellow Thai curry is very tasty. The addition of smoked tofu and vegetables rounds off the dish. Tofu is a good source of protein and a real filler.
Print pin rate
Dish: dinner, lunch
Country & Region: Thailand
Keyword: curry, yellow curry, gluten-free, rice, tofu, vegan
Preparation time: 5 minutes
Preparation time: 10 minutes
ingredients
500 ml coconut milk
1 can of chickpeas
1 smoked tofu
2 - 3 tbsp yellow curry paste
2 cloves of garlic
1 onion
1 teaspoon freshly grated ginger
1 - 2 teaspoons of spices: pepper, salt, turmeric, cumin to taste
1 tsp Sriracha OPTIONAL
Instructions
Heat olive oil in a wok, add onions and garlic and fry until translucent.

Add the tofu, chickpeas, and paprika (or any other vegetable you like), fry for a few minutes

Then add all the spices and sriracha and cook for a minute

Then stir in the yellow curry paste with coconut milk, let everything simmer for a few minutes
Are you active on Pinterest? and do you like the recipe? Then pin the following picture on Pinterest! 😀 You can find the Pinterest button under the picture.
* This page contains affiliate links. If you order a product via these links, I will receive a small commission. Of course, there are no additional costs for you. I only recommend products that I personally like and that I use myself.