Why does Trump hate the media
Trump agitation against the media: More and more attacks are made
US President Donald Trump prefers to attack the media. In the meantime, local journalists often feel the anger that has been sparked.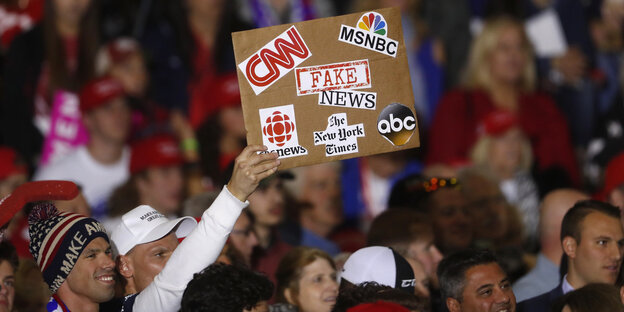 Frequently seen at Trump speeches: The hatred of the media Photo: ap
NEW YORKap | After 24 years, Lori Bentley-Law had had enough. The photographer wanted to quit her job at the news channel KNBC-TV and wrote a blog entry about her motives. Bentley-Law admits that the hostility she has been seeing lately plays a role in her decision. What was intended as a small farewell declaration for friends and colleagues hit a nerve: Within three days, your post was clicked 11,000 times, a flood of e-mails and short messages from frustrated journalists all over America hit Bentley Law.
Many told her of the undisguised hatred that the population met with them in their work. And often verbal attacks or threats have long since ceased to exist, but rather physical attacks on reporters in the USA.
A development of which, in your opinion, President Donald Trump is anything but innocent. The preferred targets of his tirades are media advertisements such as CNN or the New York Times, but the air is getting thinner, especially for local journalists. When a president calls the press an enemy of the people, "attitudes change," writes Bentley-Law. The main victims are news teams on site. "And it doesn't just come from one side. We get it from everywhere, pretty much every day. "
Your drastic choice of words does not seem excessive. The association for media workers in radio, television and the Internet (RTDNA) gives journalists tips for security and self-defense. At certain times and in certain places, a limited use of one-person crews is appropriate, which is becoming increasingly popular with TV broadcasters for reasons of cost, advises association director Dan Shelley.
And for good reason: RTDNA has been running a "Tracker for Freedom of the Press" since 2017, which counted 39 cases of attacks on journalists in the USA this year alone. This included the shooting in the editorial office of the Capital Gazette newspaper in Annapolis, Maryland, with five dead. In the past year, the association came to a total of 48 violent incidents.
"It's a hard time to be a journalist"
"The environment has changed," confirms Chris Post, photographer at WFMZ-TV in Allentown, Pennsylvania. "I am a witness of change". There was the incident when he once came to a rally that he was supposed to attend. A driver asked him where he was going. When he replied that it was a demonstration for more immigration, the man reacted with a fit of anger and stepped on the gas - and then just avoided meeting him, Post recalls. The driver had a smug expression on his face. "I am 1.98 meters tall and weigh 136 kilograms. Somebody tried to snatch my camera away from me. When it comes to that, where does it end? It's a hard time to be a journalist ".
His colleague Caitlin Penna, a freelance photographer from Durham, North Carolina, reports that even her conservative relatives viewed her with suspicion. During her missions she is always in a watchful position. One evening she went to a pub to relax, where she had a conversation with a bar visitor. When the talk came about her job, the man said: "You report fake news" - and let it stand, says Penna.
An encounter with an angry citizen went less lightly for the video journalist Joshua Replogle from the AP news agency. He was filming the extent of the flooding from Hurricane Florence in rural Bladen County, North Carolina, when suddenly a nearby man came over, knocked his camera over and started punching him in the face. The attacker's friends grumbled "fake news". There has been no charge so far, says Replogle. "The irony is that my video would have helped him. It would have drawn attention to a small town that was flooded. "
There are glimmers of hope
In the blog entry on her departure from TV journalism, Bentley-Law writes: "I don't want to have to plunge into sadness every day. I don't want a cute little pigtailed girl looking at me and saying, "We hate you." I no longer want to be shouted at "fake news" or given the finger when I am on the road with my news van. "
Bentley-Law admits that some of the incidents described - such as the hateful girl or the man who stuck his bare buttocks out the window and excreted feces - were before Trump. And there are other reasons for their exit: for example the shoulder pain from years of carrying heavy equipment, not to mention the burden of the constant consumption of stories about murder and manslaughter and other depressing missions. But the current mood definitely plays its part in their decision, explains Bentley-Law.
Despite all of this, there is a glimmer of hope. Media representatives told him that more and more people are drawn to journalism, says association boss Shelley. And photographer Chris Post tells of an experience he had on the very day when a man in a pickup truck hurled the words "fake news" at him as he drove by. He later drove to the drive-in counter of a fast food restaurant, where he was just given a cup of coffee. It was bought by a woman in front of him, it was said at the cash register - with the message: "Thank you for what you are doing."