What are the advantages of retirement homes
Senior Citizens' Residence - All the advantages and useful information
Advice for senior citizens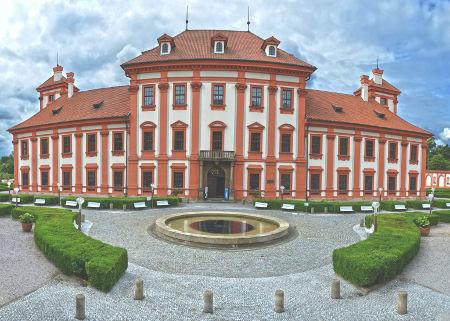 Spend old age in the senior citizens' residence
What is a retirement home?
The Senior residence is also known as a retirement home or old people's home. In detail, it is a special home furnishings, in which older people live, are cared for and looked after by specialist staff. The inpatient external care is not only suitable for seniors, but also for people in need of care. The Retirement home is operated by a private carrier, a foundation, a non-profit organization or a state carrier.
Who is this form of care suitable for?
Many people cannot or do not want to care for themselves in old age and want theirs Let old age end accordingly. They are professionally cared for and looked after in a retirement home. The Retirement home is suitable for the elderly and also for people who are in need of care. But there is no minimum or maximum age. Rather, the individual mental and physical condition plays the most important role.

Depending on these factors, a individual care level created. The medical service of the health insurance companies (MDK) conducts an assessment and defines the level of care based on this. This level is not only for classification but also for financial supportthrough the health insurance essential. Nowadays there are some younger people who are in need of care and on the other hand there are also many older people who are only marginally in need of care.

As a result, there is no specific age from which a nursing home is an option. Elderly peoplewho are mentally and partly also physically up to date often still live at home. Some of them look after themselves alone and / or with relatives. In many cases also come outpatient care measuresfor use. The general Age at entry into a retirement home is now in Germany at well over 80 years. But of course there are exceptions in every home that are well above or below this average.
Retirement and nursing homes are very common in Germany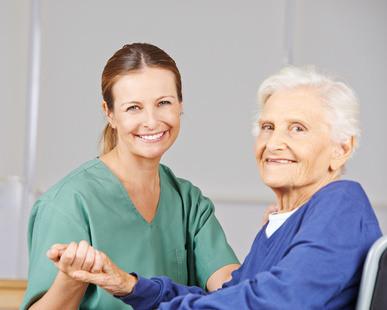 In the old people's home a lot is taken from you, but also offered
In Germany, the care concept is based on the severity of the need for help and care. Generally there are 3 types of care: the ambulant care, the inpatient care and the day care. Nursing homes for the elderly are the most common in Germany. In every major city there are several homes and these offer full inpatient long-term care. The other care facilities, such as the outpatient services, are now very widespread.

Generally is a Retirement home for people provided that usually no longer run their own household can or want to. You can get help with in a senior citizens' residence Housekeeping and at the Food supply. Among other things, the employees of the nursing home take care of the Drug supply, the Basic care (physical hygiene and assistance with going to the toilet) and help with Visiting the doctor. In addition, there is also social care offers in retirement home. These include joint excursions, games lunches, parties and events, individual therapies and various group activities.

The classic old people's homes are gradually being replaced by pure nursing homes in Germany or have been converted into these. In addition, outpatient care for the elderly is becoming more and more important. Here, older people and people in need of care are cared for in their familiar surroundings as required. The outpatient care for the elderly is usually suitable, however for basic care and treatment care only. If these measures are not sufficient, then a retirement and nursing home is the more suitable choice. There are of course exceptions if the necessary financial resources are available. In such a case, outpatient care for the elderly can be expanded significantly.
What does the senior citizens' standard of living look like in detail?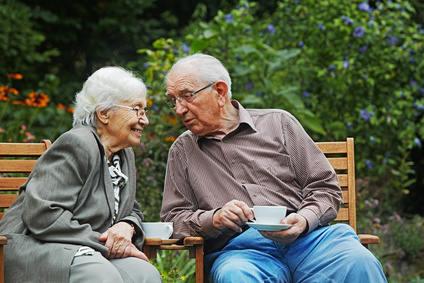 In a senior citizens' residence you get to know a lot of like-minded people!
The Standard of living in a retirement home depends on many individual factors. There are sometimes serious differences between the numerous old people's homes in Germany. Basically, the rooms in a nursing home have all the necessary furnishings. The seniors still have it own furnitureso you can use them take it home with you without any problems. As a result, their standard of living changes only slightly compared to before. A Nursing bed is part of the mandatory furniture of a nursing home and must be present in every room. Of course, the standard of living is a bit worse than in your own four walls. Even so, every room in a retirement home has one own bathroom fitted. By request with the necessary financial means can the seniors in one too Single roomr live and enjoy privacy there. There are enough single rooms available in every nursing home. The equipment and possibilities of the various old people's homes in Germany are very different. As a rule, all homes have one cafeteria, one Common room, one Space for group activities and of course one too Dining room. Retirement homes, which cost significantly more money, usually have better equipment. The residents can, if their state of health permits, leave the home every day and go about their usual activities. Moving to a retirement home also has other advantages: The Residents learn a lot of new people and often too Know like-minded people.
The retirement home compared to other care options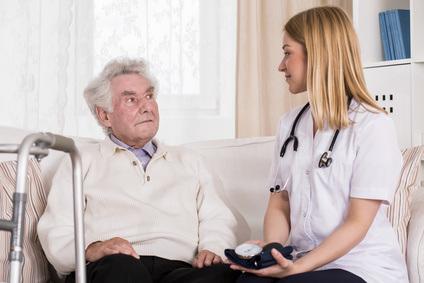 A distinction is made between 3 types of care, the most expensive being 24-hour care in your own home
Generally there are for the elderly or those in need of care 3 different types of furnishing. A care is outpatient at home, stationary in a home or partly in one day care possible. The outpatient service can also be combined with day care. In this case, the people in need of care are cared for at home by the outpatient service. In addition, they are picked up daily or a few days a week and driven to day care.

A direct comparison between the different types of care is relatively difficult. It doesn't just depend on that mental as well as physical condition, but also to the financial opportunities at. As a rule, people in great need of care cannot choose between inpatient and outpatient care. Of course there are exceptions in this area, but these are in the minority.

In terms of cost, there is one outpatient care cheaper than inpatient stay in a Nursing home. Unless the outpatient care takes on additional care measures in addition to the basic care. Day care is cheaper in direct comparison to permanent residence in a nursing home. For that it takes Day care not 24 hours, but only 8 hours. Especially A 24-hour supply is expensive in your own apartment or house.
Tweet
Related topics in the guide
Senior-friendly living - redesigning the house optimally
Emergency call systems for seniors - this is how you can help in an emergency
Walking aids for seniors
24h care - support around the clock
The seniors flat share - living together in old age
Senior shared flat - tips for living together
Memory training for seniors

Fairy tale discussion group in Hanover and reading for the blind.
Fairy tale discussion group in Hanover in institutions and associations and reading aloud for the blind. Personal advice from Hans-Jörg Hubmann 0511/3631172

Fairy tales and legends have been with us since our ...
Everyday companion
I (47 years old) as a carer / everyday companion offer you help to support and relieve people in need and care (also with dementia) in their home environment.
I am happy to ...
Elderly mobile e-mobile
I am selling a used senior mobile from the brand AS Seniorenprodukte, type Kassel. 4-wheel, max. 10 km / h, 10 "pneumatic tires, full suspension, handbrake, captain's seat with armrests and headrest, max ....
34497 Korbach (Hanseatic City)
18.05.2021
Elderly care worker
Elderly care worker wanted, if possible for 24 hours, for senior care in private households in Eiserfeld-Dreisbach.
Payment: a matter of negotiation
57080 Siegen (university town)
18.05.2021
Geriatric nurse wanted
Elderly care worker, if possible for 24 hours, for senior citizens - Looking for care in private households in Eiserfeld-Dreisbach.
Payment: a matter of negotiation
57080 Siegen (university town)
18.05.2021
More help for the elderly and care for classifieds
Image sources:
Image 1: © LenaSevcikova / Pixabay.com
Image 2: © Robert Kneschke / Fotolia.com
Image 3: © Ingo Bartussek / Fotolia.com
Image 4: © Photographee.eu / Fotolia.com