Singapore is heavily influenced by Indian culture
Tell me what you eat ...
In 'Little India', the Indian quarter of Singapore, there are numerous opportunities to shop for Indian food. However, many Indian migrants miss the traditional Indian cuisine. © Carlos Donderis, Flickr CC-BY-NC-ND-2.0
Singapore: Indian migrants place great value on authentic Indian dishes. You can only live out this passion to a limited extent in Singapore. For her article, our author interviewed Indian migrants about their eating habits.
When Singapore was founded as a British military and trading post in 1819 by Stamford Raffles, the population structure was formed by migrants. Most of them came from China, Malaysia and India. Most of them stayed forever. Today their descendants live in Singapore, as Singapore Indians, Singapore Malay or Singapore Chinese.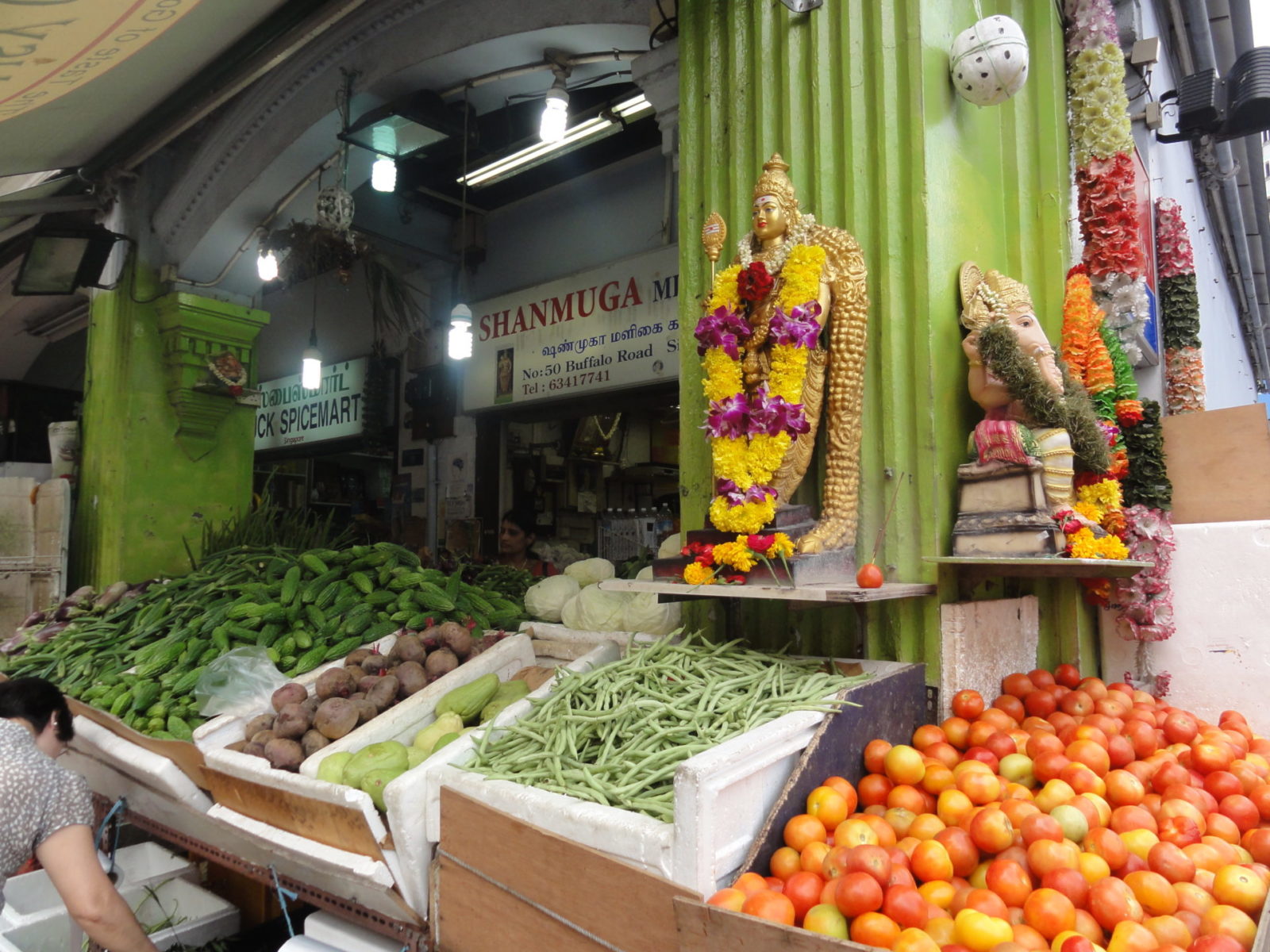 Vegetable stand in Little India © Sandra Pahr-Hosbach
Indian culture in the island nation
To understand the food acculturation of South Indian migrants in Singapore, it is worth taking a look at the history and culture of the island nation's Indian population. In 1821, Indians made up 2.8 percent of the Singaporean population; in 2019 it was 9 percent. Due to the economic contacts between Singapore and India, 82 percent of Singapore Indians have South Indian roots. Singapore-Indians are predominantly Hindu with 59 percent. There are 25 Hindu temples in the city-state of Singapore.
In Little India, the Indian quarter of Singapore, was predominantly Indian migrants from Tamil Nadu in earlier times. Due to the 'CMIO model', a population policy that recognizes Chinese, Malay, Indian and others as different but equal, Indians now live all over Singapore. Still applies Little India as a repository of Indian culture and is rich in Indian architecture, culture and history. The Indian people celebrate their festivals here. Indian workers spend in Little India their weekends together. At the Tekka market, the largest Indian market, vendors sell fresh food such as fruit, vegetables, meat and fish, but also typical Indian spices.
The shopping center Mustafa offers a full range of Indian food, music, games, clothing and other Indian goods around the clock, seven days a week.
Food as a symbol for a multicultural society
Food is an important cultural asset for the Indian population. It is considered part of religion, caste and identity. Similar to the Indian population, the population of Singapore also has a close relationship with food. Often the food is described as a national symbol. Even at official celebrations in the country, food is often used as a symbol of the country's multiculturalism, for example Indian curries, Malay satays and Chinese noodles are served. Also in tourist places such as the famous restaurant Singapore Zoo dishes from all three cultures are offered. Likewise in the typical for Singapore food courts to always find food from all three cultures.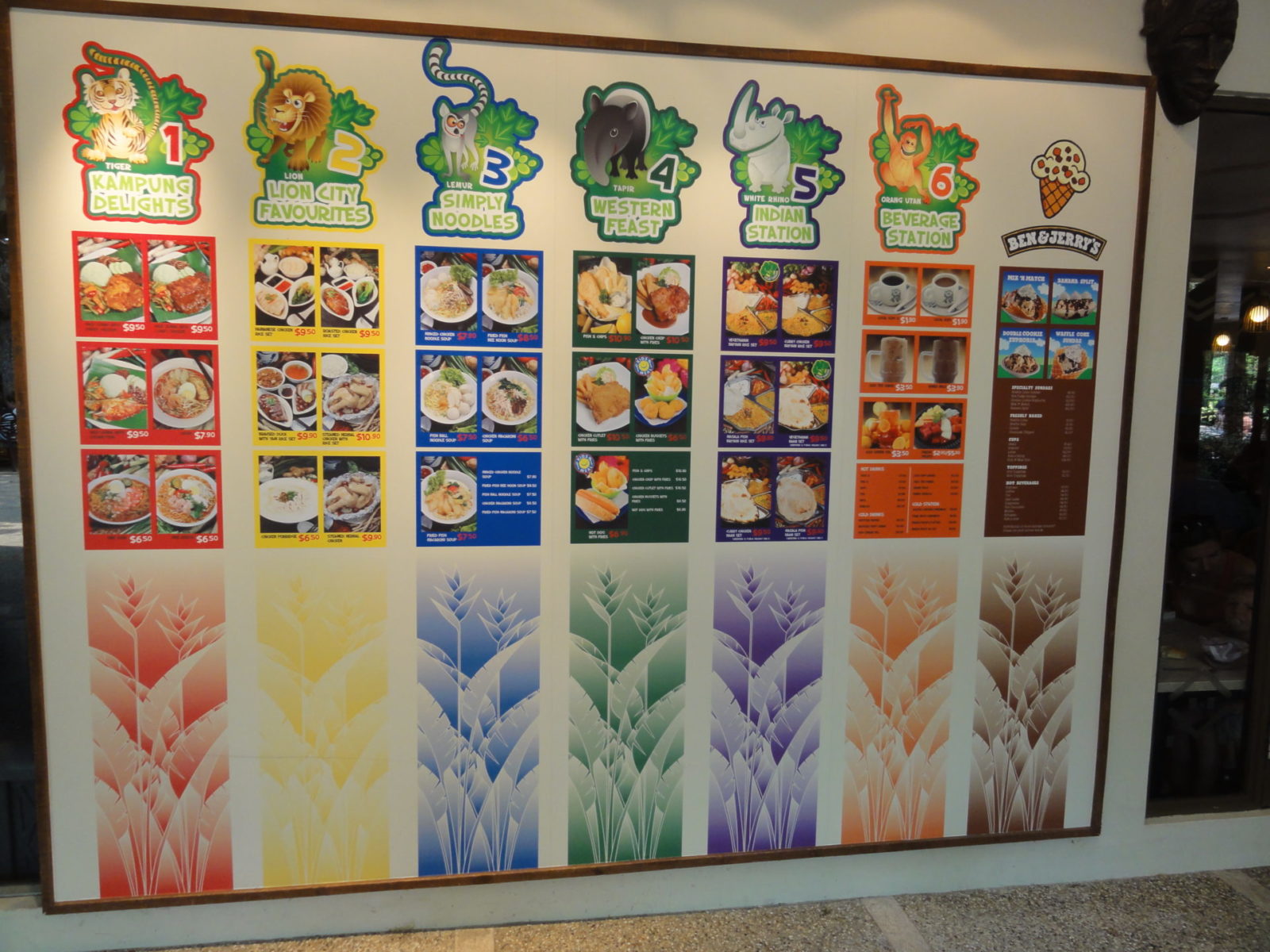 Various ethnic dishes on the menu of the zoo restaurant © Sandra Pahr-Hosbach
Singapore - a culinary paradise for Indian migrants?
How do Indian migrants feed themselves who come to the country today to work? Have Singapore Indians created a basis for Indian migrants that enables them to eat like in their country of origin and thus makes it easier to get used to? The following interviews with Indian migrants allow a look behind the scenes and show what attitude South Indian migrants take towards food in Singapore and how much it helps them to feel at home. The interviews were conducted with women and men from South India who live alone in Singapore to work or who accompany their working husbands as wives. All interviewees belong to the Indian middle class, although they say they belong to different castes. All describe themselves as Hindus. Original quotes from interview partners are listed below. Some people have their say several times.
Did you change your eating habits after moving from India to Singapore, and if so, what specific changes were they?
"For the first time I tried pasta (for breakfast), corn flakes, and oatmeal. Yes, my breakfast has changed completely. I really regret this. " (R.A.)
"There are a lot of changes compared to Indian breakfast. Here we only eat bread and cereals. But in India we ate Indian breakfast. " (U.R.)
"Not like at home. Breakfast there usually consisted of chapati, idli or dosas. But here we tend to just have a quick toast ... "(A.N.)
"I think what has changed is that we are using a lot of different ingredients from different cuisines." (V.I.)
"I usually cook Indian food at home. I think about my mother's food, but I never try to cook it because I don't know how. "(R.A.)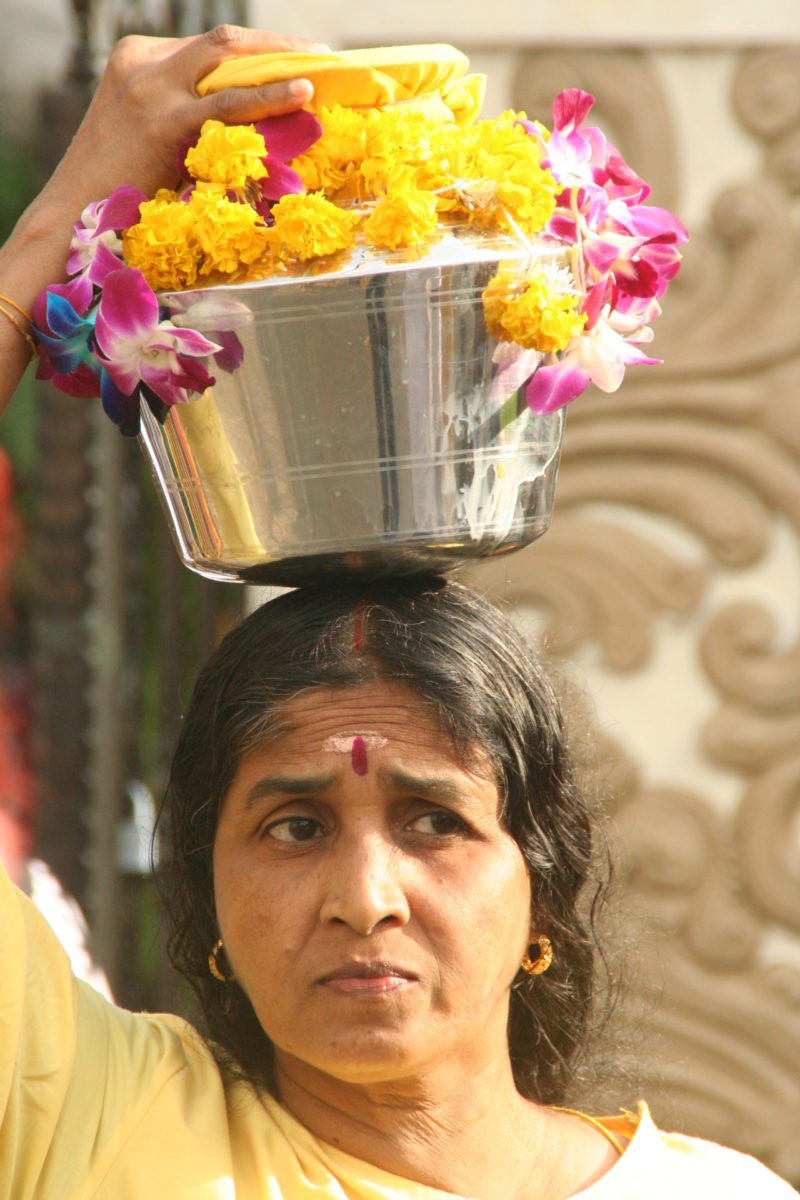 Indian woman in Singapore © Sandra Pahr-Hosbach
"... I have eaten non-vegetarian food maybe 50 times." (N / A)
"… I ended up going to McDonalds… almost every week. We go to McDonalds or some other fast food restaurant. " (AT.)
"I'm trying (to cook). It wasn't good at first. I didn't eat it. I just threw it away. But after a while I learned, but I don't cook as well as my mother (...) If I had the choice of only eating Chinese food, I would only eat enough to survive. " (S.A.)
"I cook the same way as I do at home, I eat the same vegetables and whatever I cooked at home. With the exception that the so-called western food entered our life. " (AT.)
"We have definitely changed our diet a little compared to what we ate in India. The same food, the same dishes, we've just changed everything a little to make it healthier. " (V.A.)
"When I realized I had the chance, I tried meat ... just out of curiosity." (C.H.)
"We are probably eating much more health-consciously here." (S.A.)
"We love Italian food. My children could survive on Italian food. I sometimes think my children were Italian in their previous life "(N.A.)
"We started making tacos at home, my daughter had a cooking class at school and learned it there." (S.A.)
"The diet changed, after I came here, I learned to eat Chinese food." (J.U.)
What were the main factors influencing your nutritional acculturation?
When asked what influences diet adjustment, different answer clusters have emerged. For some interviewees, it was a question of trust in the food on offer in Singapore. For others, the issue of health was central. Homesickness, identity and taste preferences were also factors mentioned in the interviews. Time, money and availability also influenced the eating habits of the interviewed migrants. And finally the own mother was named as the gatekeeper for the eating habits of the migrants.
On the one hand, it's a question of trust.
"I'm really open to other foods, like sandwiches, pizza or pasta, so food that I can trust. But when it comes to Chinese food, I can never be sure that it doesn't contain seafood or meat in some way ... because there is no real vegetarian concept in Chinese food. " (N.I.)
"I got a reaction (vomiting) within an hour of eating ... after that, I rarely tried non-Indian food." (R.A.)
"When they (fast food restaurants) fry something they use the same oil over and over again, it may not be so good for your health." (D.E.)

Then there is the need for health.
"We Tamils ​​believe that what we eat is very important, especially because ... Hindus treat their body like a temple ... in which their spirit lives." (J.E.)
"I prefer Indian food on the one hand because it tastes better, but also because it is healthier." (V.I.)
"I know which food is good for me and which is not. When I eat rice, I know how long it will take to digest it, how much weight I am gaining. With other food I don't know how to prepare it or what ingredients are in it. "(D.E.)
"We don't eat garlic in our caste, but I think garlic is important and good for health. So I got into the habit of using some garlic. When I cook Italian, I use garlic. "(V.A.)
"When I came to Singapore, I learned that Chinese and other foods are healthy. They eat a lot of things raw and cooked. There is a lot of oil in Indian food, that is not healthy. "(A.K.)

The feeling of homesickness plays a role.
"We miss a lot in Singapore, a lot that my mother cooked, we can't prepare it here or it would take a long time." (A.N.)
"My mother cooked this vegetable biryani. I loved it very much. Whatever she cooked, I don't get the exact taste of it here. "(A.K.)
"From a commercial point of view, we can buy anything here, but we definitely miss some things that we got at home ... that my mother cooked." (N.A.)
"Some dishes that were cooked at home from my garden, I don't get that taste here. Maybe I just feel better when I know that these vegetables come from my home garden. "(V.I.)
"From the moment I enter my home airport in India, I think about what I would like to eat at home," (D.E.)
"Obviously I miss mom's food. That's why I ask her to cook when she comes to Singapore. "(U.R.)

It's also a question of identity.
"I grew up eating Indian food. If you asked me to eat different foods once a week, I would be fine. But I couldn't do without Indian food every day or at every meal. Nor would my children do it, nor would my husband. "(A.N.)
"Okay, I could survive (without Indian food). But it's really difficult. "(N.A.)
"I couldn't live without Indian food for more than a week ... after that it becomes really difficult for me." (S.A.)
"Yes, I could survive ... but survival is different than' pleasing your tongue '." (N.A.

Taste preferences matter.
"No, I can't stand the smell (of Chinese food). He's too strong for me. "(R.A.)
"I don't like the smell of pure Chinese food." (S.A.)
"And Chinese food is very raw. I'm not used to that kind of food…. I feel ... when the vegetables are this raw ... I feel like a cow or something. "(I.P.)

Time, money and availability are additional aspects.
"I started to eat more non-vegetarian food because there is more choice of vegetarian food in India." (S.R.)
"I also try Chinese and Malay food. I'm not that strict with Indian food because I don't get authentic Indian food here. "(R.A.I.)
"On Sundays, ah, the university hawker centers are closed. Only McDonalds is open then. " (G.E.)
"Because I want to rush to the office, I prefer bread or sometimes, when I'm late, I cancel breakfast. The first meal is then lunch. " (R.A.I.)
"If we stay in the office late, there is no other option than McDonalds." (V.I.)

"Every time I come to India, my mother teaches me to cook some new dishes." (S.A.)
"My mother has been here for a visit for the past two months. She taught our maid to cook Indian. " (J.U.)
"I used to help my mother cook in India. Since I've lived here, I call my mother when I want to cook something, she gives me the recipe and then I try to cook it. "(I.P.)
Does the presence of Indian culture and especially Indian food offerings support the food acculturation of South Indian migrants in Singapore?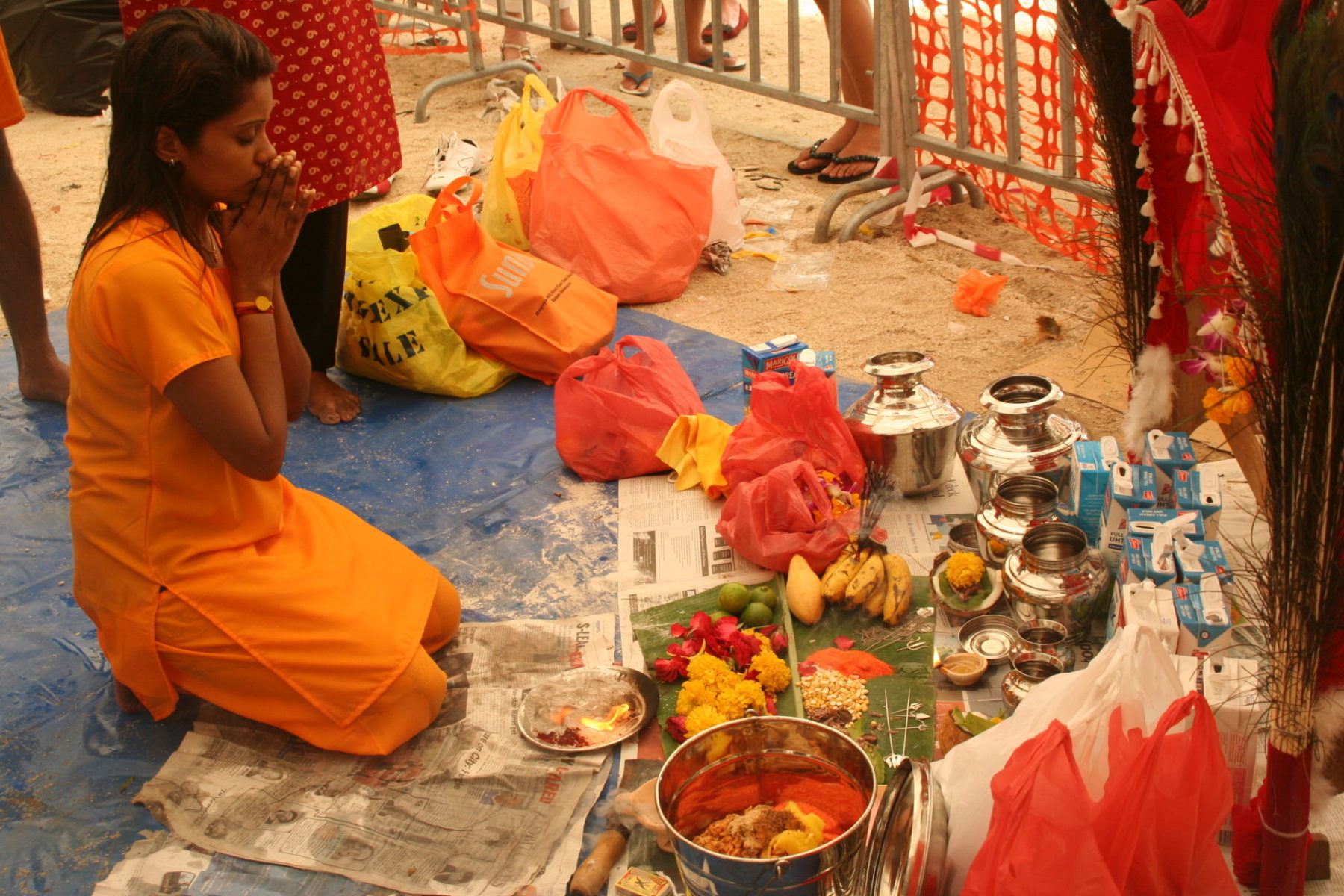 Hinduists at the Thaipusam Festival in Singapore © Sandra Pahr-Hosbach
Although both Singaporeans and Indians have a very close bond and passion for food, most of the migrants surveyed were unable to live out this passion in Singapore.
The influence is not as strong as one might assume based on the Indian culture present in Singapore. Homesickness, cultural identification with Indian food, available time for food preparation, procurement or consumption, health aspects, as well as the availability of ingredients, trust in the food offered, but also the family constellation in the form of children or grandparents present all influenced the eating habits of the South Indian people Migrants primarily. The mothers of migrants living in India are particularly influential. In almost all cases they take the position of the in different ways "Gate-keepers from the background" a.
The influence of Indian culture in Singapore only became noticeable when the migrants had sufficient time and money to use these offers and when they had already lived in the country for a number of years and had sufficient opportunity to explore the offer.