What are some unique home decor ideas
Tips and ideas for home decoration - Page 1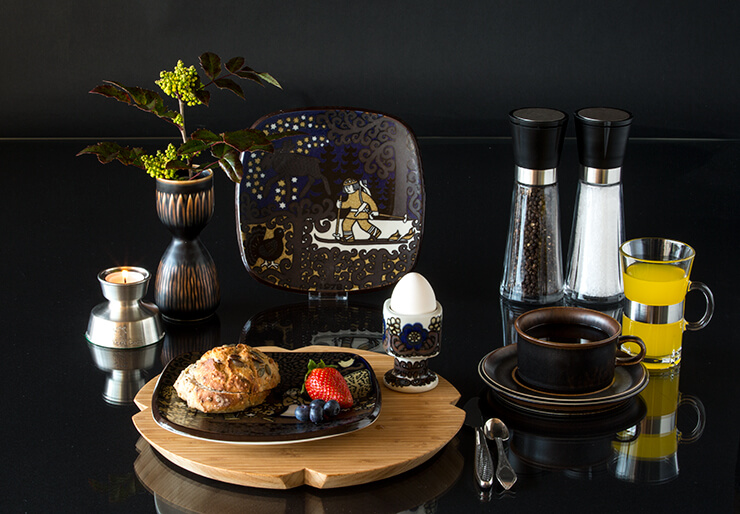 Here we have an exhibition in dark colors of Arabia. Arabia annual plates with motifs from the Finnish saga Kalevala can be used as well as Royal Copenhagen Christmas plates for food, so you can see them here used for breakfast and an Arabia egg cup for the egg. A tin candle holder from Scandia Tin adds a bit of mood.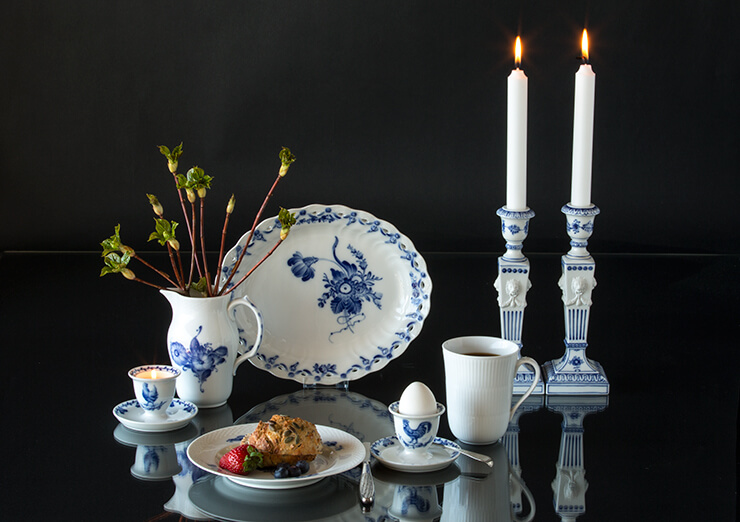 We have put together some blue and white egg cups with both blue flower and blue fluted from Royal Copenhagen.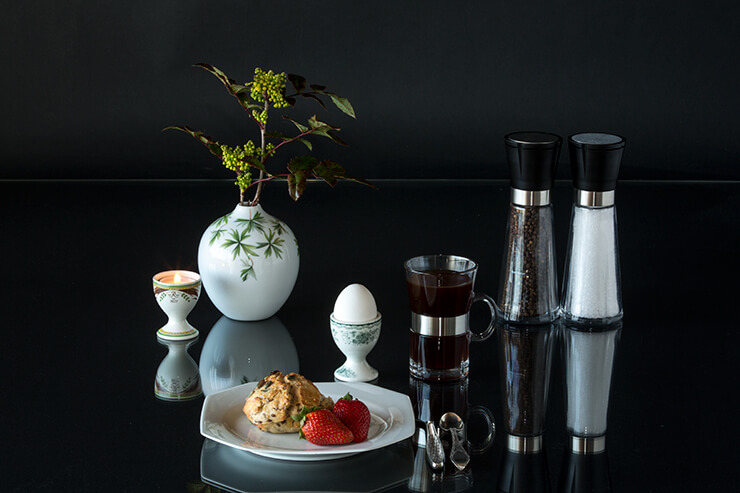 Here we have egg cups together with the new vase from Royal Copenhagen Easter eggs.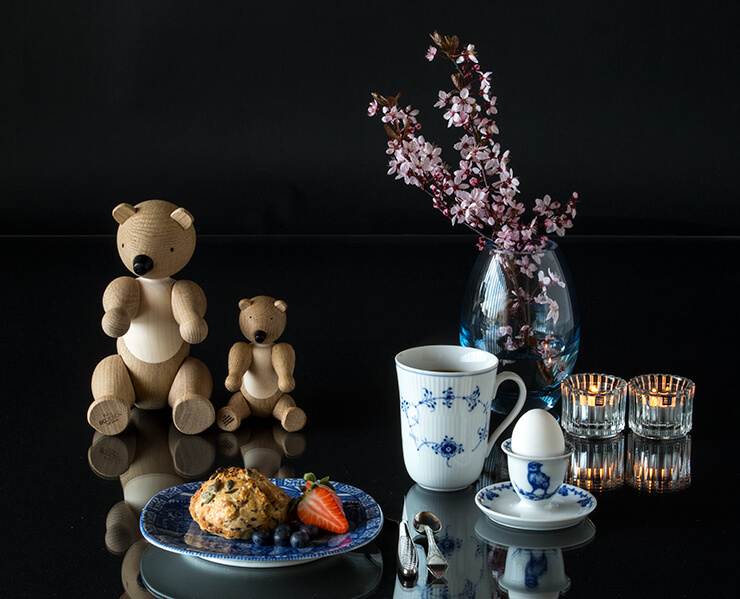 Here, Rörstrand Christmas plates are also used for a small dish, together with an egg cup and a cup of hot coffee.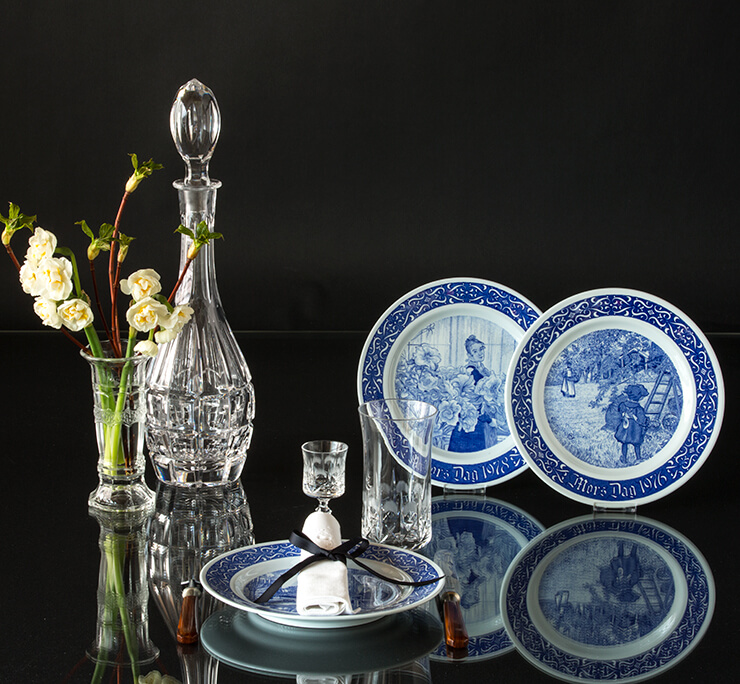 Rörstrand Mother's Day plates are also suitable for serving.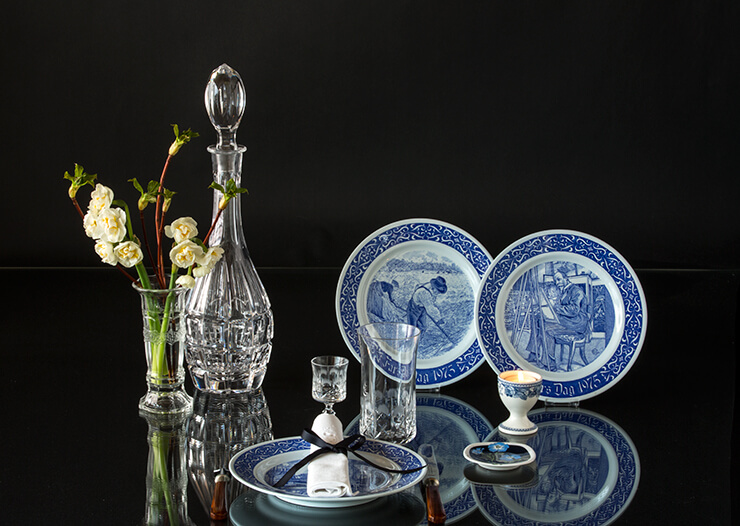 Rörstrand Father's Day plates can also be used like this.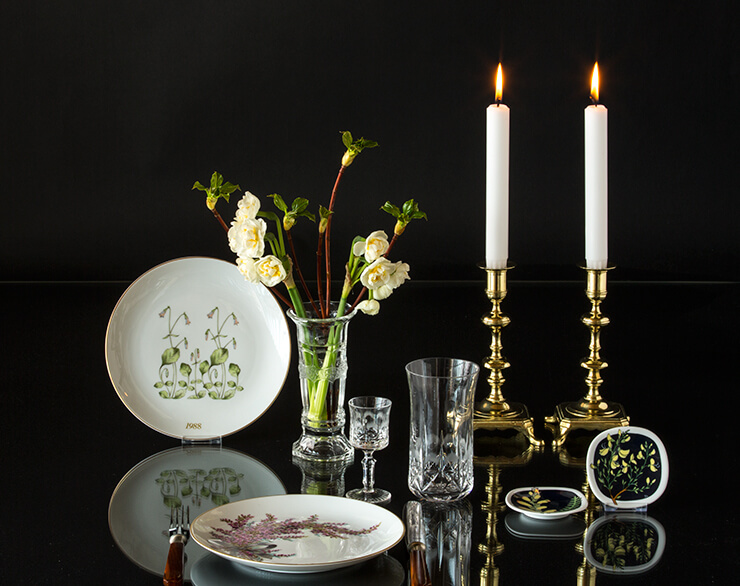 Here we have Hackefors Mother's Day plates, which cannot be used for meals, beautifully together with Rörstrand flower mini plates. You can use these for tea bags.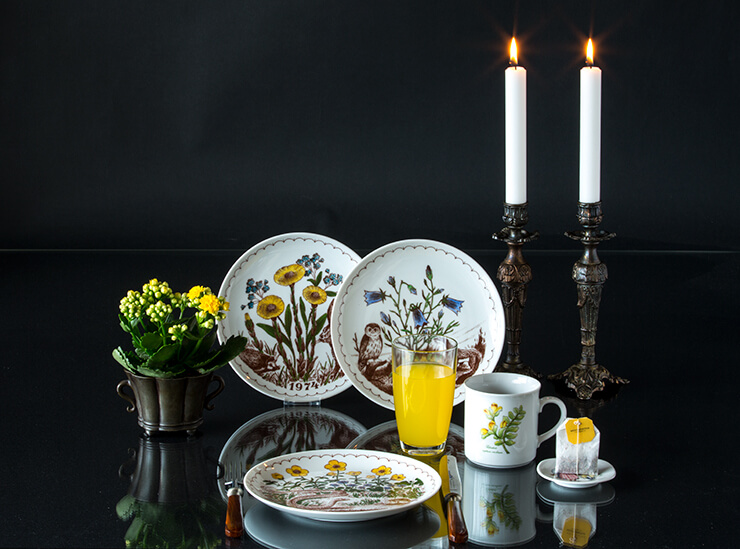 Ravn Mother's Day plates are beautiful and colorful, but not suitable for eating. Here we have them together with Rörstrand Trachten mini plates for tea bags and a mug with a flower motif.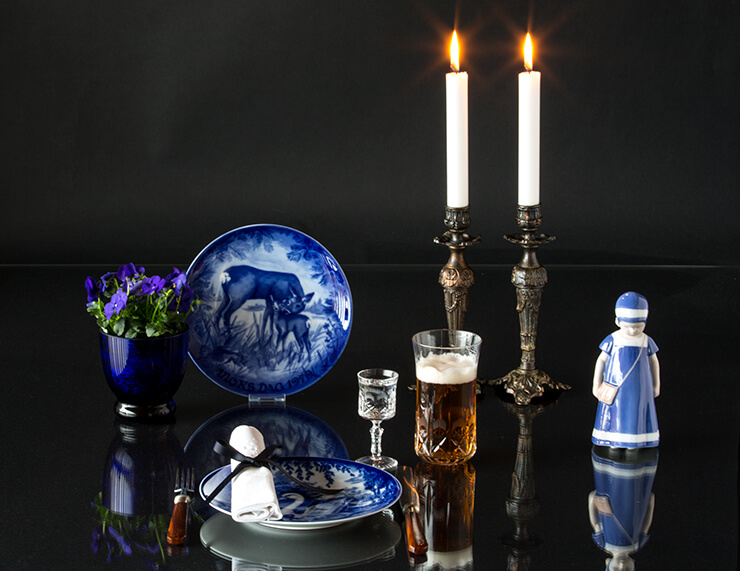 Here we have Royal Heidelberg Mother's Day plates that can be used for meals, along with the well-known Else figure.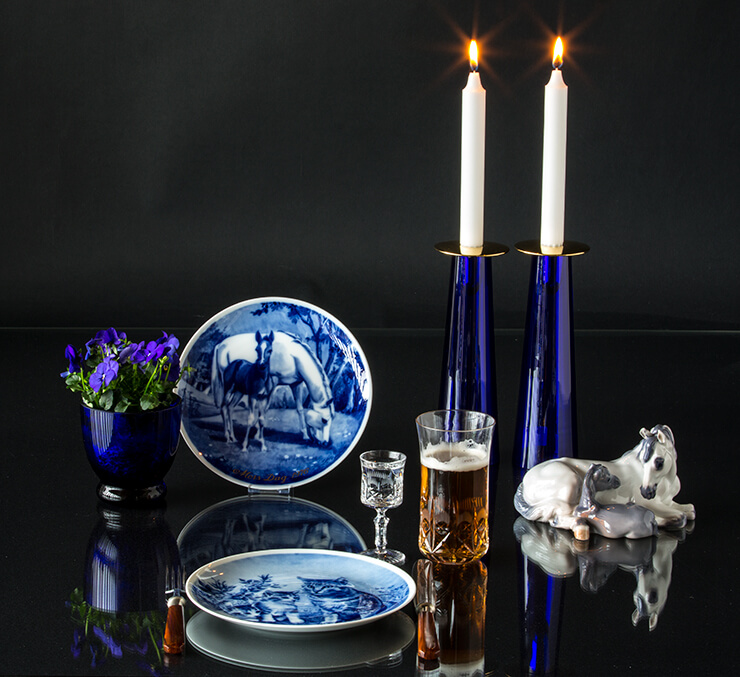 Here we have set a nice table with Tettau Mother's Day plate, where the motif goes well with the figure of the Lippizaner horse with foal.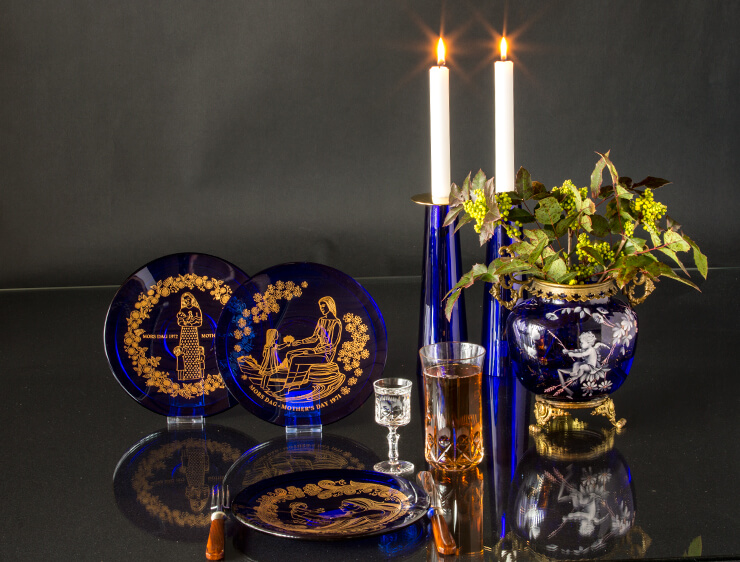 Swedish Orrefors Mother's Day plate in blue glass with gold motifs.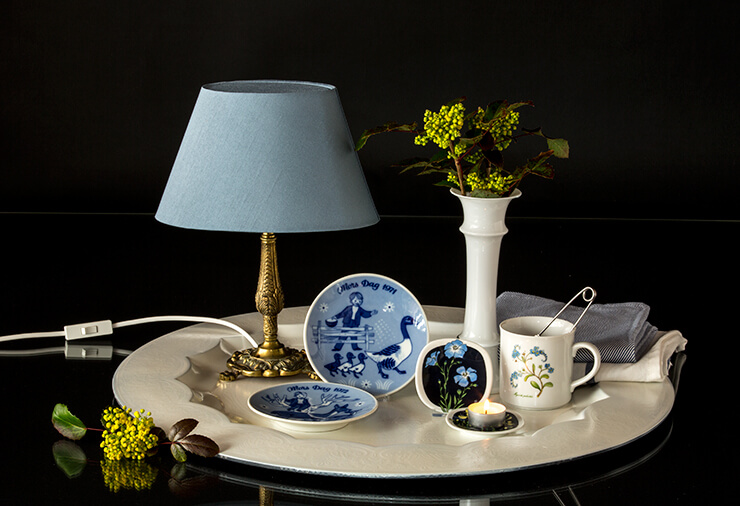 Porsgrund Mother's Day plate together with a Holmegaard vase and flowery mug.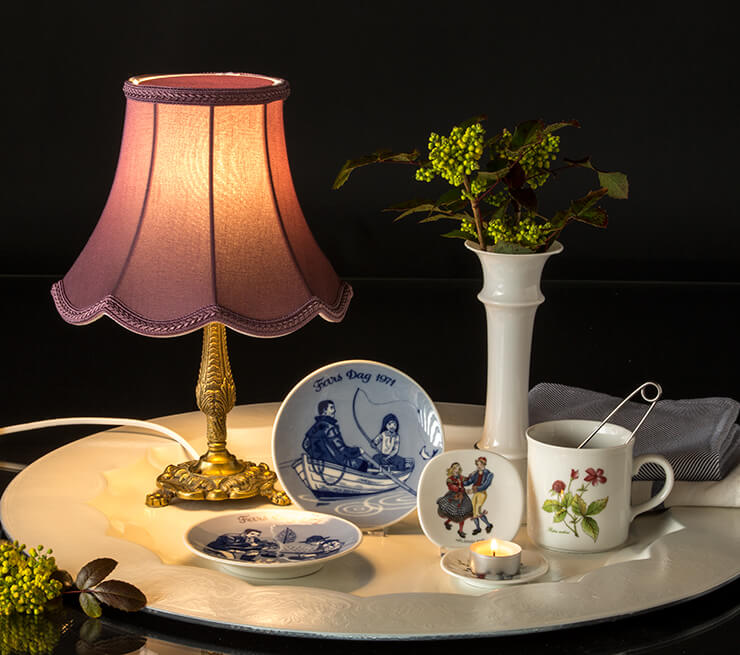 Porsgrund father's day plate together with Rörstrand traditional costume mini plate.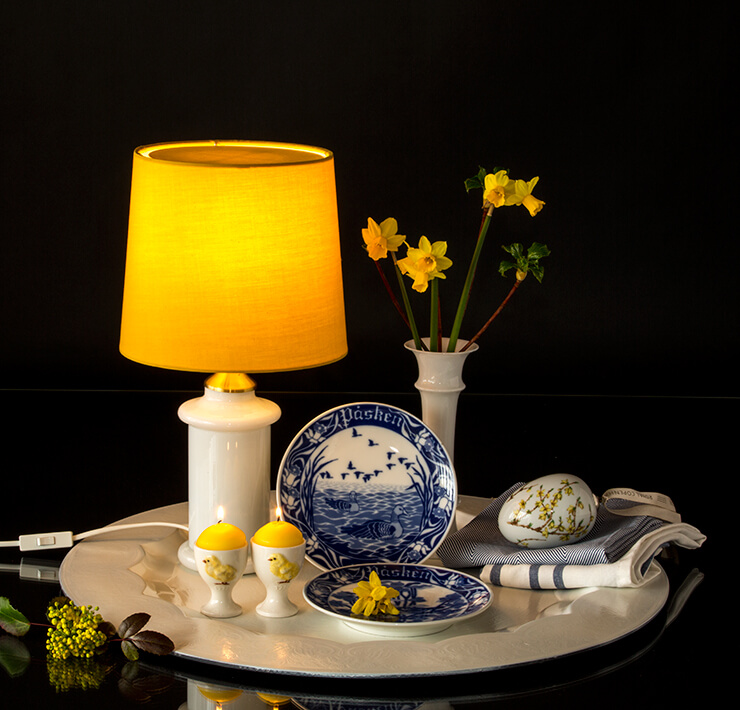 Porsgrund Easter plate in an exhibition with Easter eggs from Royal Copenhagen and egg cups with chicks.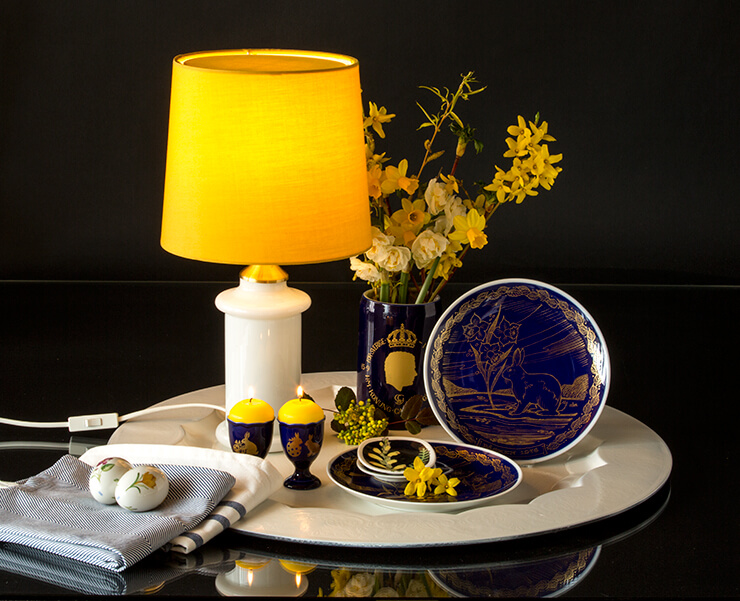 Easter plates in cobalt blue with gold with similar egg cups make a beautiful Easter decor.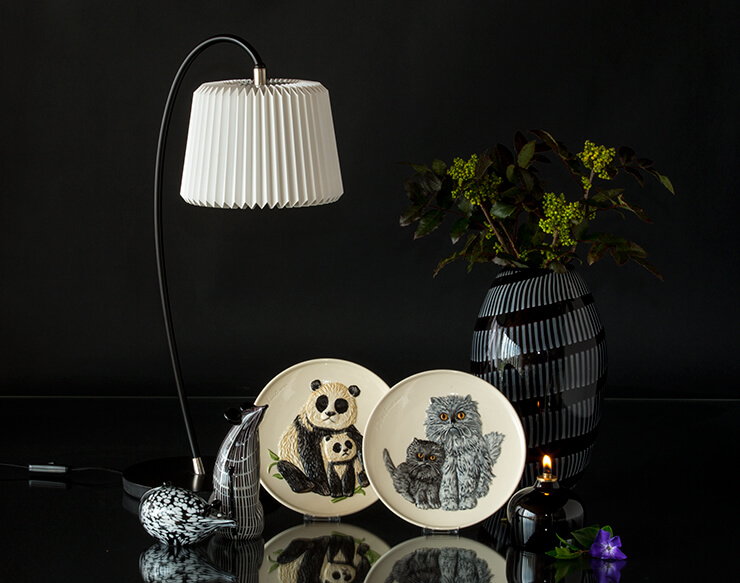 Beautiful glass art together with Hummel Mother's Day plate.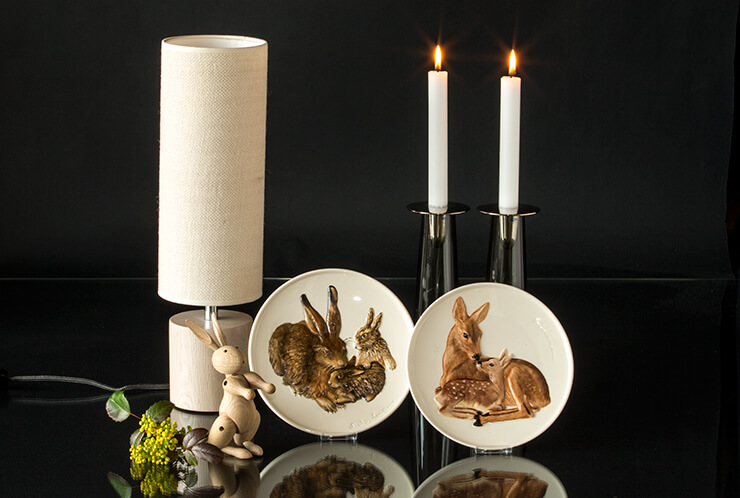 Hummel Mother's Day plates with cute animals make a very nice interior.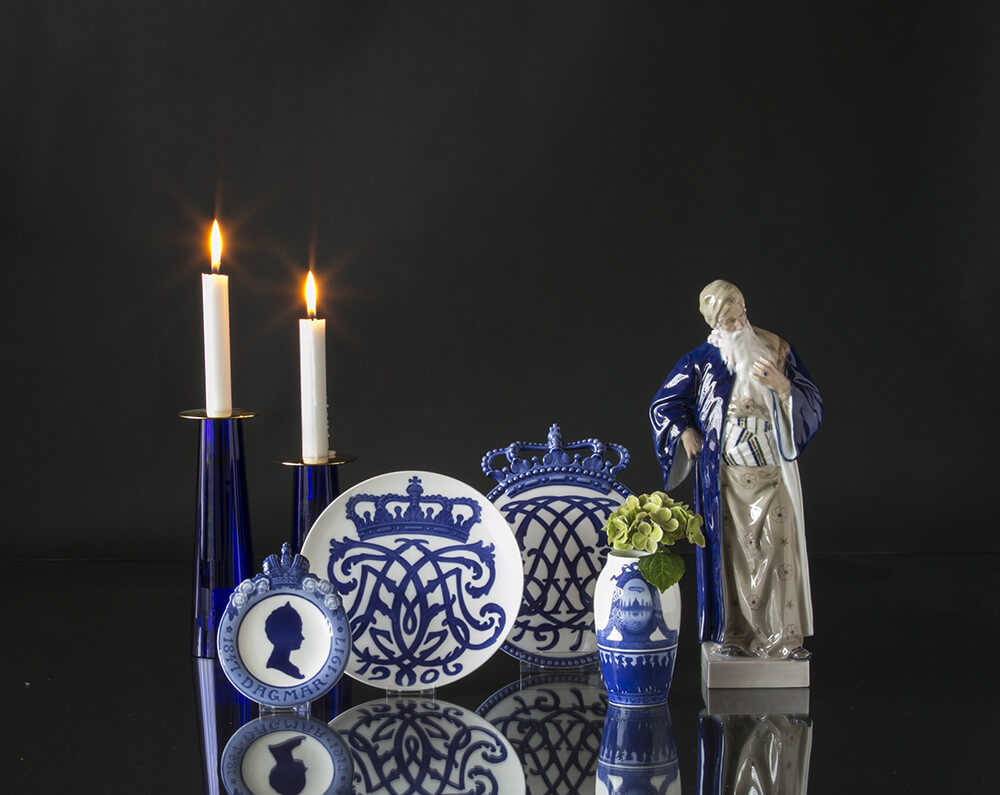 Here is a setup that combines old memorial plates with a vase and two Asmussen candle holders with the Royal Copenhagen figure Nathan the Wise.
Here turquoise is the dominant color. Fresh flowers in beautiful glass vases and tealight holders create a fantastic atmosphere.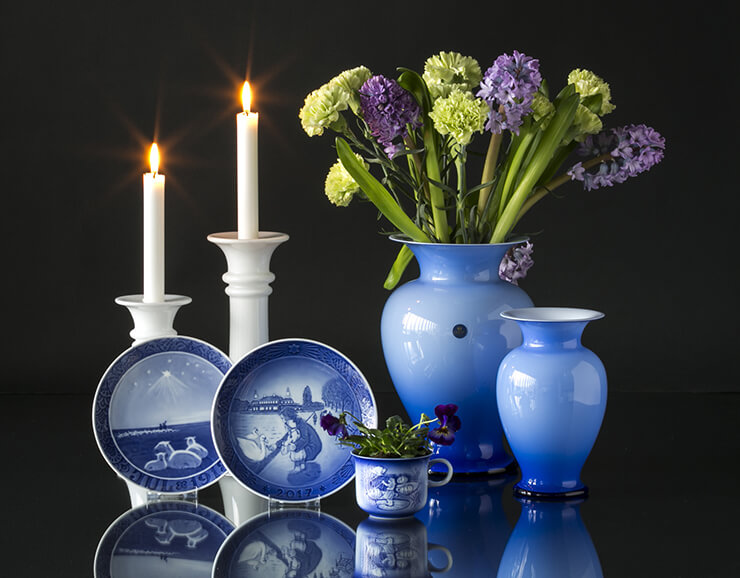 This interesting setup has a Royal Copenhagen Christmas plate and a Desiree Christmas cup along with amphorae as flower vases and Holmegaard candle holders.
Here we have the beautiful Desiree Christmas plate together with a classic interior. - The comfortable armchair, the table lamp and the standing golden Buddha.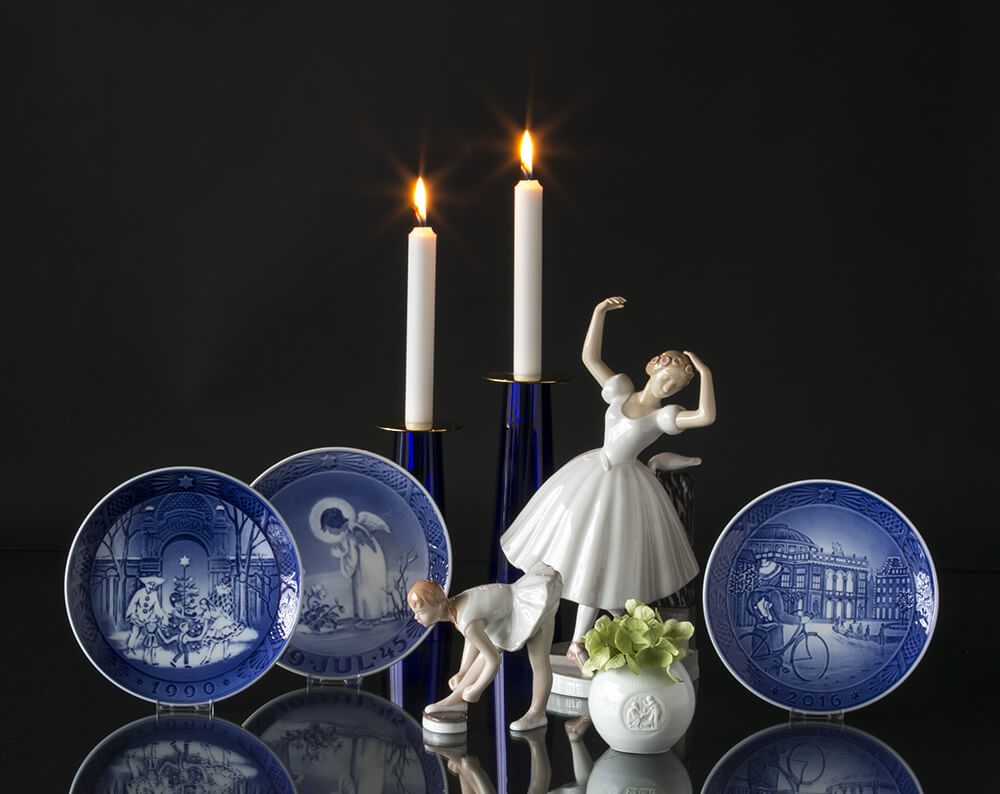 Here we find Christmas plates with ballerinas and Asmussen glass candle holders. At the front is a small vase with flowers.
The morning begins with morning coffee on the bed ... A beautiful silver platter with mussel malet and mega mussel.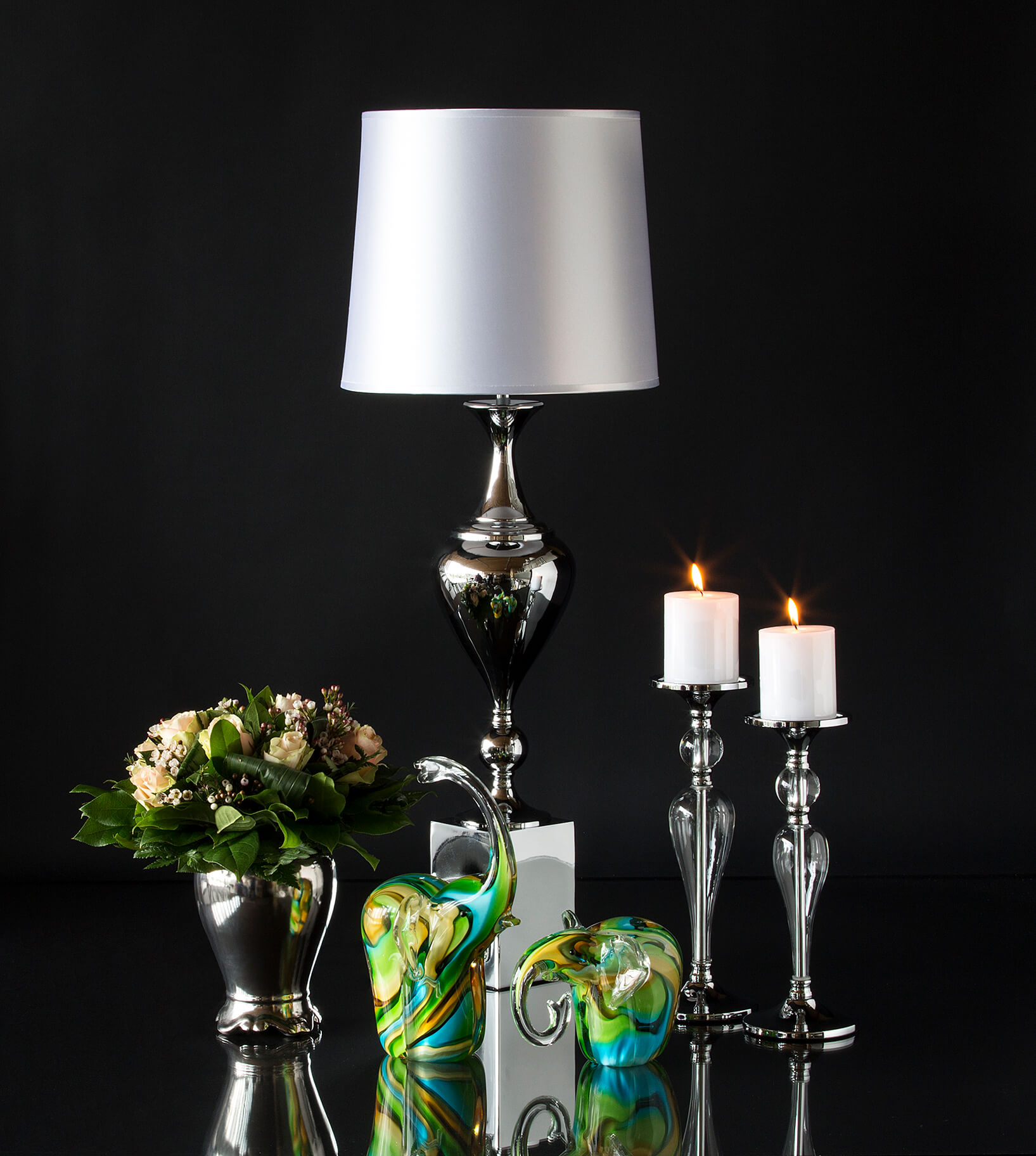 Our funny and colorful glass elephants are set in sharp contrast to a lamp, candle holder and a vase in chrome and glass. Notice how the color combination creates the elephants.
The blue nuances are back. Throughout the ages, the Danes always liked the blue nuances - The large Danish porcelain factories became world-famous for their underglaze technique and the blue colors that we find in the blue-painted coffee and dining services, e.g. Blue Fluted, Blue Flower, Empire and Christmas Rose, etc. The blue We also find colors in the old figures and vases. - There is a mixture of antique Chinese vases together with a Christmas plate / cake plate and a coffee cup from the Desiree porcelain factory and porcelain vases from Bing & Grondahl.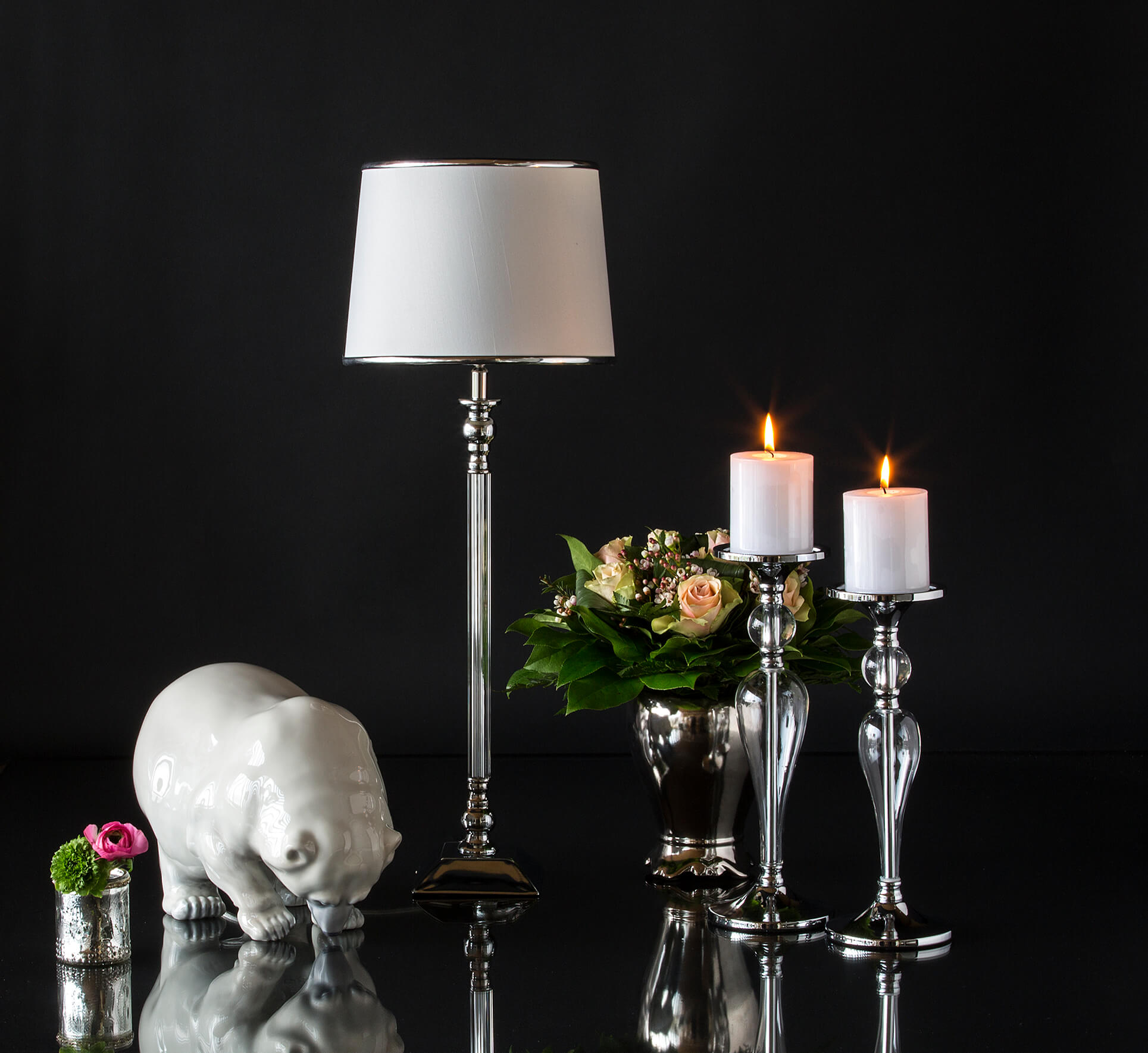 Here the color combination is more subdued and calmer. The big polar bear works well with the big lamp, vase, and candle holders. The contrast can be found in the small red flower in the tealight holder in front of the polar bear.
Use the Bing & Grondahl Christmas plates in a new way ... Blue is beautiful!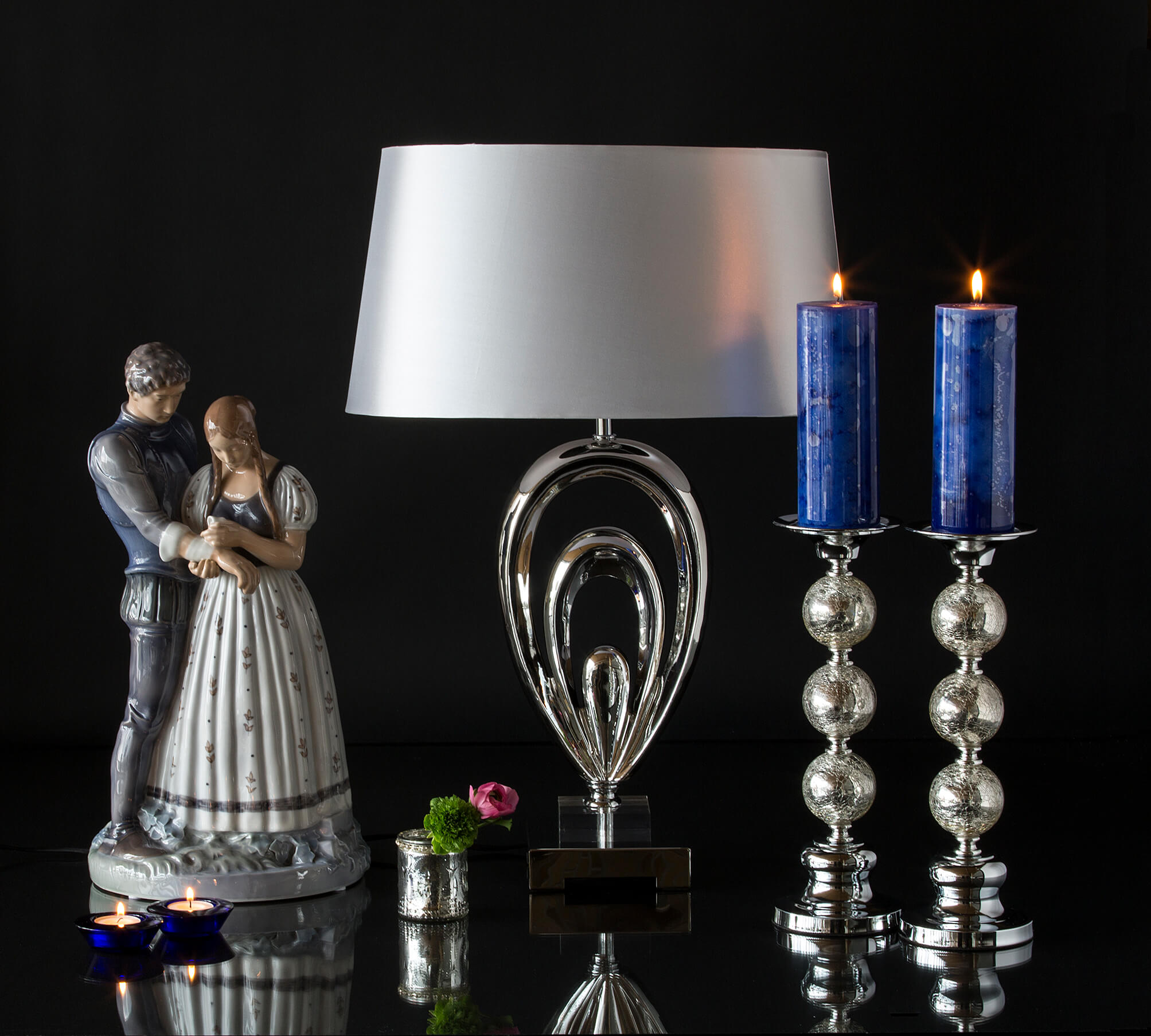 This large set combines the figure of a virgin and knight with a large attractive glass lamp and two large candle holders and to break the colors, the tealight candle holder with a red flower and two Asmussen tealight candle holders were placed in front.
The old classics are coming back. Here we see a facility with large old porcelain vases with landscape motifs from Ning & Grondahl or Royal Copenhagen, Björn Wiinblad Design in black and white shades from the ceramic factory Nymölle. To the right we see a royal figure of two girls, "Amagerm girls".
We still see a Le Klint table lamp together with Björn Wiinblad decorative plates and a black Holmegaard vase.
A large Chinese vase in shades of blue and the very popular Royal Copenhagen Musselmalet service. - A beautiful silver platter, behind a candle holder with glass, which makes it possible to use the old candle holder as a tealight holder.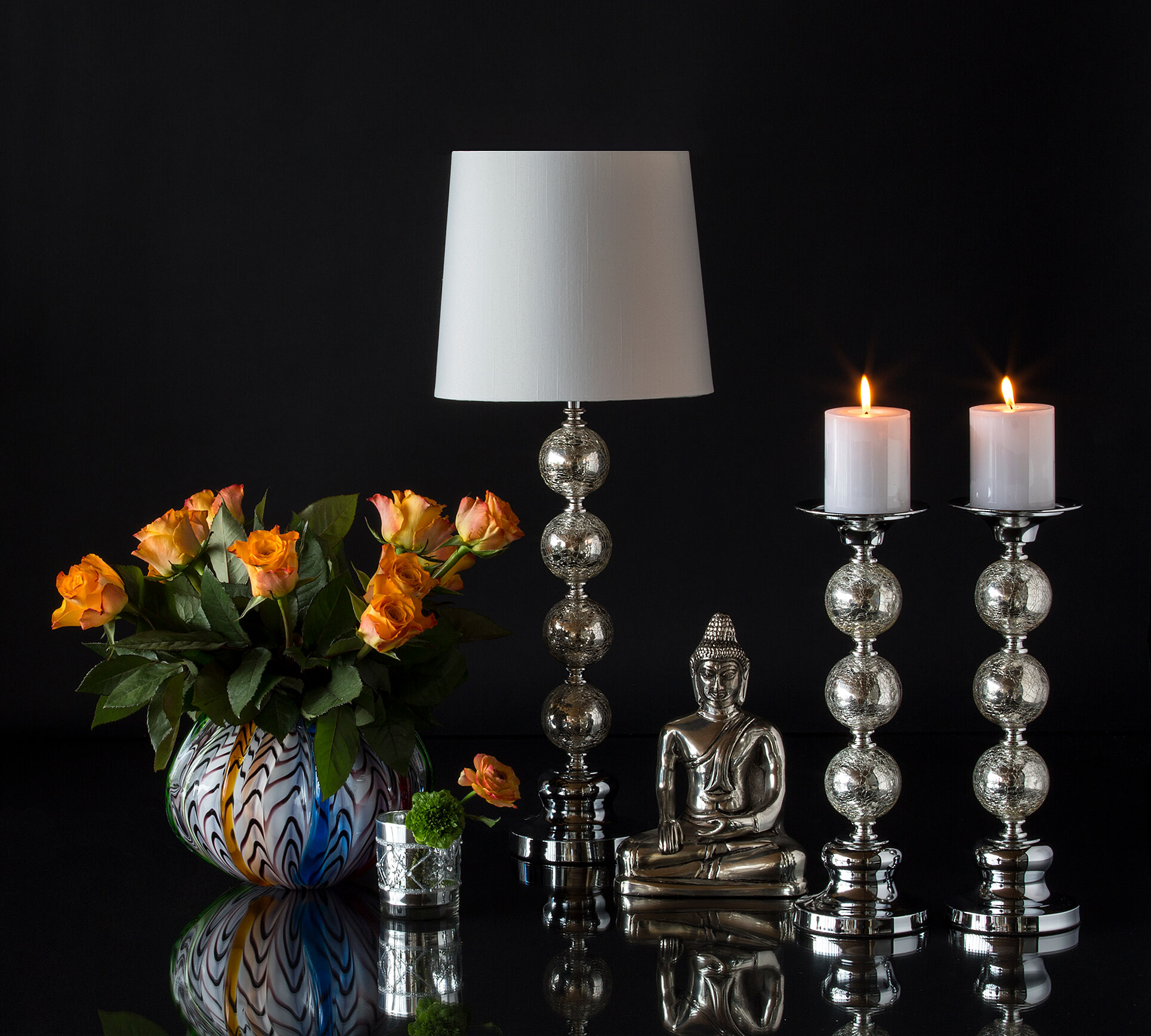 A Buddha between a ball lamp and a candlestick together with flowers in a colorful glass vase and a single flower in a tealight candle holder.
Here we see an arrangement with a yellow vase and we also found a beautiful blue Easter plate from Bing & Grondahl and placed it in a plate stand. - Another method to use the old decorative plates.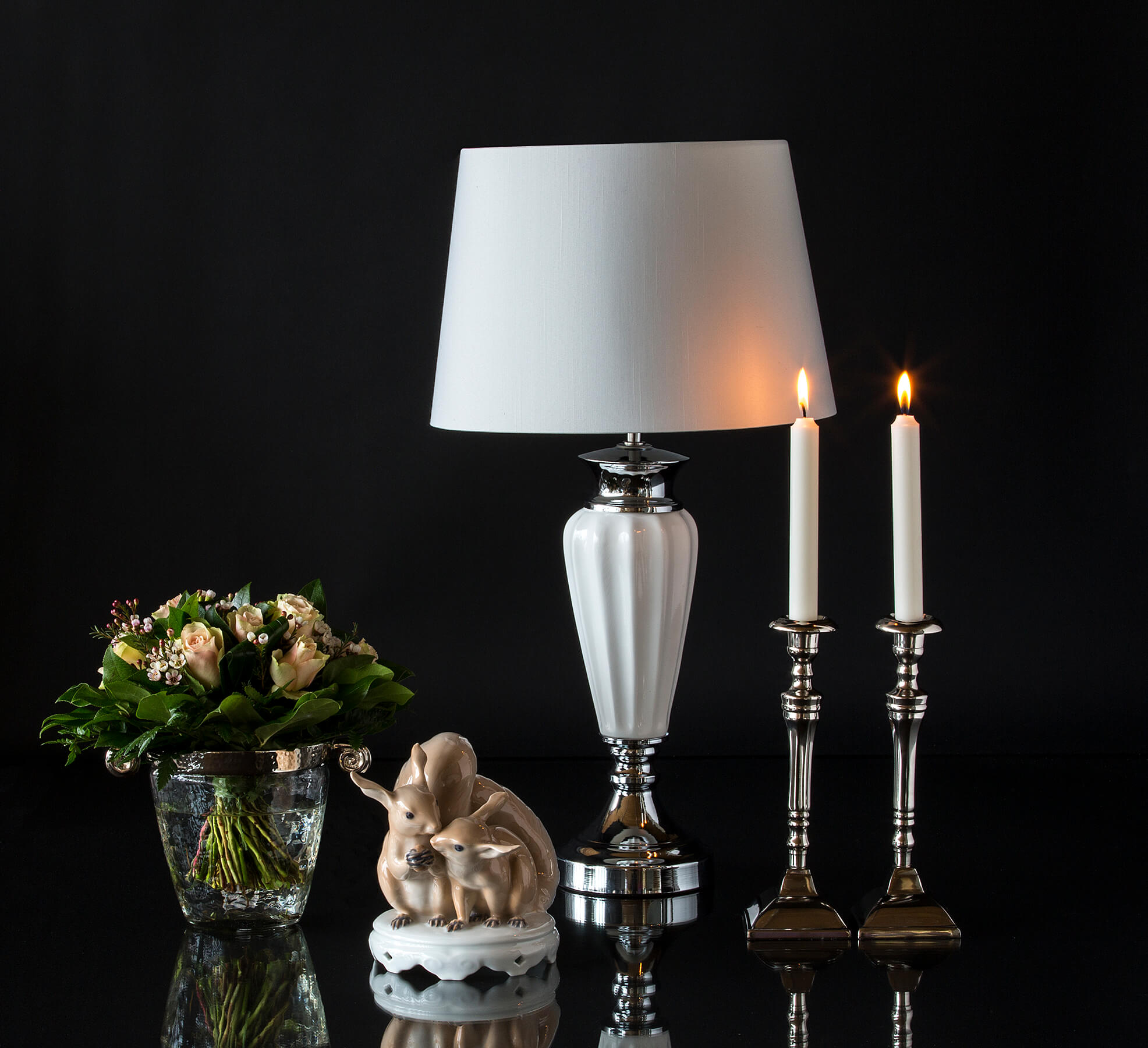 Here an ice bucket was used as a flower vase next to a figure of two squirrels in front of a beautiful lamp and two chandeliers.
Stylish, classic interior with shades of blue. Old vases from Royal Copenhagen with fresh flowers. Large antique Chinese vases.
Find your color. Put your decor in your favorite colors. - The theme here is turquoise. Turquoise and yellow in the beautiful hand-blown glass vase go together with the turquoise glass light holder from Holmegaard and the colorful annual mug from Royal Copenhagen.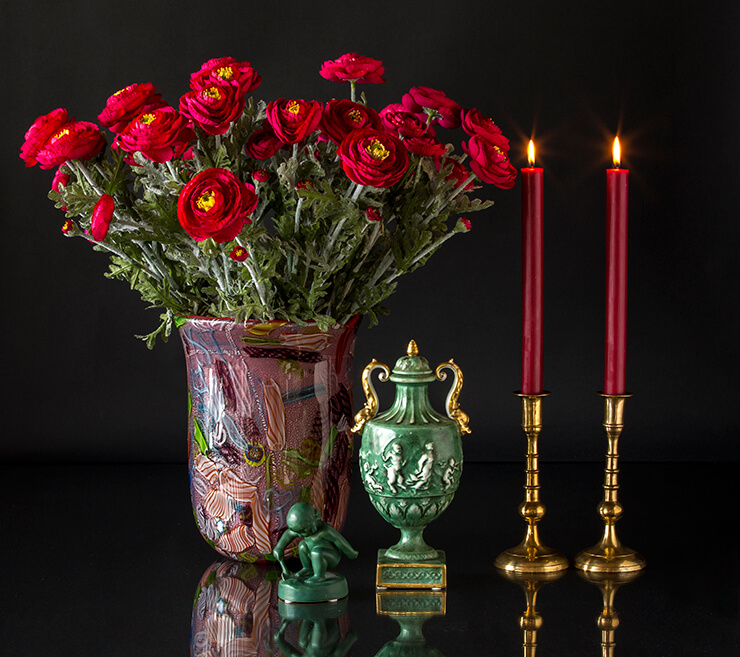 The red glass vase is set in contrast to the green Von Schierholz Krug and Ipsen figure and the gilding of the jug matches the brass candlesticks.
Composition of brass candle holder, round vase with blue, purple, green and red colors all with gold.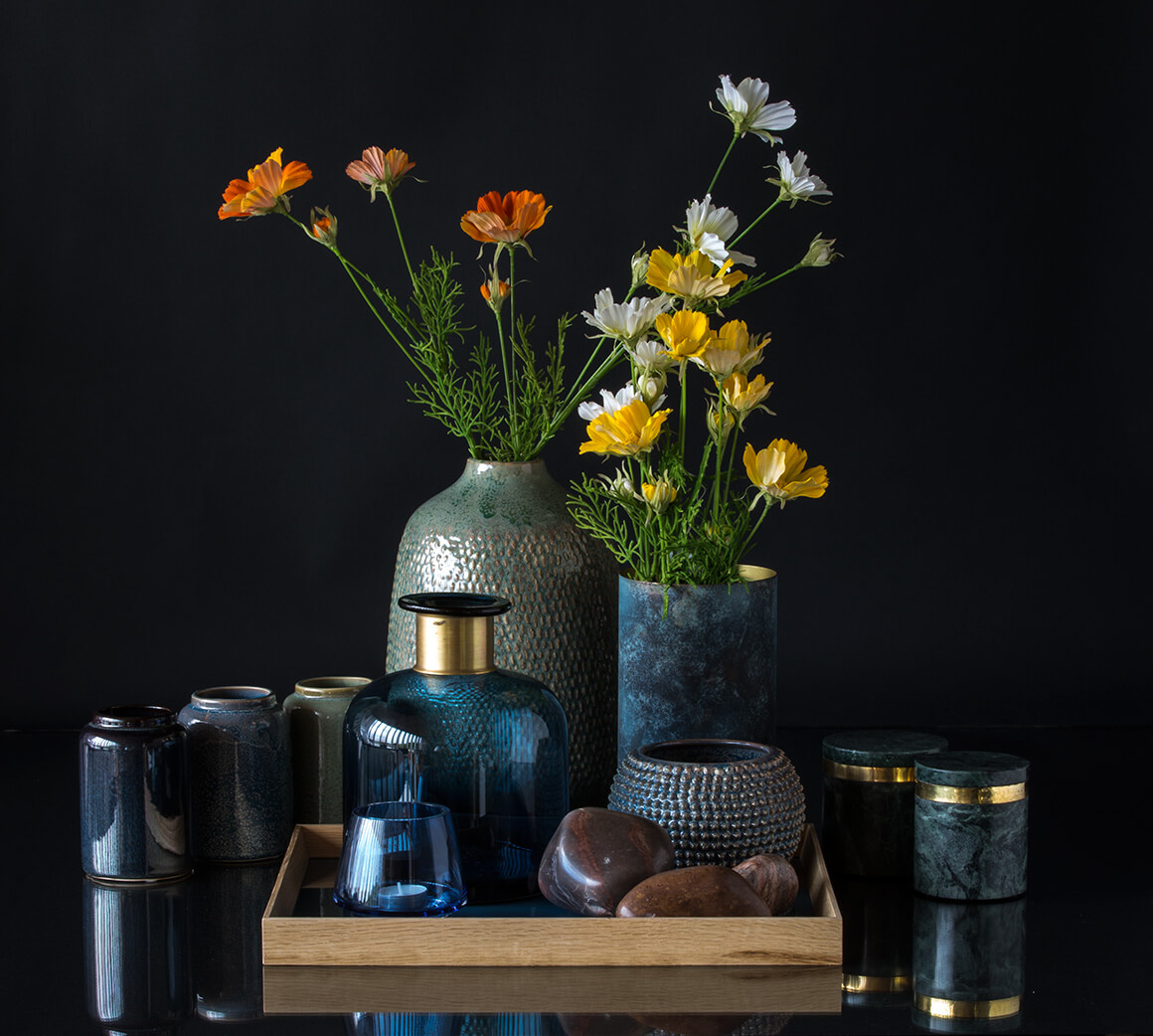 Selection of vases, jugs and tealight candleholders in a matching style with a rustic wooden tray.
Here is a list with white Bing & Grondahl decorative plates with gold and black on the wall. - The decorative plates are common because they were made in large quantities in the 1970s, but they were expensive back then and certainly nothing is lacking in quality. - Maybe you should go hunting for your old decorative plates (or buy them from us).
Here a plate of King Christian IV was set up together with a rustic vase and Asmussen Hexa candlesticks.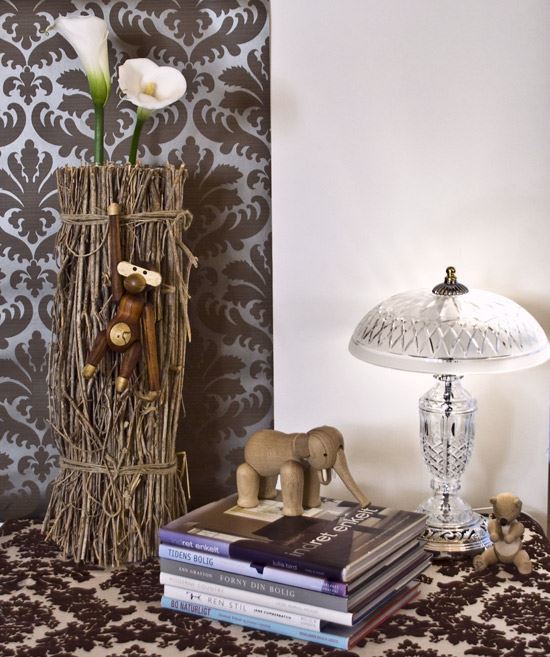 Here you can see Kay Bojesen wooden toys, both monkeys, elephants and the little bear, here together with a classic crystal lamp. Together they have a stylish expression.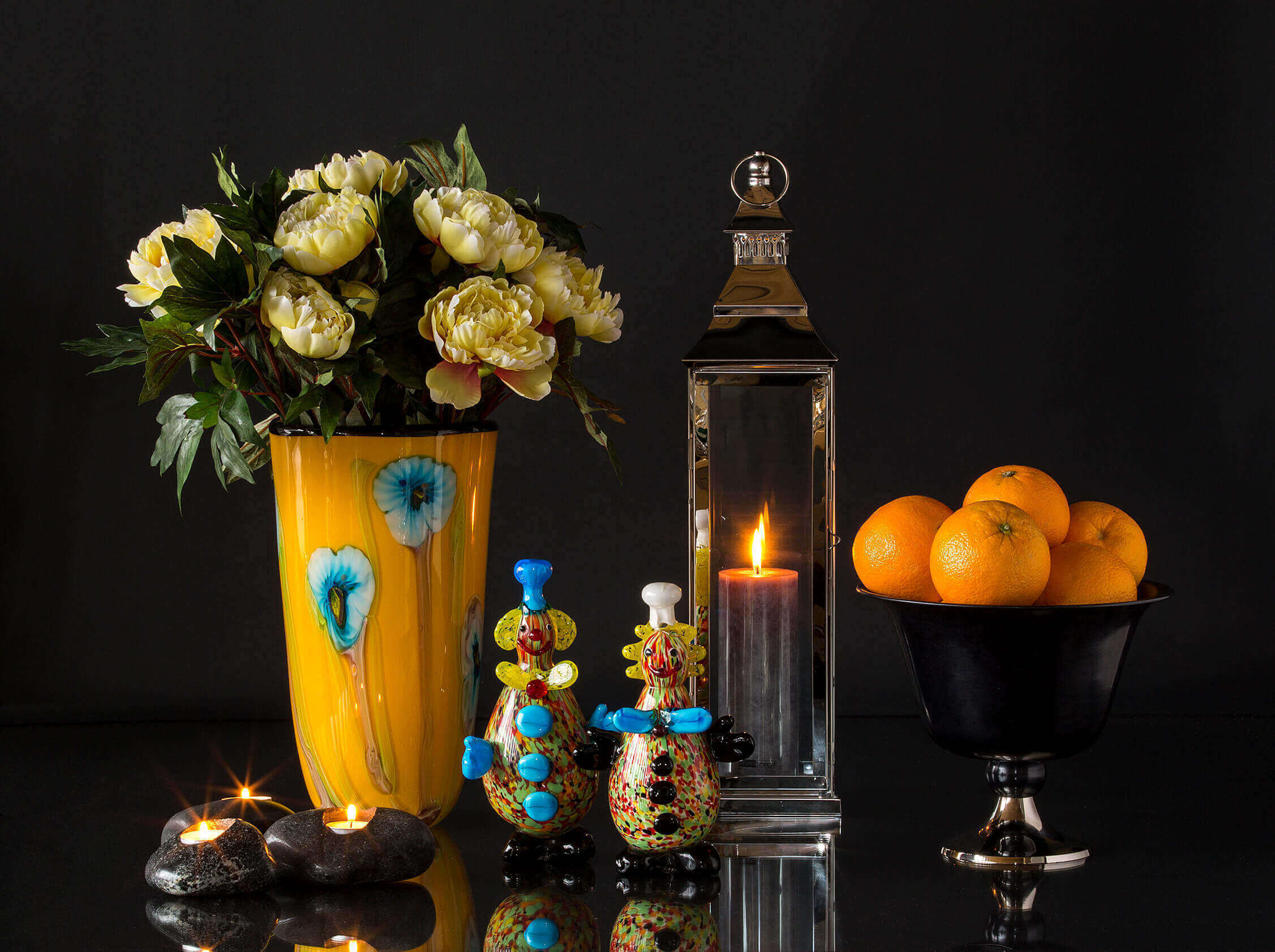 In the more festive corner there are two glass clowns with an attractive glass vase, fruit bowl, lantern and tealight stones.
A blue Chinese lamp and an old Aluminia vase. Behind there is a ceramic vase with fresh yellow roses together with Musselmalet porcelain on a silver platter.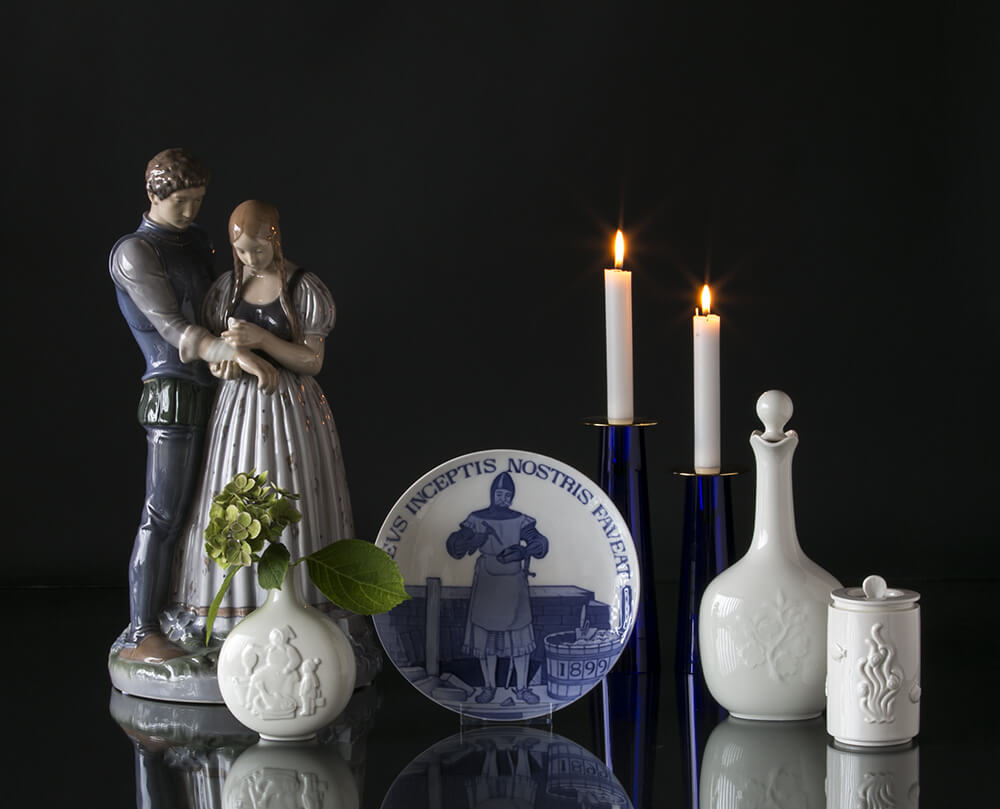 Large figure of the Virgin and Knight with a Masonic plate, two Asmussen candlesticks and Royal Copenhagen vases and jugs.
Mother's Day plate on the wall. Use the beautiful old decorative plates in new ways. Here you can see a lamp, an old Royal Copenhagen memorial mug as a ballpoint pen holder, a tealight stone and a bowl from Royal Copenhagen.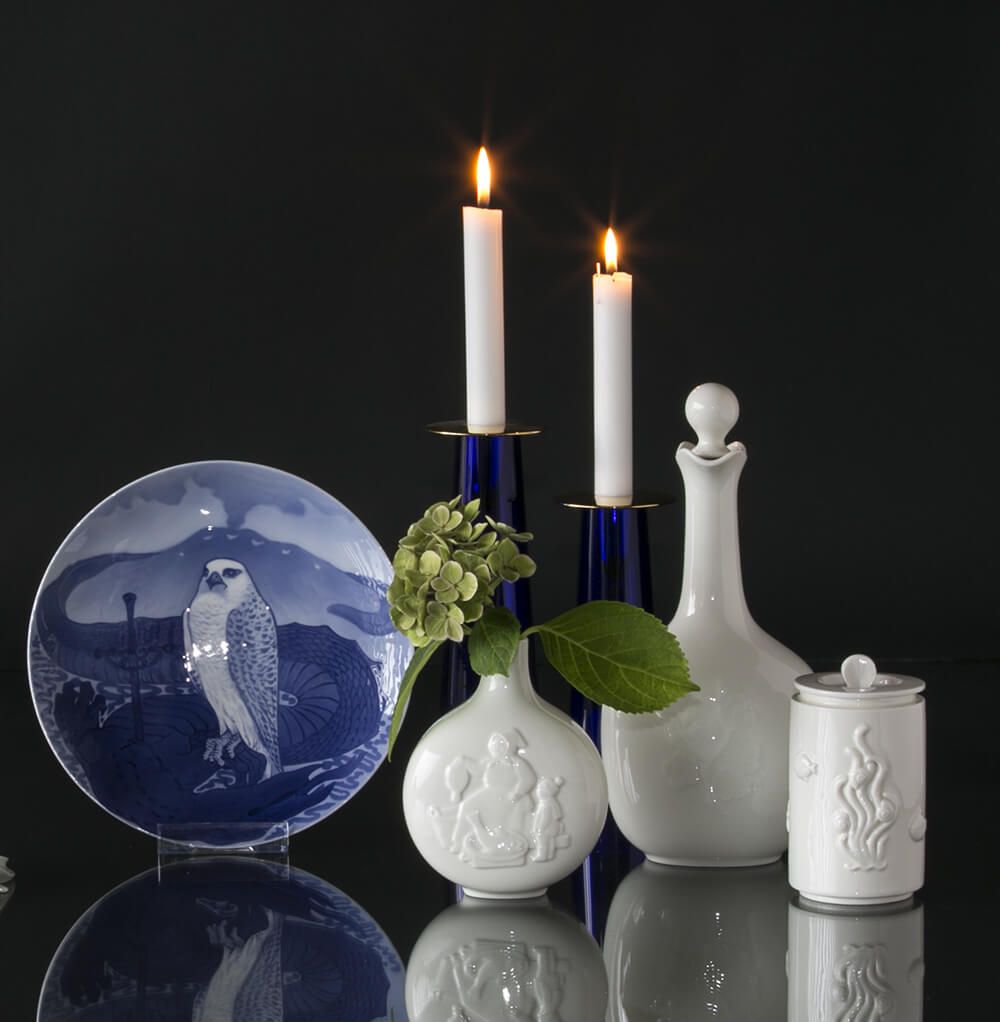 Memorial plate with Icelandic falcon together with white vases and jugs in front of Asmussen candlesticks.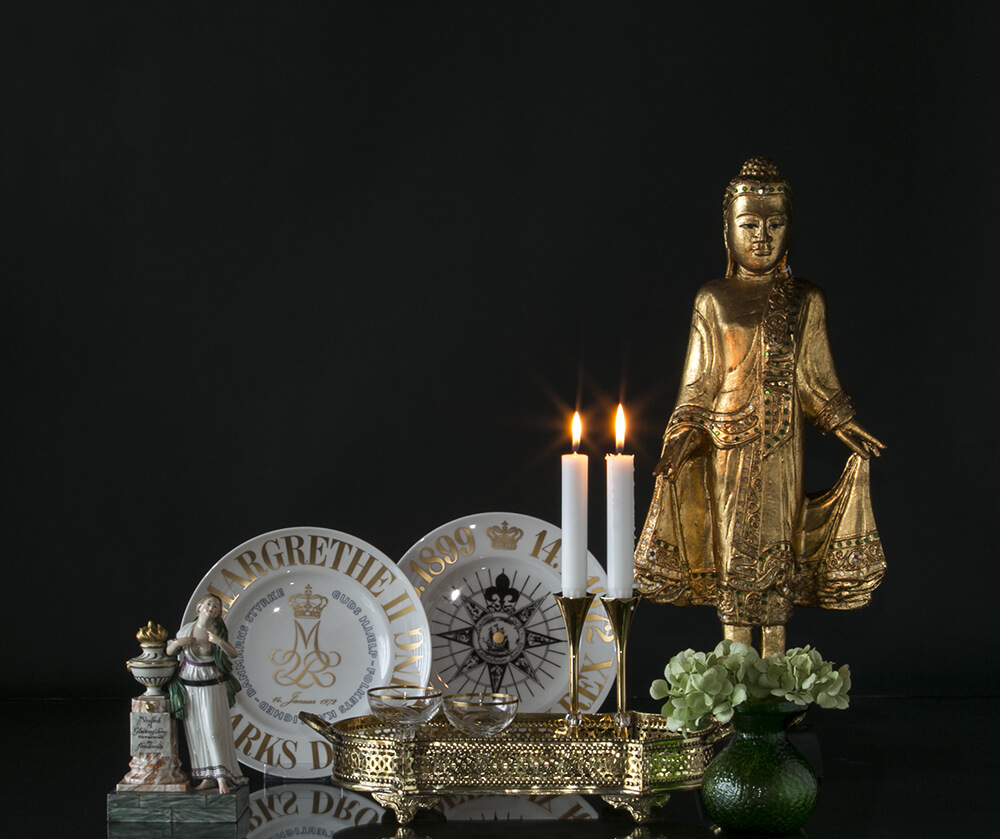 The friendship figure was placed with a memorial plate of Queen Margrethe II and King Frederik IX together with a Buddha and a tray with Asmussen Hexa candlesticks.
A mixture of old decorative plates, here you can see Bing & Grondahl memorial plates and a Christmas plate to the right. The decorative plates do not need to be the same size. Make a compilation.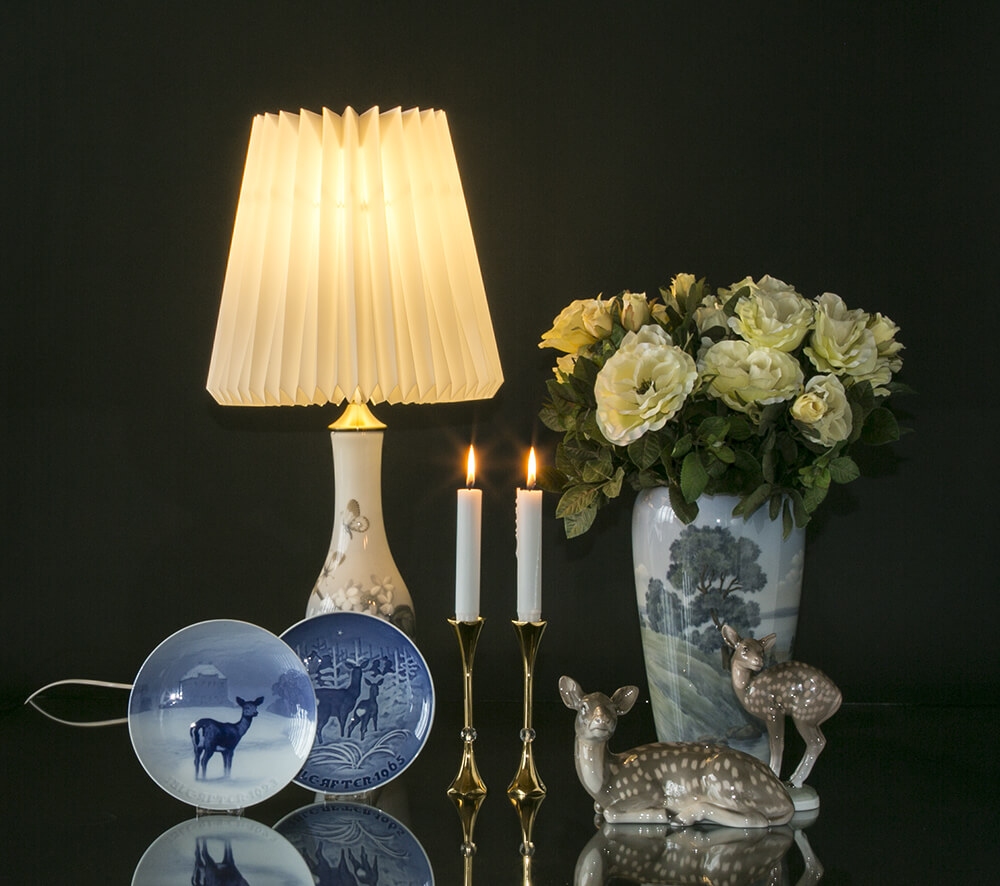 Here we have an ensemble of natural motifs with Bing & Grondahl Christmas plates of deer together with deer figures, a vase with a landscape motif in front of a Bing & Grondahl table lamp. In the middle there are two Asmussen Hexa candlesticks.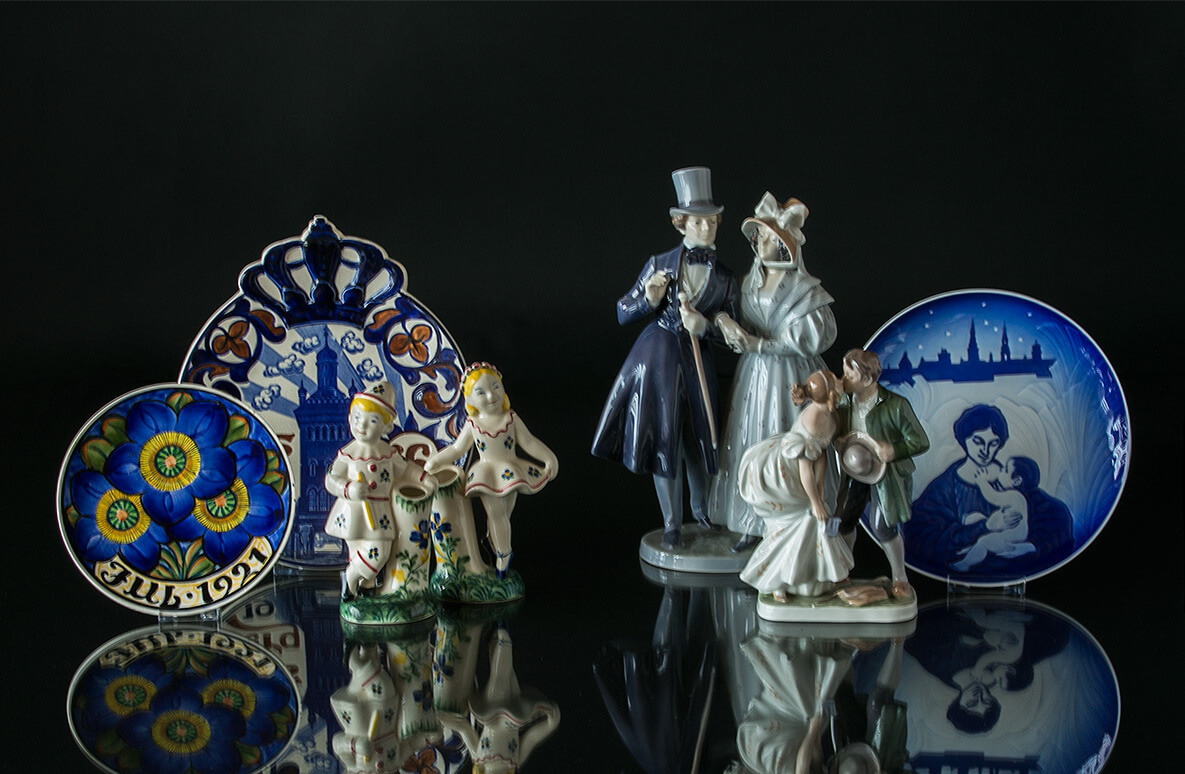 This ensemble is a beautiful arrangement of Aluminia Christmas plates and brewery plates together with two children's aid figures opposite two Royal Copenhagen figures and a commemorative plate of the merger of Royal Copenhagen and Bing & Grondahl.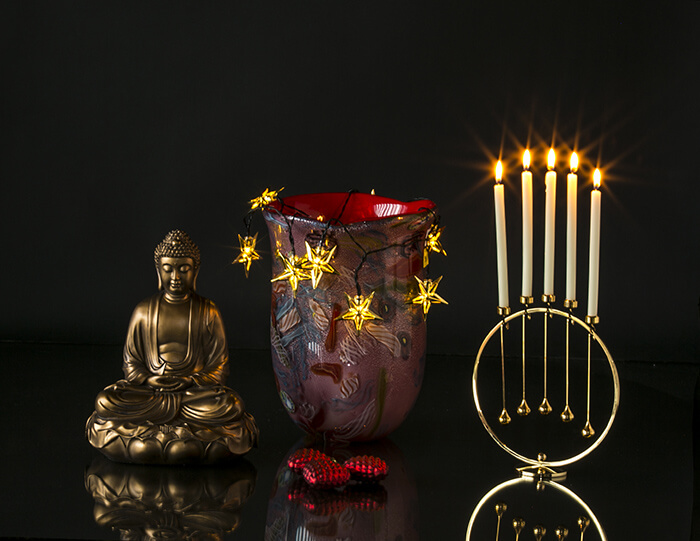 The attractive dark red glass vase was placed on the Asmussen annual ring together with a Buddha and Asmussen candle holder.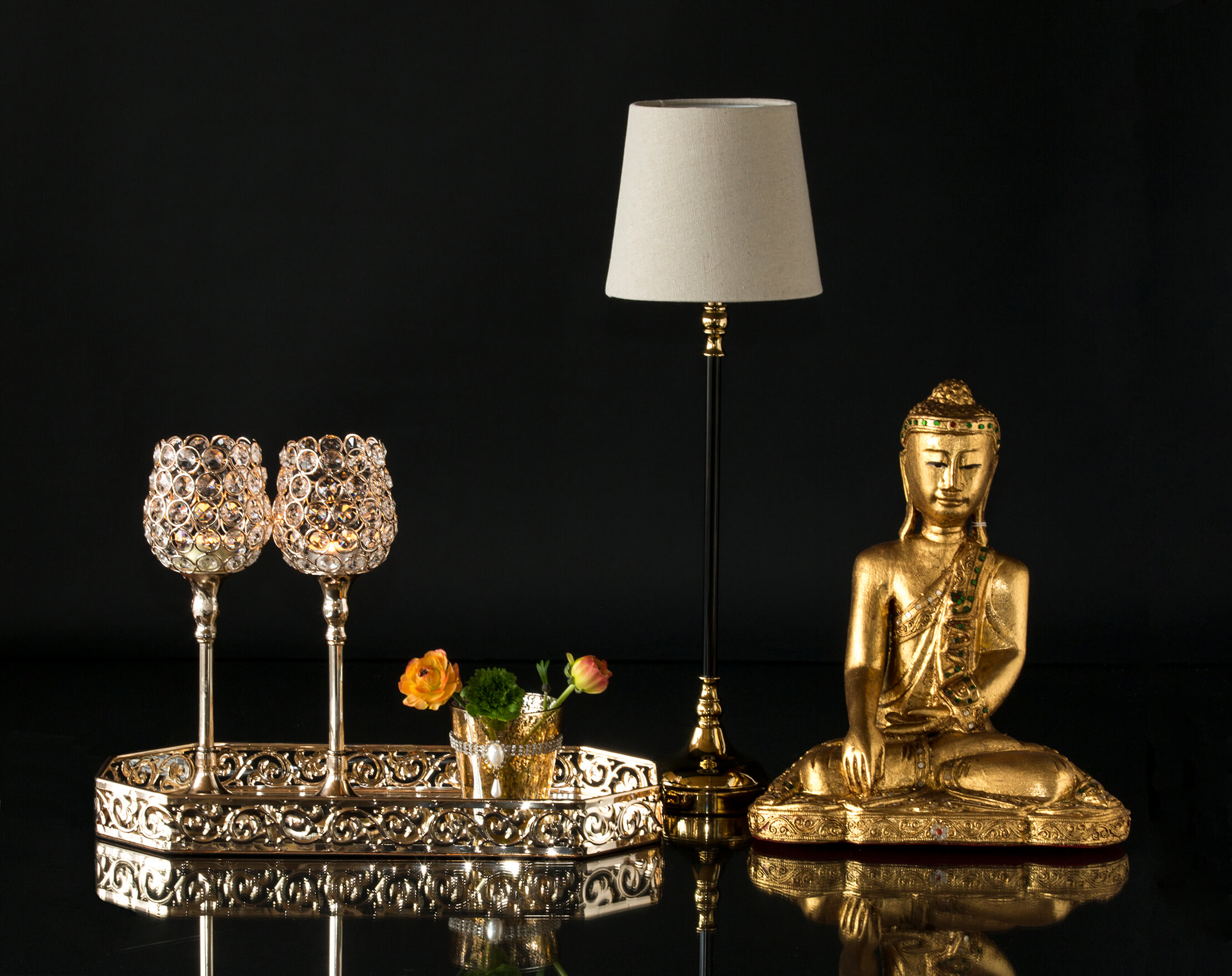 Here the overarching theme is golden with candlesticks on a mirror tray next to a gold and black lamp and a Buddha.
Here you can see an idea for an arrangement in the living room or where you need something unique. Fresh flowers in a vase and a stoneware bear from Bing & Grondahl. Under the table is a red Chinese jug with a large Royal Copenhagen figure of a tiger.
1 2 next