Health management is a good career
Health care professions
Hardly any other industry has as many different career options as nursing and healthcare. So that you can get an overview, we have put together all information about professions, including interviews with professionals.
What decides which profession you can work in?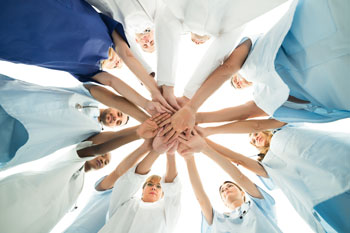 Anyone who has read through the various descriptions of the various courses of study will know that there are numerous fundamentally different job opportunities in the health industry. But how can you as a student prepare for certain professions in health management or nursing? It mainly depends on these two factors:
Course of study & choice of major: First of all, the choice of course is of course the first factor that decides in which jobs you can work in the future. However, good news for everyone who is not sure which of the many interesting-sounding degree programs is now exactly the right one: there is always the opportunity to change industries. In our interviews, for example, people who have studied health sciences report on their job as personnel consultants for doctors or graduates of nursing management studies who are now working in the commercial area of ​​a health insurance company. So you're never really stuck. But of course, in the health management degree program with a focus on hospital management, you prepare for an assignment in such an environment rather than in a nursing home.


Activities in addition to studying: It is also very important which jobs you do while studying. Because with that you usually already put your first foot in the door of a future employer. So if you want to work for a management consultancy for clinics, you should either work in the administrative area of ​​a clinic or with such advice alongside your studies. This brings practical experience and good opportunities to start your career.
Healthcare Professions: Examples
After the theoretical considerations, we now come to practical examples. Here job descriptions from a wide variety of occupational fields in the health industry have been compiled. So you can get an insight into the areas of application.
Management of medical care centers
In medical care centers ("medical centers"), the manager is responsible, among other things, for the management and organization of administration, strategic financial planning and the preparation of the annual financial statements and reporting. In addition, one is charged with the implementation and follow-up of budget and contract negotiations with cost bearers, for example.
e.g. health economics, health management
More information: Become a health manager
Interview with a managing director of an MVZ
As a street worker, one tries to reach problematic target groups (e.g. drug addicts, youth groups) who can no longer be reached by conventional social help institutions and to talk to them in order to provide them with support offers. With your knowledge of pedagogy and psychology, you advise and look after these target groups, you are the point of contact and contact person.
e.g. social work
You can read more about the job of a street worker on our partner portal Soziales-studieren.de.
In sales, for example of a pharmaceutical manufacturer, one ensures market access for the employer's products. You initiate and coordinate the implementation of appropriate measures for optimal market access. For this purpose, one maintains contact with the important interfaces and evaluates the current and future opportunities and risks. In addition, one is responsible for the observation of the market development and developments in the national and international health policy.
e.g. health economics, health management, distance learning health sciences
Interview with a pharmaceutical representative
Nursing management outpatient service
As the head of an outpatient care service, you are generally responsible for organizing the best possible care, support and care for patients. In order to achieve this, quality assurance and further development in nursing, personnel planning and allocation, work organization and staff management are coordinated.
e.g. health sciences, nursing sciences, nursing management
Interview with the facility manager of a senior citizens' residence
As a medical controller, you monitor the structure, process and result quality of the medical service production processes. You are responsible for cost optimization and the associated improvement in profitability. For this purpose, for example, market analyzes and benchmarking projects are created, performance indicators are analyzed and the results are made available to management as reports. Medical controllers can be referred to as internal business consultants in the medical field and medical consultants in the administrative field.
e.g. health economics, health management
Interview with the head of controlling in a clinic
As a scientist in epidemiological research, you will study the impact of health developments on the general population level. You determine the burden of disease in a population and develop, for example, models to prevent epidemics. In addition, you conduct risk factor research, for example in the area of ​​lifestyle factors such as the typical problems of smoking, excessive alcohol consumption or obesity. Of course there are also research topics in other areas of health care.
e.g. public health, health sciences
Interview with health system researcher
Nursing educators are primarily active in training and further education in the field of nursing and health and take on management functions in health care institutions. You teach people who are training in health care, e.g. prospective carers, nurses or midwives. To this end, new concepts are also designed in theoretical and practical training and implemented.
e.g. social work, care, nursing education
Interview with a nursing educator
From admission to discharge, patient management takes care of the administration of patients, i.e. customers of a hospital, for example. The tasks of a head of patient management include coordinating the areas of information and appointment allocation, reception, outpatient departments, admission and operating room planning including bed management, private patient service and patient billing. Furthermore, you have to ensure professional and fast correspondence with patients and payers (e.g. insurance companies) and make regular improvements.
e.g. health economics, health management