How do I organize a children's party
Celebrate children's birthday
At least once a year, parents have the task of organizing a children's birthday party for their offspring. At first, the prospect of having ten or more energetic children in the house and having to entertain them doesn't sound particularly refreshing. But with the right organization, the whole thing is usually not that bad. On the contrary: being able to celebrate a child's birthday is a gift and watching the little ones play with enthusiasm and have casual fun will also inspire and sweep the parents away in the end.

At the latest when you have been allowed to celebrate a 1st birthday, you know why.
In order for the celebration to be a complete success, which all those involved will remember fondly for a long time, careful planning and organization are required. Because the guests naturally want to be entertained or supplied with delicacies on a permanent basis. In this article we will show you the best ways to organize an unforgettable party, because there are so many children's mottos and entertainment options that no children's party has to be boring.
Organization and planning - putting ideas into practice
Table of contents for quick readers
When a child celebrates a birthday it is their big day and activities, entertainment, motto and everything that goes with it should focus on the tastes and desires of the birthday child.
Notice: Even if ideas from adults may be great and unique. It makes no sense to impose anything on the child because you find it beautiful yourself. Children are almost certain to find completely different things a lot nicer right now. It will be a much better children's birthday party if you focus more on the wishes of the children.
Basically, the following options are available:
Celebrate at home
Celebrate in the garden
Rent location like party room
Party away (riding stables, playground, amusement park, barn)
The choice depends of course on the budget, the time of year, the available space and the individual ideas of the child. You can always do a lot yourself at home in the familiar four walls. Celebrating away is less time-consuming, but more expensive and if you have a garden, you can organize a great kindergarten party in summer.
There are also other aspects to consider that are not part of a home celebration. Depending on the number of guests, you may need several additional supervisors, for example. Parents of invited friends are usually happy to take on this task.
The question of whether the guests meet at the birthday child's home or directly at the playground also plays an important role. That depends on how many cars are needed and whether each guest has to bring a child seat.
When you arrive at the playground, it is extremely important to communicate clear rules to all children. Among other things, they need to know in which areas they are allowed to be and which devices they are allowed to use without direct supervision. Once you have explained these rules and, above all, justified them, you can let the little ones off the leash.
It continues with the checklist, which should be worked through gradually. When it is clear where you want to celebrate, you can go to the guest list. Kindergarten friends are invited as well as friends of the family. Here, the parents should be there to support the kids. It can quickly lead to disappointment and conflict if one is invited and the other is not.
Ideas and tips to celebrate the perfect children's birthday
Are you here to get the best children's birthday ideas? Then let's start making a special child's day an unforgettable one.
What is basically always going on with children are theme parties, because every child finds a certain world really fascinating and wants to immerse themselves in it as much as possible and be a part of it. What are funny party slogans for adults can usually be much simpler ideas for children. One thing that kids definitely get ahead of adults is their imagination.
Accordingly, they love to playfully immerse themselves in "other worlds" and put out fires as a fearless firefighter, to rule as a princess or to save the world as a superhero. So you will have a lot of fun at a themed party for a children's birthday party. The selection of topics is as inexhaustible as the children's imagination. We would like to introduce you to a few very popular mottos for kids of all ages as well as for boys and girls.
Idea 1: Pirate theme party for children's birthdays
Pirates who terrified the world's oceans centuries ago have been surrounded by a mysterious aura since the "Pirates of the Caribbean" films, which makes them very popular with the little ones. So they are perfect as a motto for a children's birthday party.
The pirate decoration
When decorating the room, it is also advisable to let the child's imagination run wild. Only a skull flag is a must - the living room will eventually become a pirate ship. In specialty shops or online retailers that specialize in celebrations of all kinds, you can find many other suggestions. Paper plates and plastic cups in a pirate look, balloons or napkins to match the theme - the selection is huge, so the captain will definitely find something he likes.
# 2 best seller
Bluelves birthday decoration boys, dinosaur birthday decoration, dinosaur children birthday decoration, balloons green for jungle party children dinosaur party decoration
✔ Package Included : 1pcs Dino Happy Birthday Garland, 5pcs Dinosaur Foil Balloons, 40pcs Latex Balloons, 9pcs Dino Cake Topper, 2 sheet tattoos.
✔ Latex balloons color is great, made of high quality latex, size 30 cm. Suitable for air and helium.
# 4 best seller
CGBOOM Dinosaur Party Giveaway, Dinosaur Toys Mini Dinosaur Figures Snap Bracelet Dino Eggs Kids Mask Dinosaur Tattoo Stickers Balloons Children's Birthday Party Accessories Decoration
🦖Dinosaur children's birthday decoration: 93 PCS dinosaur toy set consisting of 22 mini dinosaur figures, 2 tree figures, 12 dinosaur snap bracelets, 12 dinosaur key chains, 10 dinosaur eggs, 12 dinosaur masks, 10 dinosaur stickers, 12 dinosaur balloons and 1 piece of dinosaur birthday banner.
🦕High Quality Material: Dinosaur toy set is 100% non-toxic, BPA free, durable and of the highest handcrafted quality. Dinosaur mask is made of soft foam and is comfortable and easy to put on. It offers great flexibility and stretch for prolonged wear. Temporary tattoos printed with eco-friendly ink, safe for children. Dino balloons made of high quality latex, which are durable and odorless. It brings more happiness to your children.
Here a couple of inflatable pirate balloons, there a couple of sabers and the whole thing combined with a treasure hunt and message in a bottle makes every child beat faster.
Recipe ideas
For a real pirate party, of course, you also need the right food. It starts with the cake in the afternoon. You can design it as a ship or a treasure chest, for example. Muffins with a skull look are also very suitable to inspire the little ones, as are cake pops with a face, a headscarf and an eye patch.
Pirate finger food and cupkakes with ships are also quickly made and look great on the pirate buffet. After the exhausting pirate adventures, which we will come to in a moment, the little buccaneers naturally need some refreshment. Fish finger burgers, for example, make your eyes sparkle.
Pirate games
In addition to food, games are the most important thing on a children's birthday party. Because even small guests have high expectations when it comes to their entertainment. Of course, when you hear the motto "pirates" you immediately think of a treasure hunt. This can be done in a number of ways.
An example: A treasure map is cut up, the individual parts are hidden. Now the children have to solve small puzzles or master tasks to get clues to these hiding spots. Gradually they can then put the card together and finally recover the treasure - preferably a chest with gold coins made of chocolate.
An alternative for indoors are "gold ships". For this purpose, twice or three times as many paper boats are folded as there are guests. A gold coin is stuck to some of these ships, as invisibly as possible. Now the guests in turn roll the dice, and whoever rolls a six can take a ship. If there is a gold coin on it, he may keep it and put the ship back. Whoever finds the most coins in the end wins the game.
For home
At some point the most beautiful party is over. So that it takes a little longer for each guest, they get something at the end for their way home. With the motto "pirates", a small chest filled with sweets is ideal. But here, too, the host will certainly have his own ideas that should be taken into account - provided they can be implemented.
Idea 2: The medieval party for a children's birthday party
The Middle Ages are one of the things that fascinate our youngsters extremely. Brave knights who fearlessly fight dragons, castles, mighty kings and beautiful princesses stimulate the imagination of the little ones and are therefore also a great choice as protagonists of a children's birthday party.
The decoration
At a medieval feast, the living room must become a sumptuous dining room, the dining table a pompous table. As with the Pirate Festival, you can also find numerous suitable items for the King's Day of Honor in online retailers. In addition, you can attach coats of arms to the back of the chair or turn plastic cups with gold spray paint into elegant goblets.
Recipe ideas
There are different baking pans to make cakes look like castles or dragons. However, you can also do this yourself relatively easily. For example, if you bake two marble cakes and cut one of them in half, you can place the halves on top of the other as towers. As for the decoration, you should rely on the creativity of the host.
You can easily make a kite yourself with muffins and green food coloring. The head is made from construction paper and attached to the foremost muffin with a toothpick, the others stand in a row behind it. Marshmallows can be used as back pads.
Chicken legs go very well for dinner, because as a real knight you naturally eat with your fingers. Add a little dragon's blood (tomato or blood orange juice), and the party is well looked after. Jousting
When it is the king's birthday, he holds a tournament to celebrate the day. The games should be based on this topic on this day. For example, two children each can form a team of rider and horse and try to throw the opposing rider out of the saddle. The guests will also have a lot of fun in a "sword fight" with inflatable balloons - the one whose balloon bursts first has lost. In these games, however, it is important to establish clear rules, otherwise the risk of injury is relatively high. But if the rules are followed, you don't have to worry.
For home
As a souvenir, you can give the guests a certificate that attests to their participation in the big tournament, for example. A small leather bag with sweets also goes very well with the motto.
Idea 3: The detective is celebrating his birthday
Another great idea for children's birthday parties is the detective motto, provided that it is a little older children who are familiar with the 3 question marks and TKKG. To be a detective yourself, to dress up as a private detective, investigator or spy, is a lot of fun for many children.
For parents, the following applies: laying tracks, thinking up adventures and developing mysterious processes that the children will have to look for and solve later. Each child receives an alias, a matching snoop outfit and a detective ID. It has proven useful to provide a large rummaging and junk box with detective utensils and equipment so that everyone can stock up on their own ideas.
Idea 4: dinosaur party
For the little ones, dinosaurs have always been something special and a fabulous world of the superlative with a lot of creative potential. But it is important to put a little more energy into the location, the ambience and the decoration to make a dinosaur birthday great for children. You can find detailed information in our article on the Dino Party.
More motto ideas for children's birthday parties
There are plenty of suitable and funny mottos that can be implemented at a birthday party for children. Other very popular ones are:
Idea 5: scavenger hunt
Even today a real classic on birthdays is the scavenger hunt for children, which can always be carried out as part of any children's party and always ensures a good mood, activity and atmosphere. In advance, a legendary treasure must be hidden and a treasure map for 2 teams must be created. The children then have to find the treasure on their own, peppered with tasks and riddles.
Idea 6: climbing and play park experience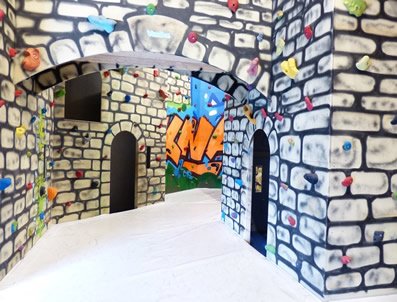 If you don't have a place at home and have a child who has a lot of urge to move around, the children's birthday party can also be held in a play area / amusement park. It is important to reserve one of the themed rooms in good time. Children have all the freedom here and can climb, run around, jump, slide and just be children. A little supporting program is still part of it. You can bring your birthday cake with you, food is available in most establishments for a surcharge, including table decorations.
Idea 7: children's bowling
It is also very popular when you first celebrate, eat and play a few games at home and then go bowling with the birthday child and the guests as a so-called coronation. You can go bowling at a relatively early age, as there are also small balls that are easy for children to grasp. Bowling competitions with fun, cake and a few games can enrich every children's birthday party.
Idea 8: craft birthday
Every child likes to do handicrafts so why not include it at a children's party? A pure handicraft party is not the right thing for everyone, but incorporating a small handicraft lesson is a meaningful activity. Handicraft instructions, which can be found at https://blog.vertbaudet.de/category/ab-10-04-neu/geburtestagfeier/, can be helpful here.
Idea 9: magicians and entertainment
Another good idea for the entertainment program on children's birthday parties is to hire an entertainer such as a clown or magician. If you have talented parents in your circle of friends, you can ask them to take over the job. As a rule, however, professionals do it better. A puppet theater is also a very varied and fun entertainment that can be woven into the rest of the program.
Idea 10: adventure playground
Motto parties are great fun for the little ones, but they are not a must. Another way to make a child's birthday a great experience is to visit an adventure playground. The prerequisite for this is, on the one hand, good weather, which is why it is only suitable in summer. On the other hand, such an excursion has to be planned differently.
In some things you are much more free: Neither invitations, decorations or meals have to be based on a specific topic. And you don't have to think about special games in advance either, because in such a playground children will find enough opportunities to keep themselves busy all day long (and longer if they had the option).
Partying makes you hungry - food for a children's birthday party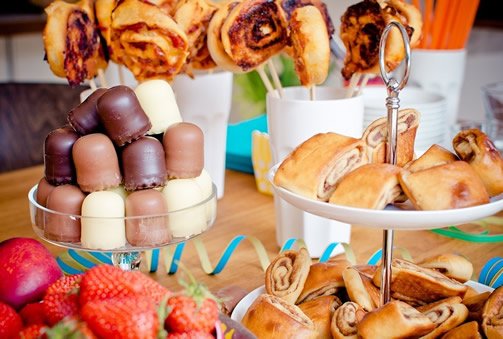 Anyone who celebrates a child's birthday does not pay attention to nutrition on this day but can be a whole child without major restrictions. That means sweets, cakes and fruit juices are plentiful and, if possible, decorated and prepared according to the occasion / motto.
It is important to have a central point of contact for food and drink, so that not every child eats and crumbles somewhere, but rather it is a sociable matter to eat. A buffet table is ideal for this. It doesn't have to be complicated and time-consuming for children to be successful and to be tasty for everyone. Potato salad, Viennese sausages, Wiener schnitzel, spaghetti, pancakes, French fries or even a homemade pizza always arrive and can be cleverly complemented with a few motto-like snacks as well as finger food and fruit salads.
Homemade food such as hot dogs or burgers are always very popular at children's parties.
A birthday cake and a few goodies for in between, such as muffins or biscuits, should of course not be missing. Here you can leave yourself decorative and conjure up really beautiful things.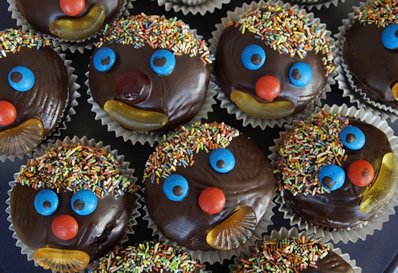 Whoever celebrates the children's birthday outside has to improvise a little. Here are a few tips:
In addition to the obligatory sweets, bread rolls and Viennese sausages are available for catering.Because the main thing is that the food is permanently available and quickly "prepared". An alternative is to fire up the grill, if allowed. Sufficient quantities of drinks are also very important. Romping around all day makes you extremely thirsty. To be careful all day long too, by the way.
Plastic cups and paper plates should be packed, as well as the matching cutlery. You shouldn't forget garbage bags either, so as not to leave any chaos in the end. Since one or two minor injuries can occur despite all precautionary measures, you should also think of plasters and disinfectants.
With all these things in your luggage you are prepared for all eventualities and can enjoy the day just as much as the main character.
Children's birthday invitation for a great celebration

As with adults, but with a slightly lower priority, children's birthday invitations are the first impression that the parents of the invited child get. How exactly the invitations look like should be left to the birthday child. Nevertheless, you should make some suggestions from which to choose from. This could be the following, for example, if it is a pirate party:
A pirate's head is made from construction paper. The eye patch is only glued to the upper edge and can be opened that way. Below is the invitation text.
A typical pirate is drawn out and colored by the host. The parrot on the shoulder is given a speech bubble with the text in it.
The invitation is designed as a treasure map. After drawing, rub it with some earth and lightly scorch it at the edges. Those who spare no expense and effort can also pack them as a message in a bottle.
One possibility to load for the birthday of the king or queen is a somewhat firmer sheet of paper, to which a round wooden stick is glued at the top and bottom. After writing on the sheet, you can roll it up from both sides.
Another nice idea is a castle made of construction paper, the gates of which can be opened. Behind it is the invitation text. Ideally, the invitations and invitation texts are always based on the given party motto. There should always be something royal and delicate about princess parties. Pink should predominate. When it comes to cowboys, a western twist with bullet holes, a sheriff's star, and a few cacti is a good idea.
If you want to play detective on a children's birthday party, you can stage the invitation card yourself as a puzzle or in the form of a scratch card.
Then a few tips and tricks for children's birthdays in the video