How great is Kampala Uganda
Greetings from Kampala, Uganda
A Ugandan colleague recently wrote "Welcome back home" on my Facebook timeline. And that's actually how it feels a little: like coming home. Just different. Uganda is very familiar to me after countless business trips. And yet I never had an everyday life here.
My family and I have been living in the capital Kampala since mid-April. I really enjoy the feeling of daily routine that is slowly emerging. Because now I have one thing above all: time. While on business trips I had to pack one meeting after the other into a busy schedule, I can now see a lot more relaxed. And that's a good thing, because things happen more slowly in Uganda, often differently than planned and sometimes not at all. The Ugandans call this "African Time". In Cologne one would say "Kiss de hück nit, kiss de morje" ("If you don't come today, you come tomorrow"). No matter what it is called, you are always well advised to take a deep breath and stay relaxed. And somehow it works.
African time
Like last week when I got my work visa in Ugandan Ministry of Internal Affairs want to pick up. At 3:30 p.m. I make an appointment with a Ugandan colleague in front of the ministry, who is supposed to accompany me. Of course I am - entirely German - on time to the minute. At 3:45 pm my phone rings: "Sorry, there is an emergency. I will be there at 4 pm. "" Okay, no problem. "
Okay, then I'll take a look at the heavy carpets, brocade curtains, and thickly upholstered sofas in the furniture store on the corner. It's interesting how different the furnishing style in Uganda is compared to that in Germany. At 4.15 p.m. my phone rings again. "Sorry, I have to postpone to 4.30 pm." "Okay, no problem. Call me once you are here. "
I get a ginger lemonade and sit in the shade. Nice, the weather here! And the air smells so good of sun and green. The idyll is interrupted by a truck that is completely overloaded and rushes through the countless potholes and blows out thick clouds of black smoke. I hold my breath for a moment. We finally meet at 5 p.m. "Hello! Good to see you. Shall we go? "" Same here! Sorry for the delay! The Ministry is closed now. You will have to come back tomorrow. "Ah ... ok. Alright The next day everything went smoothly and without any problems. With African Time. It's good that I have so much of it now.
Personal contact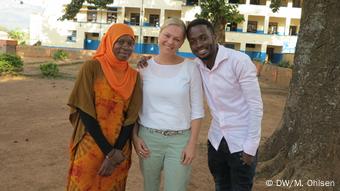 Community reporter in Mbale. Her reports on the hygiene at a local school helped to renew the sanitary facilities.
The extra time also changes the contact with the employees of our partner organizations. The factual exchange by email or in a short meeting, initiated by the friendly phrase "How are you?" At the very most, becomes a personal togetherness. The meetings are getting shorter, but more frequent and more trusting. And they rarely start on the work level. "How's the baby?" "She is happy. She started eating carrots this week. "And you lose yourself in a conversation about children, upbringing, eating habits and different customs in Uganda and Germany.
And at some point, much later, it's about work. The training of the 25 citizen reporters in Jinja last week went very well, I learn. The young people are highly motivated and want to get started and deliver news from their communities to local radio stations. But there are problems with the software installed on the radio station to record the young people's voices. Can I take care? Naturally!
Intercultural cooperation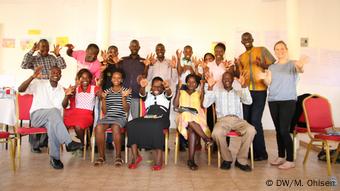 Participant in a community reporter workshop in Jinja
Before leaving Germany, I got to know the different concepts of time in Germany and East Africa in a training course on the subject of "intercultural cooperation". Traditionally, according to our Kenyan trainer Rebecca, the future seems invisible to many people in East African countries, which is why they do not think too much about tomorrow. That would also influence our work on site. Really I think How will that affect the sustainability of our projects? We still have to find out.
In any case, time plays a very special role in my new phase of life. An African proverb says "Europeans have the watch, we have the time." I am hereby ceremoniously taking off my watch - at least for the next few years.
Miriam Ohlsen has been working for DW Akademie in Uganda since 2014. She has lived in Kampala with her family since mid-April 2017. DW Akademie supports the participation of young people through the medium of radio. It also promotes research journalism and advocates the digital security of journalists. DW Akademie projects in Uganda are financed by the Federal Ministry for Economic Cooperation and Development (BMZ).