Why does gluten-free bread fall
Gluten free cake
Cake without wheat flour? Can it even taste good? Yes, and how! And also juicy and fluffy - completely gluten-free. Try it.
The following recipes are gluten-free, but not necessarily vegan. They also contain sugar and numerous other components that many of our readers no longer use. Please note here that we would also like to suggest recipes for newcomers to the gluten-free kitchen.
Because a basic cake or a cake with numerous new ingredients that a newcomer has never heard of, often does not encourage implementation. Therefore, for many people it makes much more sense to proceed step by step and to feel your way to a new kitchen that will become healthier over time.
But now to the gluten-free beginner recipes:
almond cake
Firstly, this cake is very easy to bake, secondly, it always works, thirdly, it doesn't even need baking powder and fourthly, the list of ingredients can be varied. Of course, it's delicious anyway.
Ingredients:
5 organic eggs
250 grams of organic butter
250 grams of coconut blossom sugar
250 grams of ground almond kernels (alternatively hazelnut kernels or desiccated coconut)
some butter to grease the bundt pan
Preparation:
Separate the eggs into yolks and whites.
First, beat the egg whites very stiffly and put them in the refrigerator.
Now stir the egg yolks, sugar and butter (butter should be room temperature) until frothy.
Then carefully stir in the ground almonds.
Finally, fold the egg whites into the mass.
Grease a bundt pan with a little butter and fill the cake batter into the mold.
Bake the cake in the preheated oven at 160 degrees for about 45 minutes.
tip: If you want, you can pour a chocolate topping over the cake after baking. To do this, melt a couverture in a water bath and brush the chocolate over the cake with a brush. To decorate, you can sprinkle a few sliced ​​almonds on the upper edge of the Gugelhupfs.
Gluten free desserts
There are so many wonderful dessert creations that are naturally made without flour or gluten. This category includes all homemade sorbets, ice cream creations, fruit desserts and also homemade pralines or a chocolate-fruit fondue, if you use the right chocolate for them.
When you are in the restaurant, just ask the cook if you are unsure about your desired dessert whether flour was used as a binding agent after all.
For all dishes in restaurants or hotels that contain eggs, it is essential to speak to the cook beforehand, because often no fresh eggs are used in gastronomy, but egg mixtures from tetra packs. These mixes almost always contain gluten. So be sure to ask whether fresh eggs were actually used.
Snacking on gluten-free
Chocolate is particularly popular. Purchased chocolate is not always gluten-free. Therefore it is better to do it yourself! By the way, this works with very few ingredients, so very easily and also very quickly. You can find out how you can actually make chocolate yourself here: Chocolate is a temptation
Practical tips for everyday life
If you no longer want to eat gluten, the first thing you should do is take a close look at your kitchen. Sort out everything that contains gluten from your food supplies and give it away to friends, neighbors or social institutions such as the "Tafel".
If you live with several people in the same household, set up separate pantries. One cupboard or drawer exclusively for gluten-free food, the other for the rest of the family or roommate.
Gluten-free kitchen rules
Foods like butter that are used by both camps are best bought twice and marked once for your sole use. If you have a zero tolerance limit for gluten, then it is enough for a family member to take the butter with his knife and use it to spread a normal wheat roll.
After that, the butter is sufficiently contaminated with gluten to cause you all symptoms.
You should also separate all kitchen utensils. Wooden boards and wooden spoons contain sufficient quantities of gluten in the smallest of grooves and cracks that you cannot remove from them. Either buy new boards or utensils made of stainless steel or plastic that you can easily clean in the dishwasher.
Even larger machines such as waffle irons, toasters, baking molds, kitchen machines and hand mixers can no longer be used together. However, purchasing a new flour mill is especially important if you plan to grind your own flour.
A grinder that has already been used cannot be cleaned in such a way that you can completely remove the gluten. Therefore, do not have flour milled in a health food store. The risk of contamination is far too great there.
Always keep the work surface clean and free of debris. Make sure that rolls and breads containing gluten are placed in a different bread basket than the gluten-free ones. Make absolutely sure that you do not use bread slicing knives for gluten-free and gluten-free rolls together.
If you bake something in the oven, always place parchment paper under your gluten-free baked goods. This will prevent the rack or baking tray from contaminating your baked goods.
Deep-frying oil or water for cooking that has already come into contact with gluten-free foods can no longer be used for gluten-free foods.
If your child is affected and is given sweets containing gluten, then they should come to you with them. You will then have a gluten-free candy box from which your child can choose something in exchange for the gift.
If you get chocolates or other delicacies yourself, call the manufacturer's hotline and ask about all the ingredients, especially gluten.
If you can be sure that it doesn't contain gluten, enjoy your gift, otherwise someone else will be happy about it.
Gluten-free vacation tips
With a little preparation, air travel is now possible gluten-free even on long journeys. Order gluten-free on-board food when booking your flight, if possible.
Some companies do not offer this service, so you have to take care of your on-board catering yourself. To do this, it may be necessary to apply for extra baggage at the time of booking or to have an additional baggage allowance approved.
Make sure you have this confirmed in writing so that there are no long discussions at the check-in counter later.
A medical certificate for the import of gluten-free products is also recommended. Inquire beforehand about the import regulations of your holiday country.
There are a few things to consider in hotels and restaurants. Breakfast is usually offered as a buffet. If you bring your own bread or muesli with you, make sure that you only use jam, honey, butter or other spreads in the original packaging.
Beautifully decorated, open jam bowls and cheese or cold cuts platters are certainly not completely gluten-free.
Before you order, ask the chef (!) In the restaurant whether he can prepare something gluten-free for you. Sometimes it is necessary to point out that you must use your own, freshly cleaned wooden spoons, pots and pans.
If in doubt, explain to the chef in the smallest detail what exactly he should prepare for you and what he should pay attention to.
Always ask whether soups and sauces are freshly made and what they are tied with. When it comes to egg dishes, insist that they are actually made from freshly cracked eggs.
Caution is also advised with salad dressings and dressings. These are often prepared in advance and added with additives that contain gluten. Even if it's just a splash of seasoning sauce like soy sauce, this dressing is no longer gluten-free.
If in doubt, you can have vinegar and oil as well as salt and pepper brought to the table and season your salad yourself.
Celebrate gluten-free parties
If you take part in a Christian mass, it is better not to take part in the Eucharistic celebration in the Catholic Church or the Lord's Supper in the Protestant Church. Hosts and bread are basically made from wheat flour.
For people with celiac disease there is an exception in the Catholic Church to take part in communion with hosts made with gluten-free primary wheat starch. In the Protestant church, those affected can take part in the Lord's Supper with gluten-free bread. In both churches, however, a clarification with the pastor is required beforehand.
If you receive a wedding invitation or an invitation to another party, let the hosts know about your gluten-free diet in good time. You can offer to take care of gluten-free cakes, bread or pastries yourself. In this way you relieve your hosts and can enjoy the celebration without worries.
donation
Your donation helps us
If you enjoyed this article, we would appreciate a small contribution to our work! Donate now with Paypal.
display
Distance training to become a holistic nutritionist
Are you interested in what's in our food and want to know how nutrients and vital substances affect the body? Do you want a healthy life for yourself, your family and fellow human beings? Nutritionists are popular - but the holistic aspect that is needed for sustainable health is often forgotten when giving advice. At the Academy of Naturopathy, you will get to know the connections between lifestyle and diet as well as physical and psychological well-being.
That educates interested people like you in around 16 months to become a holistic nutritionist out.
Is this article worth reading?
Share this article
swell
Gloria Lichtenfels: How to live wonderfully symptom-free again with gluten-free food !, 2012, ISBN: 978-3-95443-007-9
Dr. med. Maximilian Ledochowski: When bread and grain make you sick: gluten intolerance, celiac disease & ampndash; or what else ?, 2011, ISBN: 978-3-830437765
Notice on health issues
This information is passed to the best of my knowledge and belief. They are intended exclusively for those interested and for further training and are in no way to be understood as diagnostic or therapeutic instructions. We do not assume any liability for damages of any kind that arise directly or indirectly from the use of the information. If you suspect illness, please consult your doctor or alternative practitioner
Related articles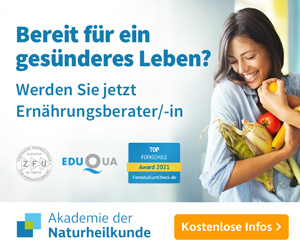 Subscribe to Newsletter
Exciting information about health and nutrition
1x per month
Login Successful. You will shortly receive a confirmation at the specified email address.
With your registration you allow the regular sending of the newsletter and accept the data protection regulations.
HEALTH CENTER © 2021 Neosmart Consulting AG. All rights reserved.