How do the Turks treat refugees
Refugee in Turkey: "We want to lead a different life"
"Life is very difficult in Turkey. As soon as you open the gates, I'll be on my way to Germany," says 18-year-old Afghanistani Muhammed. He actually looks younger - I would have estimated him at 15. All he has with him is a small bag and a pouch. The bag would contain three to five items of clothing and a few snacks that should fill him up on his trip to Greece. He doesn't know what to expect: how difficult the journey will be, how many days it will take and how to get across the border - he doesn't know any of that.
"We will not hinder migrants"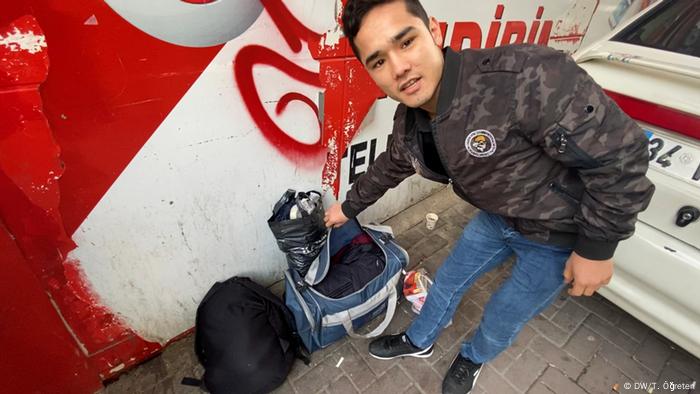 The Afghan Muhammad tries to get to Europe with five friends
I met Muhammad by chance on a sidewalk in the Zeytinburnu district of Istanbul. There are hundreds of Afghan and Pakistani migrants on the street where I met him - I meet only one Syrian refugee. Muhammad is still a little hesitant before leaving. Finally, President Recep Tayyip Erdoğan said that he wanted to use refugees as "means of blackmail". It has not escaped many migrants like Muhammad when suddenly on February 27 the message was raised: "We will not prevent migrants from crossing the border". Now the street looks like a bus station - "Edirne, Edirne!" roar the drivers in the shared taxis, buses and cars. Edirne in the Bulgarian-Greek-Turkish border triangle is about 220 kilometers from Istanbul.
Muhammad negotiates with a driver who charges about 22 euros per person for the trip to Edirne. He and the five friends he's traveling with think the price is too high.
"Where is your family?" I ask Muhammad. They are in the central Anatolian city of Niğde. "You work for a starvation wage," he replies. The 18-year-old, who does a lot of odd jobs, is not particularly satisfied with his working life. "Either the employers fire us without paying the money or they give us less salary than we discussed."
The young man and his friends finally come to an agreement with the driver. "I get 16 euros per man," he explains. "I'll let you out near the border. If the gendarmes catch us, we won't know each other - otherwise I'll get in trouble."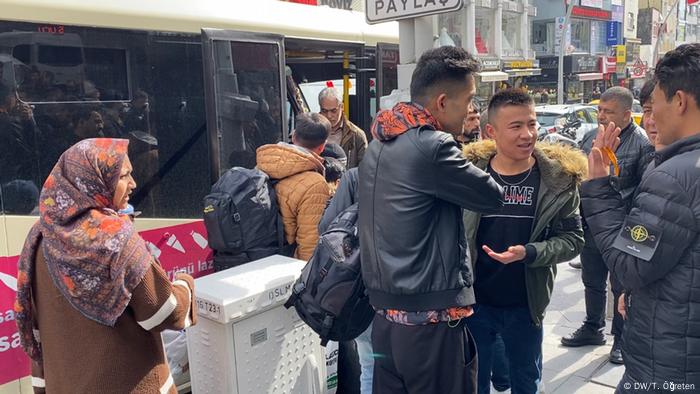 Thousands of migrants make their way from Istanbul to Edirne
The dream of a life in Germany
The adventure of Muhammad and his friends, who dream of a new life in Germany, begins in a German car. I follow the gray Volkswagen Caddy.
After 50 kilometers, or a fifth of the way to Edirne, Muhammad said to me on one of our last phone calls: "The driver has become nervous, brother. Let's meet in Edirne. If you follow us further, he will kick us out and keep our money . "
On the way I see dozens of vehicles; packed with migrants - including many children and women with babies in their arms. A few kilometers before the Pazarkule border crossing near Edirne I have to pass a checkpoint. More than ten gendarmes approach. "Yes please?" Says one of them gruffly. "I'm a journalist," I reply and show my international press card. "Is he domestic or foreign?" The gendarme asks me. "Domestic," I say, and it seems to please him. "Passage is permitted," he calls out.
Two days of the apocalypse
When I arrive at the border, I come across more than a thousand migrants. I don't see a single policeman or gendarme. People sit randomly on the ground, some burn branches to warm up. Smoke rises in the wooded area, my nose burns. Everything seems like a scene in a dystopian film.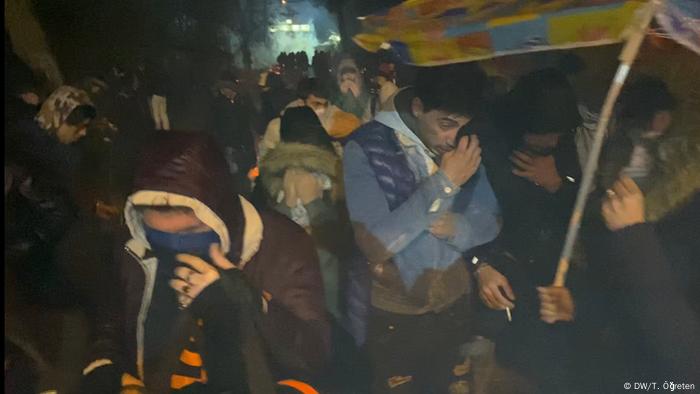 The eyes water, the nose burns - the Greek police shoot with tear gas
Some of the migrants manage to overcome the barbed wire and penetrate the border strip between Turkey and Greece. But Greek policemen are already waiting 100 meters away. As soon as the migrants get too close to the border crossing, they fire tear gas. Now the smell of burned wood mixes with the smell of gas. Every cartridge fired leads to more people fleeing back towards Turkey.
Two days pass at the border - with burning wood, tear gas, rain, cold, crying babies on their mothers' laps, pleading looks, hopelessness, the search for new routes, hunger.
At night I meet three men between the ages of 55 and 60. They speak in Istanbul dialect, their clothes are not that mushy. One of them asks me where they will open the border. "You won't open it," I reply. I want to know where they are from. You are giving me conflicting information. They leave me with the impression that they are Turks trying to mix with the migrants. They talk about whether it would be better to cross the border by boat.
"Only 100 people made it"
On the second day at the border, my phone rings early in the morning. It is muhammed. They bought a plastic boat for 800 lira, he reports. He and his friends would wait for a suitable moment to cross the border river Meriç. He asks if I would like to join and sends me his location on the mobile phone. When I get there, I see how the group has holed up on the edge of a spacious forest. The Greek police are 40 to 50 meters away on the opposite bank - vigilant and present.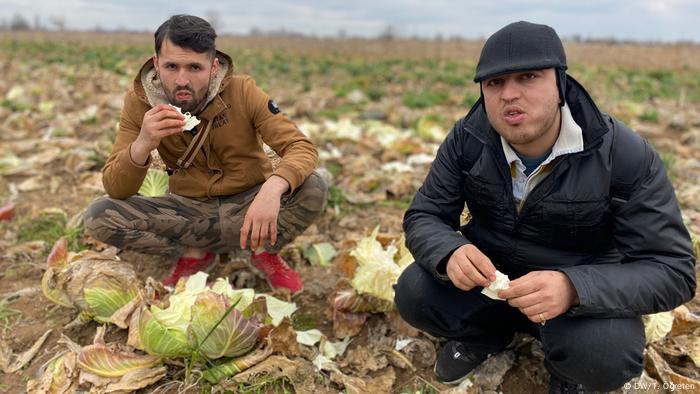 Breather on the cabbage field. The two Afghans do not want to be disturbed
Muhammad consumes a sesame ring and then lights a cigarette. When I want to take a picture of him, he reacts angrily: "What are you doing brother, don't film me. When my mother sees me here, she will be very sad. Besides, she doesn't know that I smoke." On one side of the bank, children play in front of the rubber dinghies lying in the sand. Greek policemen armed with rifles are waiting on the other side of the bank.
Meanwhile, the teenagers are trying to find a suitable route on their mobile phones to cross the river. Muhammad tells the other Afghans that the number of people who have managed to cross the river is 100. The number of people caught and sent back after the crossing is far higher.
A border crossing like a theater of war
I finally go back to the Pazarkule border gate and see that the number of waiting migrants is now around 3000. People of different nationalities are at the border crossing - Africans, Iranians, Pakistanis and Palestinians; however, most are Afghans. The number of Syrian immigrants is negligible. Tensions with the Greek police have now increased significantly.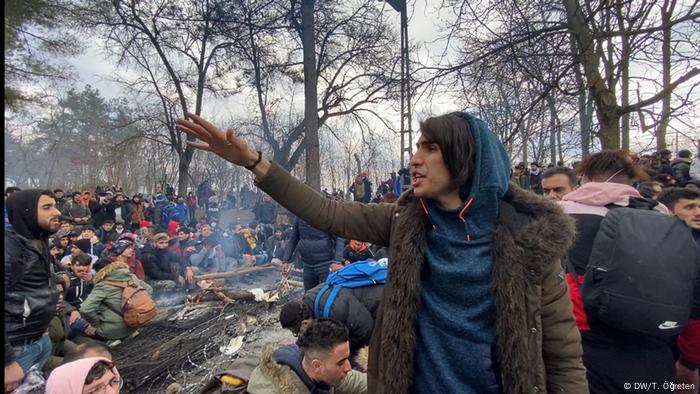 "We're fed up with the war. Don't throw any more stones," Arfran calls out to the other migrants
The more people push towards the border crossing, the more tear gas is fired into the crowd. Five people are seriously injured right in front of my feet. One of them is still a child. The migrants react with violence, some throw stones at the Greek police officers. The border area is becoming more and more like a theater of war.
In the middle of the chaos, a tall, young man catches my eye who is fluent in Turkish, English and Persian. He holds up his hands and calls out in three languages: "We are tired of the war. Don't throw stones, sit down. We want to live a different life."