Even with people who vote for right-wing populist parties - in this case One Nation in Australia - the feeling of loneliness is disproportionate. Almost one in ten followers said they were always alone. Among the supporters of the other parties it was only one in fifty. This underlines that lonely people are more likely to seek solace in marginal political movements.
Lonely or alone: ​​the difference
But what can be done about loneliness? First of all, it is important to clarify for yourself whether you are "just" alone and like to be alone or whether you suffer from being alone in some way, i.e. whether you actually feel lonely. Because many people now live alone and perceive this way of life as a relief, but also seek out activities with other people again and again if necessary.
People who suffer from loneliness, on the other hand, often live with their families or even in a relationship, but feel misunderstood, uncomfortable, not accepted and in the long term also lonely. So being alone can lead to loneliness, but it doesn't have to be. At the same time, a life with other people does not necessarily protect against loneliness.
Ultimately, it always depends on the individual whether and why he feels lonely and which measures could help him personally to overcome his form of loneliness.
What can be done about loneliness
In general, lonely people get the tip to just go out, meet people, get involved with neighborhood help, sign up for the next club or association, sing in the church choir, take courses at the adult education center, go to the jogging club or in an emergency stop calling the telephone counseling. After all, there are numerous offers for almost every area of ​​interest almost everywhere. So why feel lonely?
Not infrequently, however, the lonely feel lonely not because they lack ideas of the kind presented, but because they have completely different problems. Perhaps it began with the loss of a job, a separation from a partner, a professional defeat or another stressful experience that led to psychological overload. You withdraw and lose the joy of exchanging ideas with others. The depression is there - and with it often the feeling of loneliness.
Is it loneliness or depression?
If loneliness is a symptom of depression, then measures should be taken against the depression. If the depression can be treated successfully, the loneliness disappears and with it the lack of drive, so that only now the possible solutions can be implemented (looking for a new job, reaching an agreement with a partner, meeting like-minded people, etc.).
Two ways out of loneliness
It is therefore often helpful to contact your family doctor if you have a stressful feeling of loneliness. B. to have talk therapy, exercise program, etc. prescribed. It is good to confide in someone who understands and who offers solutions that can be implemented step by step without being overwhelming. Additional accompanying measures from naturopathy, which can very well support the holistic path in the case of depression, can be found here: Treating depression naturally
Perhaps you noticed in the above text that loneliness is a feeling. So you are not lonely, you FEEL lonely. A feeling, however, is usually preceded by a thought - and thoughts can be directed, controlled, examined. So we don't have to be helpless victims of our own thoughts. Here you will find an effective method how you can find and defuse those thoughts that first led to the feeling of loneliness: A path to happiness and contentment
donation
Your donation helps us
If you enjoyed this article, we would appreciate a small contribution to our work! Donate now with Paypal.
display
Distance training to become a holistic nutritionist
Are you interested in what's in our food and want to know how nutrients and vital substances affect the body? Do you want a healthy life for yourself, your family and fellow human beings? Nutritionists are popular - but the holistic aspect that is needed for sustainable health is often forgotten when giving advice. At the Academy of Naturopathy, you will get to know the connections between lifestyle and diet as well as physical and psychological well-being.
That educates interested people like you in around 16 months to become a holistic nutritionist out.
Is this article worth reading?
Share this article
swell
Alex Haslam et al, Loneliness is a social cancer, every bit as alarming as cancer itself, The Conversation, November 2019
Matt Liddy, Australia Talks can help you understand how you compare to other Australians - here's how, ABC, October 2019
Julianne Holt-Lunstad et al, Social Relationships and Mortality Risk: A Meta-analytic Review, PLoS Med, July 2010
Notice on health issues
This information is passed to the best of my knowledge and belief. They are intended exclusively for those interested and for further training and are in no way to be understood as diagnostic or therapeutic instructions. We do not assume any liability for damages of any kind that arise directly or indirectly from the use of the information. If you suspect illness, please consult your doctor or alternative practitioner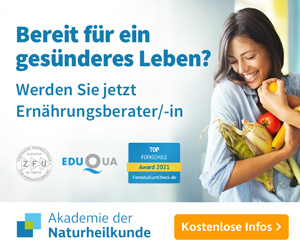 Subscribe to Newsletter
Exciting information about health and nutrition
1x per month
Login Successful. You will shortly receive a confirmation at the specified email address.
With your registration you allow the regular sending of the newsletter and accept the data protection regulations.
HEALTH CENTER © 2021 Neosmart Consulting AG. All rights reserved.