How much vacation do Australian teachers get
As an assistant teacher in Australia
Fate or coincidence?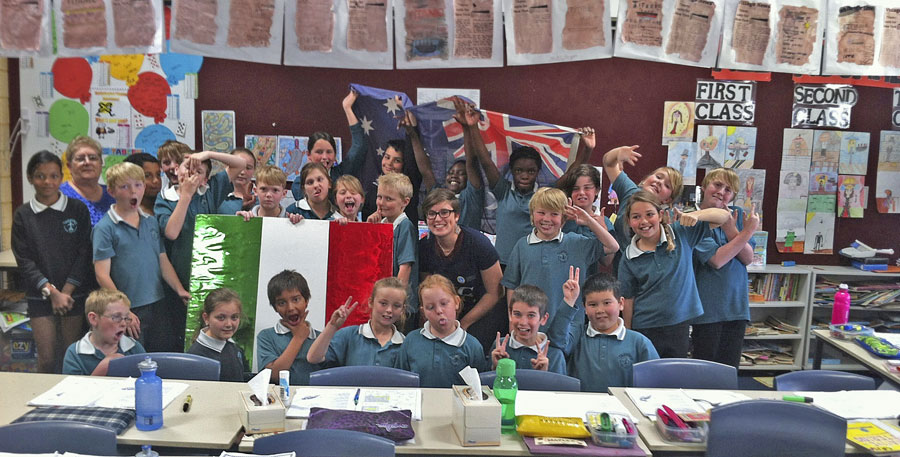 Do you believe in fate or in chance? I've always been a chance person, but when I think back to my Australian experience I doubt it. Here is the story of a 22-year-old student from Italy about teaching foreign languages ​​in OZ - I apologize for the perhaps somewhat bumpy German writing style!

"Wanderlust". An untranslatable word that made me love German even more when I was taught it. I have always suffered from it and tried to combat it in various ways ... As a school graduate, the decision to use foreign languages ​​at the university studying was one of the good ideas, and the penultimate initiative to combat wanderlust brought me down under when I applied for an internship as a foreign language assistant for Italian in Western Australia through my university in Milan.
From the gut ...
Coincidence (or fate?) Led me to an author who writes novels with an Australian background and who hosted an Australian evening in a bar around the corner from me. With little idea where Australia is, I took part in the event enthusiastically and curiously and thought Australia must really be a great country. Curiosity (or fate?) Made me check the International Relations website of my university - maybe there is something about Australia, I thought to myself.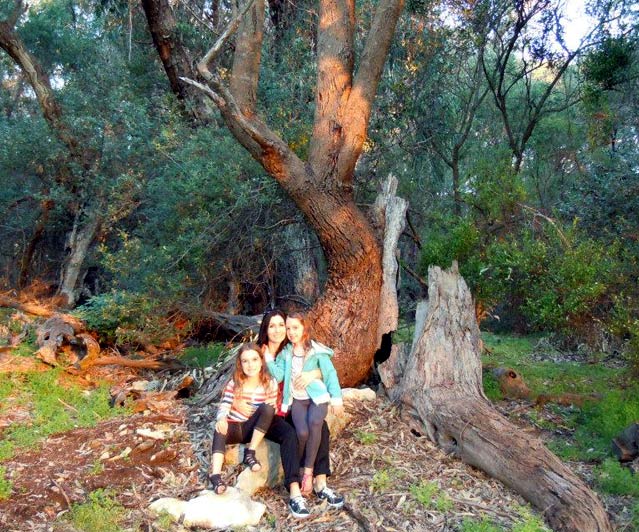 © Photo: Rubina Varago
Indeed, "Iscrizioni aperte per stage come assistente di lingua italiana in Western Australia" (= application time for an internship as an Italian foreign language assistant in Western Australia). I could hardly believe it. 10 weeks abroad teaching Italian culture and language to students - a dream I've always had. My application was out a few days later and an answer came soon: There are more suitable students for the program than me. But on July 9, 2013, just three weeks before the program started, I got one eMail: "Hello Rubina, you applied for an internship as a foreign language assistant in WA. At first we couldn't offer you a job, but recently a school wrote to us that would like to have a foreign language assistant. Are you still interested?"
Coincidentally (fate or coincidence?) I was unable to book my "Australia replacement vacation" to Spain the day before because of problems with my credit card. Fortunately, because I was excited to accept the internship.
Plan and arrive
Three weeks to organize a stay in Australia may not be a lot if you want to travel all over the country. However, three weeks were enough for me to apply for a visa and book a flight. I didn't need any more. WAATI (Western Australia Association of Teachers of Italian) arranged accommodation for the internship and the airport pickup. As a visa I applied for an eTourist visa because I would not get a salary and they wanted to hire me as a "volunteer". On July 25th I was on the plane to Perth.
After a 22 hour flight, my Aussie mother Donna and two sisters greeted me with their friendly smiles at the airport on Friday lunchtime. Olivia (5 years) and Sophia (7 years) spoke so quickly and were so enthusiastic that I could hardly understand a word. School didn't start for me until the next Wednesday, so I had time to relax and feel something of Australia.
My second "1st day of school"
I will never forget the first trip to school, as two rainbows even appeared in the cloudy sky - a sign of my beginning Australian school adventure? Or were the rainbows just a coincidence? I was as excited as a kid on Christmas because I hadn't been in elementary school since I was a kid. For my assistantship I was assigned to a "Primary School" 35 km north of Perth. In Western Australia this level is attended by 6 to 13 year old children. This corresponds to the 1st to 7th grade in Germany.
First Donna and I took Olivia to the "Pre-Primary School" (Kindergarten) and Sophia to the "Year 2s", then she wished me "a nice first schoolday" and I went looking for Maria, the first of the three Italian teachers at the school that I should support every Wednesday.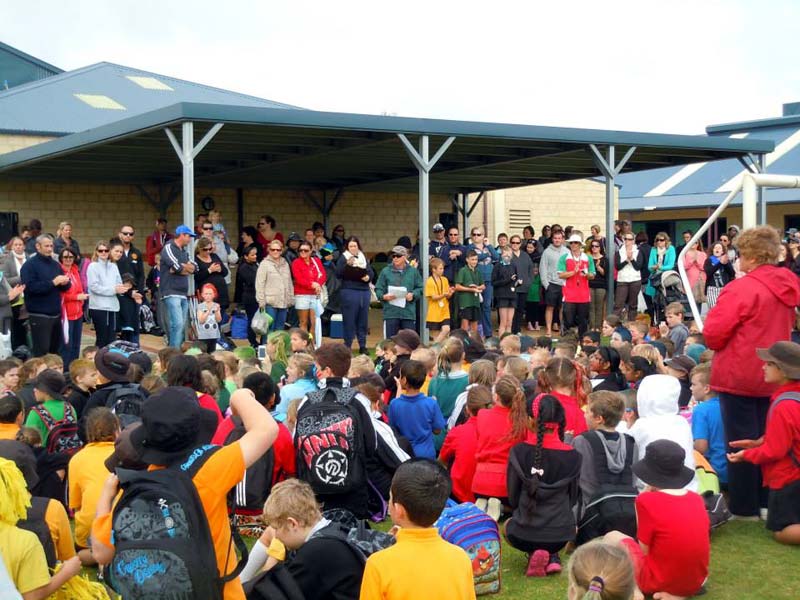 © Photo: Rubina Varago
Maria was an older woman who reminded me of my grandma. She kept smiling and looked friendly. First we made a tour of the school: A huge school consisting of nine low-rise buildings that took in around 700 children. In addition to the usual classrooms, a cafeteria, a library, two sports fields, an art, music and science room were available. During the lunch break from 11.30 a.m. to 12.10 p.m., Maria introduced me to the entire team of teachers and once again explained my tasks for the next few weeks: Always be there during Italian lessons and sometimes lead my own lessons.
On Wednesdays Maria was responsible for "Year 3s" and "Year 4s", the corresponding German 3rd and 4th grades. She introduced me to the children as "Miss Rubina" - you have no idea how much I had to laugh about it. During the entire internship she was always nice and helpful to me, but had a learning method that seemed a bit "old-fashioned" to me. or was boring. I could hear that from the children, too, because only the most industrious obeyed them while the others played pranks and giggled all the time. In addition, Maria's Italian was no longer really relevant, as she had left Italy 50 years ago and immigrated to Australia and the Italian language had of course developed and changed in the meantime. Despite my best efforts to teach her current Italian, she refused to accept it and refused to be corrected, thinking only of the poor students who were otherwise learning something wrong, or at least out of date.
A great role model for teachers
Another story about the Thursday teacher and my tutor Denisse: She was born in Australia, but had Italian roots and taught all years between "Year 3s" and "Year 7s" - but I only supported her on Thursday from Year 5s to Year 7s lessons. I liked her and from the beginning I could feel a strength in her that instilled respect in the students without having to act like a policewoman.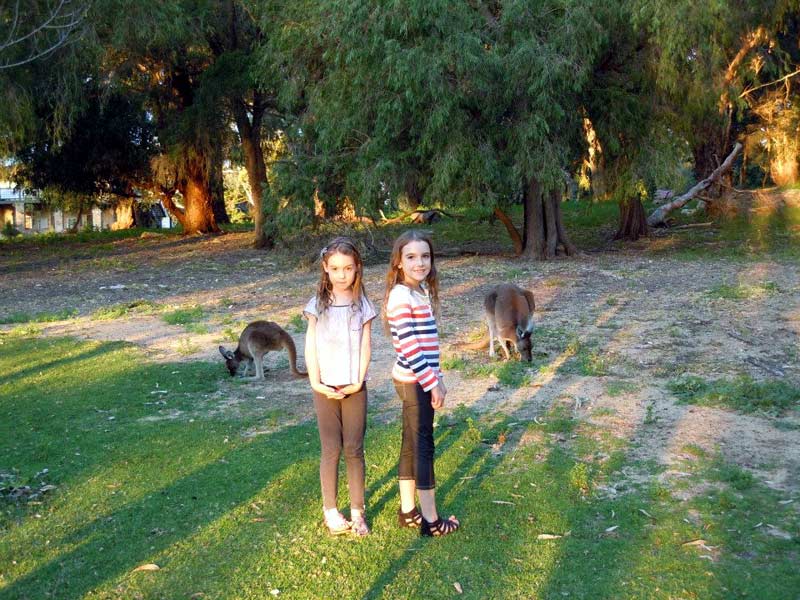 For our first class together, Denisse asked me to prepare a Power Point presentation with simple Italian sentences about me. When I showed it to her, she had a few comments about it: My mom's picture should be changed because she was wearing a bikini. "It can lead to misunderstandings" she explained to me. Well, I had chosen the picture because of my mother's great smile, but I obeyed her. In addition, my Italian sentences were too complicated - and I was amazed. Denisse explained this to me as follows. If I wanted to compare the Australian and Italian students, I should subtract 2-3 years for the Aussie children, as the Australian elementary school system is too weak to match the level of Italian students of the same year, I just made the mistake Made to think about my elementary school days so that I could put together something appropriate for the age of the children. Too bad, I thought, since children absorb everything like a sponge, especially when learning a language.
What I really like about Denisse is her relationship with the children. Strict but not too strict, kind but not too kind: she just had a great balance. I can see her as the perfect role model for a teacher intern who taught me a lot.
All that glitters is not gold...
The Friday teacher was Aliaa. At first she was super friendly to me, laughed at my jokes, and repeatedly expressed her desire not only to be my colleague, but also to become my "friend". I liked that very much, of course, but I liked my complete freedom even more She had introduced the topic at the beginning of the lesson and then I was able to handle and lead it with total freedom - where "topic" meant coloring pictures, making educational games or repeating simple names in Italian. Sounds great, doesn't it? But fate was of a different opinion and not much time had to pass before I discovered the truth.
Aliaa actually came from Egypt, was actually a science teacher, couldn't speak Italian at all and had never been to Italy, but taught this language because there weren't enough female teachers. That was why I had so much freedom in teaching.
Aliaa wasn't really part of the Italian teacher team either, and she passed her disappointment over to me, even though it wasn't my fault. The children began to sense my discomfort too, so a few weeks later I had to ask my tutor Denisse to get rid of working with Aliaa. That was really not nice, especially because of the children who had already got used to me.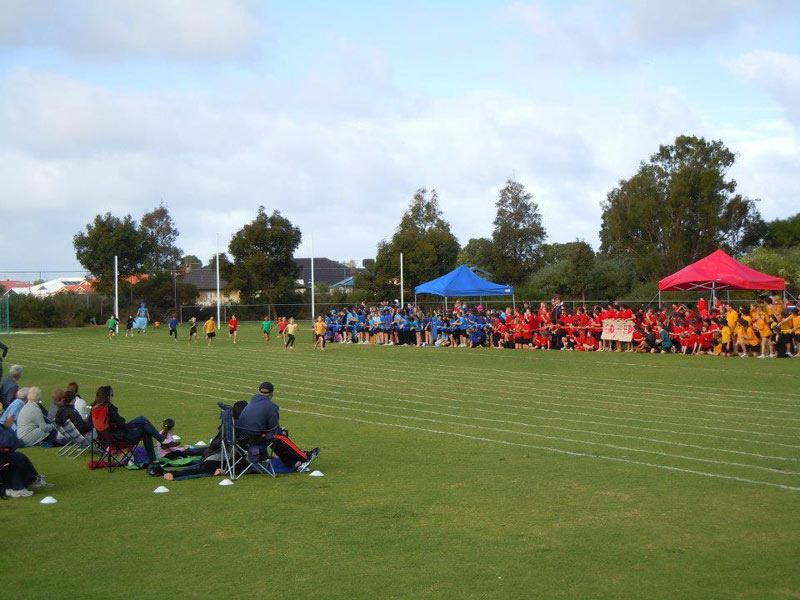 © Photo: Rubina Varago
Coincidence (rather fate?) Wanted Denisse to teach at school on Fridays too, so that I could support her on that day and go back to school with joy.
Home sweet home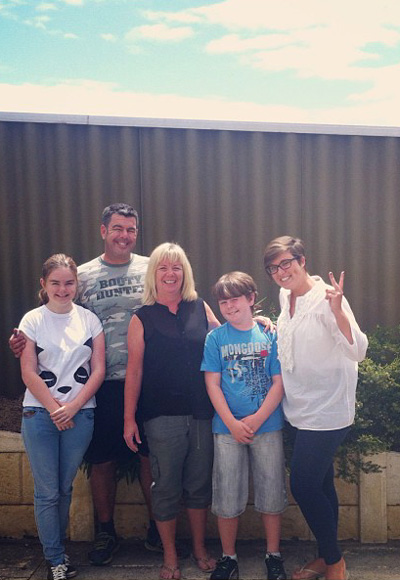 © Photo: Rubina Varago Okay, you've read about school this far, but what did I actually do in the rest of the time? I just made myself part of my host families. Exactly, no mistake, FamilyN with N, as I was even taken in by 2 Australian families.
I have been very happy with both of my Australian families. Yes, moving in the middle of my assistantship is actually unusual and, above all, not desired, but that is how the internship was actually designed and there was nothing I could do about it, even though Donna, Olivia and Sophia wanted me with them longer. I also felt at home with Mark and Michelle. They were two wonderful parents who always worried about their children. Edward, 10, also attended my elementary school, but Rebekah, 13, was already in high school.
I got board and lodging from the two families free of charge and they got no financial support for my living from school or anything else. So I tried again and again to make myself useful at home. For example, I really enjoy cooking, which is why I kept offering myself as a cook and helping with tidying up, ironing, washing up and doing similar household chores. I would have loved to look after the families' children while they were learning Italian, unfortunately they were - in my opinion - too lazy and spoiled to take me seriously. For me it would have been just very difficult to be taken seriously as a teammate, older sister, babysitter housewife and even as a teacher!
An all-rounder among hundreds of children ...
My tasks during the assistantship at the elementary school were very different. I went to school 3 times a week from 8 a.m. to 3 p.m. to attend Italian classes. I sang songs, told stories, sometimes gave my own lessons, painted pictures, spoke much more in English than Italian, gave very simple presentations, played in various activities, prepared and corrected Italian homework, and much more. At the school "Sports Carinval "I helped the whole school team with the organization and preparation of the games. During the Italian week I cooked pasta, played a" raffle ", watched the Italian play" Commedia dell'Arte "with the children, and so on
... which has meanwhile also developed its own opinion about the Australian school.
From my own experience, I can generally describe the Australian school as ... ambivalent.
On the one hand, one admonishes friendship, good manners, equality, etc., on the other hand, in my opinion, children are severely punished psychologically if they do something inappropriate.
For example, a student was put behind a partition in the classroom for months because he was disrupting the class. He just wasn't paying any attention anymore. In a comprehensive school system, as the Australian teachers call theirs, such stories shouldn't happen - such an act is anything but integrative, I think.
Teachers couldn't hug the little ones, comfort them with a cuddle, or whatever, because that's just against the law, because parents might complain that their child has been touched.
Similarly, children could not get sweets, chocolates or anything else from the teachers: I had to get permission from the principal to be able to give sweets and lollipops to the students on my last day of work.
Teaching-learning was also weird for me. Since I had no previous experience, neither in Italian nor in foreign schools, I did not initially dare to express my opinion about the learning methods. During class I explained to the children what is required of Italian children of the same age at school, and they would not believe me: too much learning, too much seriousness, too little fun.
At the end of my trip to Australia I came to the conclusion: The Australian school system is in stark contrast to the Italian one - too little learning, too little seriousness, too much fun.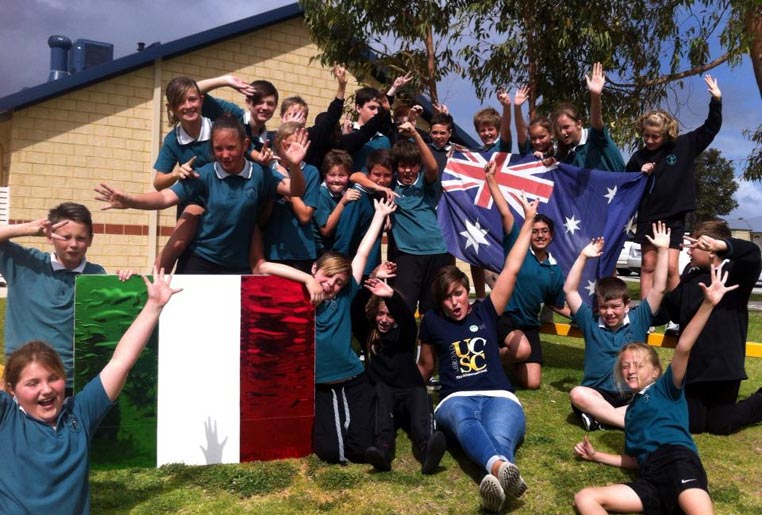 A few tips from my own experience


Smokers are seen as a marginalized group in Australia - that is, smokers have few opportunities to work in a school. Smokers / non-smokers can be the decisive criterion for your application as a foreign language assistant.


Being respectful doesn't mean hiding potential problems with a teacher. Likewise, volunteering does not mean slavery. If you cannot work well with a teacher, talk to your tutor / contact person about it: Children quickly notice when something is wrong and can also suffer from it.
Conclusion and end
Working with children between the ages of 5 and 13 is actually not just fun and not as easy as you would imagine without having siblings, like me. It was so exhausting that I got home in the evening and didn't have the energy to do anything else. But the work was so satisfying that, despite the tiredness, I always went to bed with a laugh.
My time in Australia was too short for such a big country. I would have loved to stay longer than 3 months to get to know Australia better, but life wanted it different. I had only applied for a 3-month tourist visa and had already decided on the return flight to Italy because I wanted to finish my studies. With a heavy heart I had to leave my 13 classes after 9 weeks of working together. However, I will never forget the look and smile of most of the students. From this experience I learned a lot from the teachers and even more from the children.
And, who knows, maybe fate will lead me to Australia again ... In the future ... I just don't know.
Regardless, I don't worry about it now and prefer to enjoy my time in Berlin at the Reisebine editorial team, where I would never have ended up if fate hadn't played a role again - or was it more chance?
But this is another story...
© Photos: Rubina Varago