How can I learn medicine well
The 2 Most Effective Learning Techniques for Medical Students
---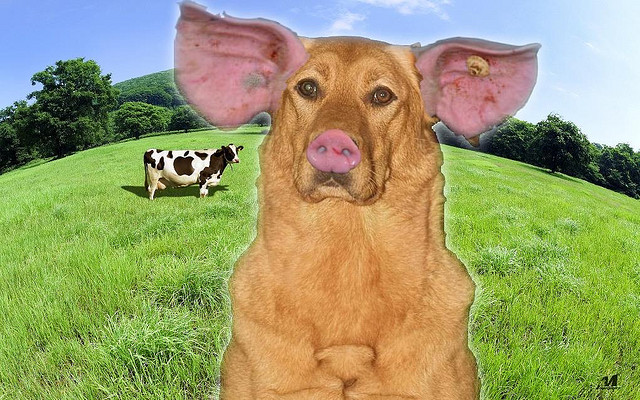 Image: "Schweinhund" by metalhero1993. License: CC BY 2.0
---

Concentrate on the first four phases, then you will overcome your inner weaker self in phases five and six as well. To learn successfully means to become aware of your rhythm and learning type. Note the basics:
Do you study better in the morning or in the evening?
Do you have a permanent and suitable place of study?
Do you know a life apart from everyday university life?
If the basics are fulfilled, then it only depends on how you learn.
How to successfully learn 80% of the subject matter with 2 methods
Distributed learning and variable learning are the two methods that combine synergy effects with your learning success. We show you how to use the methods correctly, save time and go through your studies in a more relaxed manner.
Combine distributed & variable learning
The idea of ​​distributed learning is to divide the learning material into small learning sections, taking into account the actually available time budget. When planning the learning sections, divide the subject area first into rough learning sections, then into small learning sections. The best way to do this is to use checklists. Checklists are a simple instrument for structuring the learning sections and learning paths with time information, brief notes or comments.
When roughly planning the subject matter, it is sufficient to structure the topics. With the structure, professors already specify the topics of the subject area, so that the work is actually already done.
In the detailed planning, it is important to integrate the learning material, which results from the structure of the professor, into the weekly schedule. The example shows an example of a weekly learning plan for the subjects of skin and bones, whereby the subject of skin is to be completed while bones are deepened in the following week.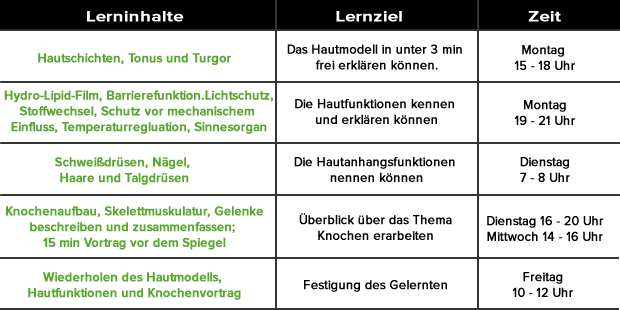 Example of a weekly study plan for anatomy and dermatology.
Set yourself such small learning goals that you can achieve much faster than internalizing the entire subject area. This motivates and improves efficiency because you have enough time to reflect on the knowledge at a suitable point. So can you Plan small exercises or old exams that ask about what you have learned close to the exam. But when?
To keep what you have learned in mind for the exam, keep this rule of thumb in mind: If the exam is three months away, plan to repeat the material at intervals of about 15% of the time. With three months, that's every nine days in which you have to repeat what you have learned.
Different subject areas in the semester are definitely a challenge. Especially when the exam is imminent, it comes to surrender, because some subject area simply seems unrealistic to learn. It is also not effective to divide one subject at a time into study sections. Rather, it has been scientifically proven to benefit from variable learning.
Create a second, third and fourth learning path for one subject area with a time lag. If you were to deal with a different subject every day, then the maximum would be exactly seven learning sections. But watch out for your freedom. After all, something can always come up, which is why too tight planning can also be demotivating.
Do you want to know exactly now? Then download the free one Learning guide for medical professionals to find out more about successful learning, e. B .:
How effective is marking and self-questioning for learning?
Which free learning software can be integrated quickly and easily into the learning process?
Why is repetitive reading ineffective?
What can you do in the last week before the exam to prepare optimally?
Why e-learning tools are not everything and which classics of learning should everyone be able to master?
When is it worth taking a break?
What should everyone pay attention to in their leisure time in order to be able to learn at full speed again the next day?
How to Get Better Grades in Medical Studies! Improve Your Exam Results! Learn with the free learning coaching for medical professionals:
✔ Effective learning techniques
✔ Individual assistance
✔ Application examples for everyday life